As any parent of five-year old fire storms will testify, enjoying a meal out – and I stress 'enjoying', for just accompanying the meal is a challenge enough – is as rare as hen's teeth. No amount of colouring-in, Lego, toy cars and action figures can placate a tantrum or curb a zest for exploration. And an omnipresent iPad feels like a concession when one should be educating one's child on the etiquette of eating out.
What one needs is a child-centric environment in which they can be in their element, perhaps benefit from the company of other children – possibly, even, in their own area, away from perma-stressed parents, each let loose to enjoy their own experience. And, lo, such a place does exist, and in the unlikely venue of one of London's finest Italian eateries, Fucina.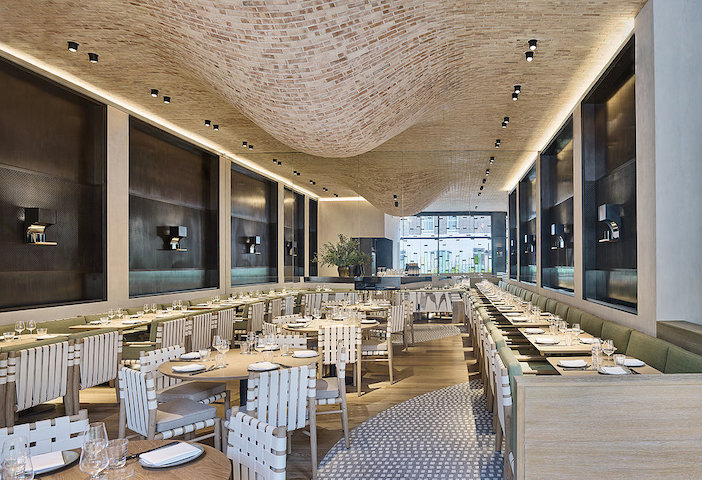 A contemporary Tuscan setting, complete with a striking brick wave ceiling, 10-foot olive tree and muted greens and ochres might seem more appropriate for a riviera rendezvous than a children's creche but, indeed, it's both. Conveniently mirroring the inclement weather outside, our little nest of vipers had her own storm brewing as we arrived. This was swiftly allayed when, at the allotted hour, one of the Sharky and George team came through the restaurant and gathered up all the children with the questions of whether they like slime and sweets and, as if following the pied piper, she was off. We were given a 'finishing time' and, with that, we settled in.
There began two and a half hours of whine-free – and wine-fuelled, with the bottomless accompaniment – bliss. A range of antipasti was presented on a raised board, running over with cold cuts, roasted peppers, quails eggs, pesto mozzarella, pomodorino bruschetta and, the highlight, saffron and pea arancini. All this would have been a meal in itself, but we were barely warmed up. To the occasional squeal of delight and the odd raucous cheer from downstairs – eliciting the occasional mystified glance from those sans children – we awaited the pasta.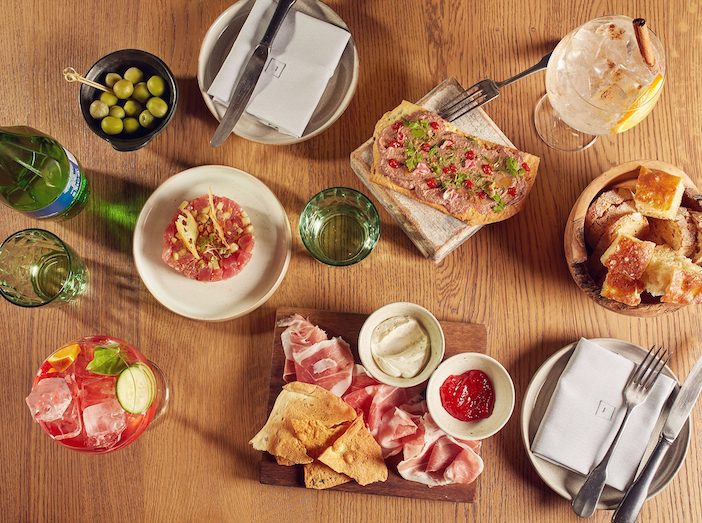 A sip from a soft, white Monruby Grenache Blanc between courses, and we had an escapee. And then another. Two children bolted past me, gleefully boasting to their parents about their exploits downstairs. "Don't squish my cupcake," yelled one as they hastened back down. A concerned Mrs L ventured to check on our little one. She returned moments later with a grin on her face, "She's loving it. They're playing What's the Time, Mr Wolf? and she's chuckling away – oh, and look, the sun's come out." And so it had. I was so enjoying my own mis-en-scene, I barely noticed.
Our plates were changed, and a copper pan of bucatini was tonged onto my plate. Swathed in an unctuous short rib ragu, I was mid mouthful when our own little bundle of chaos sidled up to us with an insouciant swagger, "Hi, guys!" "It's 'Daddy' to you, young lady," I asked what she was up to, but it was a fleeting visit. She, it transpired, was checking on us. "I can't talk, I have to get back down there," and off she went. As if to stress the leisure and pleasure we were experiencing with this rare opportunity, the dulcet tones of Francois Hardy's Tous Les Garçons et les Filles began to waft their way through the venue. By now I was oblivious to the trio of near-teens that 'wheelied' their way past me, a self-satisfied smile had embedded itself on my face.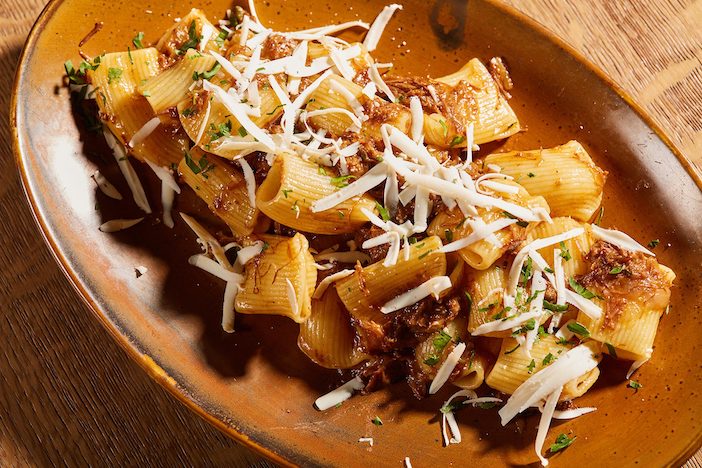 It was during a fine seabass fillet, delicately roasted, with mash and greens, that another stray, about two feet high, passed our table, massaging in her hands a clutch of what I can only describe as 'matter'. A passing waiter indulged her curiosity, "Ooh, slime, delicious!" and redirected her to her owners. Who, in turn, seemed oblivious to parental concerns. We were all, collectively, in a state of tranquil euphoria, content our progeny were in good hands with no concern of that perennial parental fear, upsetting other diners.
As the witching hour neared, Mrs L made a final check. "She's eating her pasta now," she reported perfunctorily. To my obvious surprise she replied, "Yes, quietly, contentedly, and she is eating it". Miracles can happen.
With half an hour until the return assault, there was dessert. A shared tiramisu, panna cotta; staples on a set menu. "Actually, might I join them downstairs for the 'build your own ice cream', can I?" It was a little irregular, but such was the attention they had it seemed like a better deal. I settled for the panna cotta as an apparition in an elephant mask ambled its way across the floor, eliciting curious glances from the diners. "I think this is ours," I remarked to Mrs L. Sure enough, it drew up alongside, lifted its visage and our daughter appeared beneath. "Are you having a good time, darling?" Mrs L asked. I saw the future 15-year-old as she took her mother's hand and ushered her downstairs for reasons I can only assume were part of the covenant of womanhood. It gave me time to enjoy my machiato and tap my foot to Ella Fitzgerald.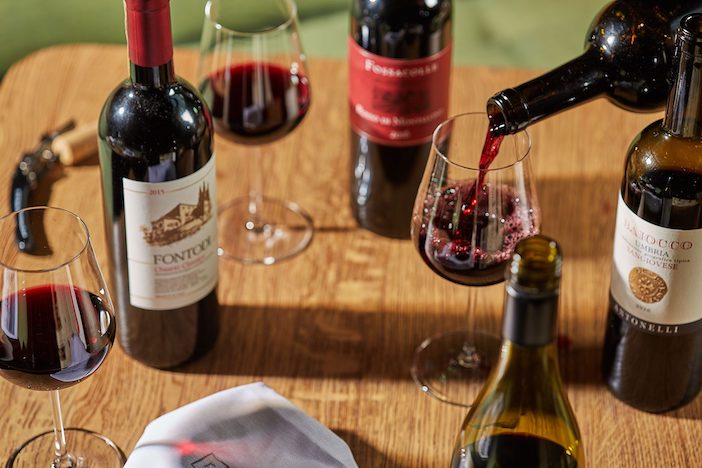 When the two of them emerged presently, we gathered ourselves for departure, each of us a great deal gentler of spirit than when we'd entered. Bracing ourselves for the inevitable fall out during the journey home – which never came – I wondered why no other restaurant had considered this previously, defaulting either to refusing children or enduring three hours of mayhem during service over a Sunday lunch. I'm sure, when word gets around, this will become de rigeur.
Of course, all this now means our daughter will expect an entertainment team every time we go for a meal.
Fucina, 26 Paddington Street, London W1U 5QY. Bambini Sundays run until 15th December 2019. For more information, including details of activities and menus, visit www.fucina.co.uk. Note that only 14 children can be accommodated each sitting, so book early to avoid disappointment. For more information about Sharky & George, visit www.sharkyandgeorge.com.