"Is that your fungus?"
It may not be the most likely line you'll ever hear, nor indeed may wish to, when dining out, but this was the commentary from my companion as the dish was placed in front of us at BaoziInn's latest outpost, just shy of the overpass at London Bridge.
This, their fifth establishment in under a year, suggests they're doing a little better than simply feeding patrons on varietals of eukaryotic organisms. Indeed, BaoziInn is proving so popular, they've overcome the confusion with their name, 'Bowzee Inn' now tripping off the tongue as easily as ordering their cold cloud ear fungus – the selected dish in question.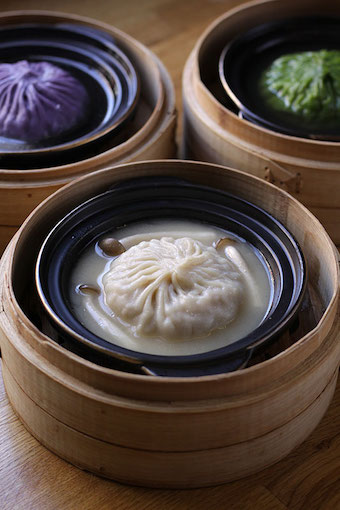 As a rule one should always eschew restaurants that show their dishes pictorially in a menu, but as my dimsum fan dining partner regarded, Baozi's are gloriously well shot and are a fine pictorial aid when deciphering what's what, even if it throws up some curiosities – was that a kiwi and strawberry I saw with the sweet and sour pork?
More importantly, there's is a wholesome approach to provenance for their fare; the Hong Kong wonton noodles are genuinely from Hong Kong, being shipped weekly (carbon footprint notwithstanding); the buns and wontons are all dyed naturally, with beetroot juice, spinach, red cabbage and turmeric. And among such integrity there's an attention to flavour that surpasses most dimsum restaurants; the roast duck is smoked with cherry wood, for example, giving it a depth I've hitherto not had, even at eateries that claim it as a speciality.
With this new venue being so new, the bar was without a tender, so we were without an opportunity to try the chamomile negroni, and the beer I ordered came warm and flat; but there was sake, and here my knowledge withers so I'm easily pleased. Wines by the glass were a little lacking; the New Zealand Sauvignon Blanc seemed a poor choice accordingly to my oenophile colleague, and a Spanish Airen, with less character than a Pinot Grigio, can only be on there not to obscure the food. Fortunately, the bottle selection offers more hope and, as the food began to arrive, we tucked into a fine light, minerally Chablis. "Lovely," my companion enthused, "it's like licking a pebble."
And so to the food; I was on my own with the fungus and, if you like your mushrooms chewy, this is for you. Popping one every other mouthful, it felt like a woodland palate cleanser, foraging with a fiery punch. Fortunately, that was the only dish selected from the 'cold' list. Something about 'cold dim sum' feels like an oxymoron.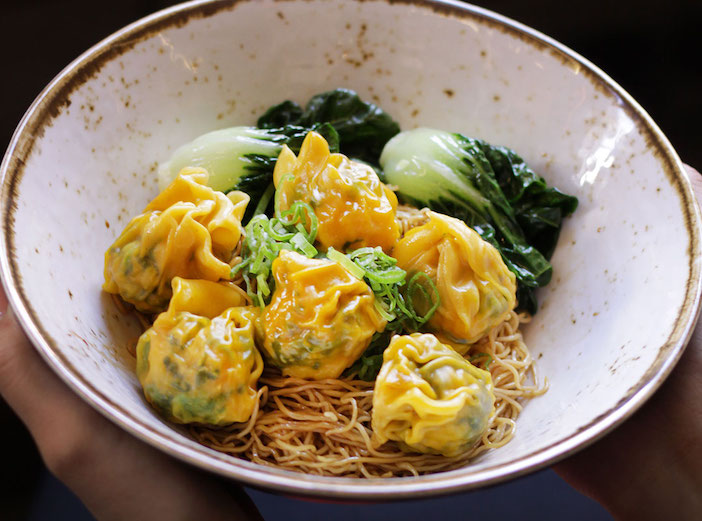 When it came to the 'fried' selection, there was squid (a little oily), seaweed in minced prawn (fantastic), the Chengdu Jiaozi prawn dumpling whose sauce under the low light seemed like an innocuous teriyaki proved to be near neat chilli oil, which garnered a reaction or two. The fire, however, was neatly offset by the 'fruity' sweet and sour pork. I'd dismissed this at first. "I don't know why they're on menus," I imparted, "they're all substance over style." Honestly. Too much substance; stodge and grease. But I tried it for the sake of objectivity and, lo, these were different. Light and flavoursome. And the fruit, which we'd mocked from the picture, worked remarkably well. Sound odd? Think strawberries and pepper. Or pancetta and melon.
We went off piste with pancakes, another Baozi staple. Not duck on this occasion, but Char Sui pork, and in place of cucumber and spring onion, we have carrot, radish, melon, and a choice of hoi sin sauces. It's a lovely touch. Two sets of noodles followed, the dry wonton proved the highlight of the meal, dressed with dumplings and a thin soup to ladle over "if they proved too dry," our waiter said. They didn't. The other, fatter, more oily Dan noodles came with a hint of peanut sauce, and became more moreish with each mouthful.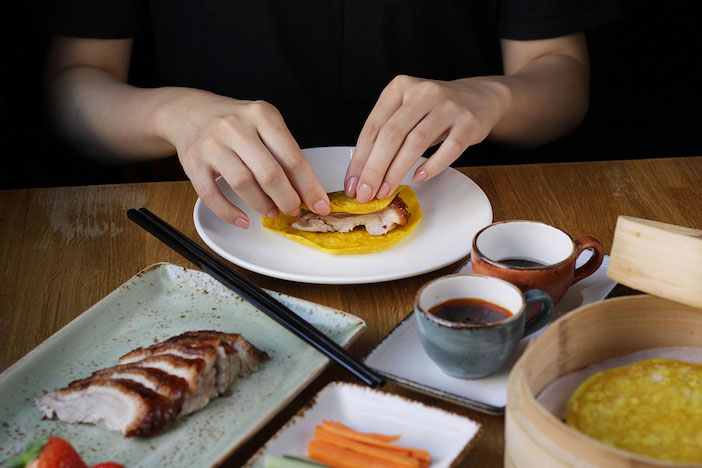 By now we were brimming, and still awaiting the giant dumplings. Billed as the signature of the restaurant, far from being the first to arrive as ordered, we'd asked every time a dish was presented to be told they're coming, anticipating a fanfare at the end. It transpired they'd been forgotten. Rather than a heralded arrival, they were sheepishly delivered, and with our being replete, they were greeted with about as much enthusiasm as a politician at a Bingo hall.
If you've got this far, you're probably wondering how we were still even eating. It was a gargantuan amount of food. When we ordered we asked if it was enough. "Yes," came the plaintive reply, "but you can always order more." The dumplings, alas, slightly stewed, were pushed and prodded around their bowl and ever so slightly sampled. They were good, but to fully appreciate them we vowed to come back. It seems we'd ordered nigh on everything on the menu, though, ironically, not the bao.
With so much on offer, BaoziInn clearly knows how to please, and it's easy to see why they're popular. But there is a watch out; just be mindful of how quickly you expand, and keep your standards, please. Right now you're great, it would be terrific if you could stay that way.
BaoziInn London Bridge, 34-36 Southwark Street, London. For more information and menus, visit www.baoziinn.com.