There are Chinese restaurants, there are Sichuan restaurants – and then there's Barshu. Standing away from the milieu of Chinatown, on a corner of Frith street in Soho, I knew of it, I'd heard many good things over a reputation forged over the last 15 years; and so, as they mark this milestone with a new look and a new menu, I thought it high time I should visit.
Larman's at the table as I enter. "I'm slightly scared of the menu," he mumbles sheepishly as I sit down, "it all looks really good. But terrifically spicy." Larman doesn't do spicy. In some 73 meals we've shared together, this is news to me.
"Fear not, old stick" I reassure him, "we can go gently into this good night, so to speak."
Then I look at the menu. It does indeed look fearsome. Firstly, it's big. There are pages, plural. Secondly, as befits a Chinese establishment, photos give a sense of what's to come, and almost all of them have an angry red hue. Not least that many of the names sound ominously foreboding. Pounded aubergines, smacked cucumber, 'numbing' sauces – even the fragrant vegetables come 'in a pile of chillies'. The seabass, their new speciality, looks like it would fell a rhino.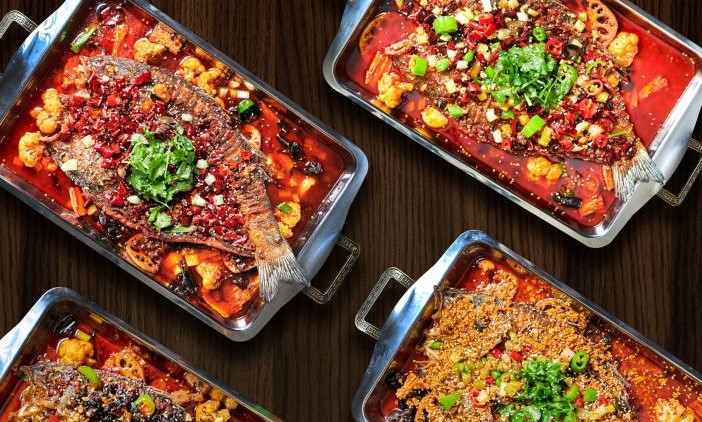 This, however, is the characteristic of Sichuanese cuisine. It's meant to do this, using chillies in myriad ways. Not for nothing the introduction to their menu states that if China is the place for food, Sichuan is the place for flavour.
As we sip on a lychee daiquiri that raises an eyebrow of approval, we survey the opus in front of us. Short of giving the waiter a list of numbers for dishes he'd know by heart, we check boxes on an order form. Larman is a little tentative, steering away from the 'authentic' spice symbol in favour of the lesser evil, the 'savoury' option. For starters, smacked cucumber is a given, just out of curiosity. It sounds like it would temper the fire, too. Salt and pepper squid seems a little pedestrian given the variety on offer, but I concede. And what makes the chicken 'mouthwatering', I wonder? We elect to try it.
At first glance, it looks anything but. It's stone cold, in a pool of vivid, radioactive oil. But appearances are more than deceptive. I take a spoonful, and then another. That wasn't a misnomer, or hyperbole, it is mouthwatering. As the chilli kick arrives, I'm thankful I still have a mouthful of the daiquiri, but it is terrific, and simultaneously rather curious. The same goes with the cucumber. Dressed in a satay sauce, it's rather unexpected, but no less delicious for it. Barshu is breaking new ground for us.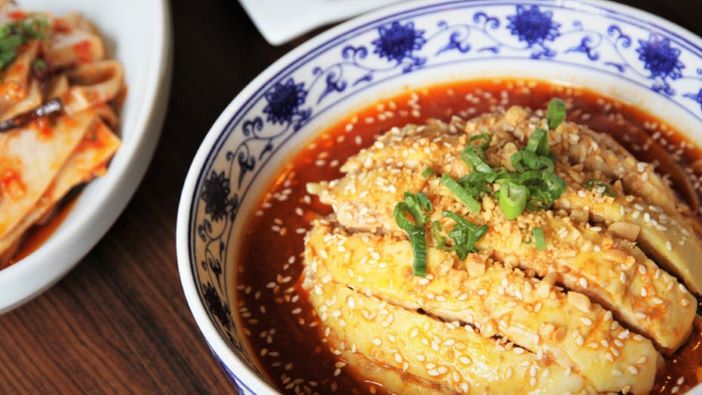 Such is the pile (there's enough for a table of 12), thankfully, as more dishes arrive, we find we keep going back to it, particularly Larman who, as I glance up, is visibly gasping for air having just tried the chicken. He douses the flames with more of the cucumber, and is more than grateful when the sweet and sour pork arrives. Again, it doesn't look particularly appetising, but is terrific. It's honeyed, not as sharp as you'd expect, and certainly not the lurid orange nor as stodgy as its many counterparts. On that basis, I'd normally avoid it, but Barshu's is light, sweet and delightful. Little wonder Larman surreptitiously slips the plate his way.
But back to the chilli. More mains arrive, plates are rearranged to make room. "We may have over-ordered. Again." Larman quips. I'm now almost indifferent to the sea of chillis in almost every dish. In the chilli beef, there's more chilli than beef. Fortunately, none are too potent – at least not for me – but he's devouring the forest of choi sum after each mouthful. "I find it offsets the heat," he pants.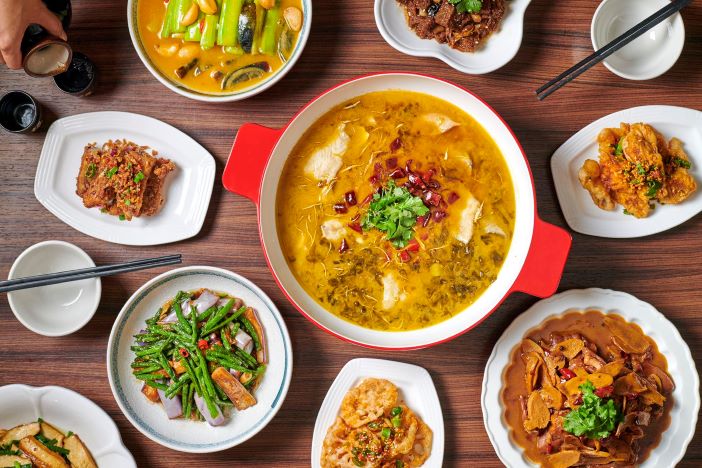 There are noodles, too, their 'legendary' ones. These have just enough afterburn to pique my palette, but across the table, beads of moisture are appearing on my companion's brow. As the Chopin piano concerto accompanying the meal reaches a crescendo, Larman sips on the Sauvignon Blanc repeatedly, dousing the flames between mouthfuls.
At the end, we surveyed the scene. It resembled a battlefield. Larman sits back, taking a long breath, and lays his chopsticks down with the precision of a zen master concluding a titanic task. "How about a dessert?" I suggest. The look he gives me would make Boris Johnson cower. But I know he can always make room. While there's little in the way of choice – it is more of an afterthought, after all – their 3-in-1 sorbet is a worthy contender and does a great job of averaging out the median temperature of the meal.
We are cooled, sated, and content to venture back out into Soho. "I'm glad I did that," Larman declares, "I feel I've ticked a box on a bucket list." "Me too," I concur, appeasing his triumph. But I know I'll be going back. That seabass is a challenge I know I must take up.
Barshu, 28 Frith Street, London W1D 5LF. For more information, including menus, please visit www.barshurestaurant.co.uk.