Not to be confused with Bob Roberts, Los Lobos, or Bob Loblaw's Law Blog, Bob's Lobster is, to those that know it, something of a go-to for food at fairs, festivals, concerts and race meets, not to mention residencies in John Lewis and The Rising Sun pub in St Paul's. Its retro VW camper in striking scarlet is a distinctive and comforting sight, with a team dressed in starched white collars and bow ties serving fancy seafood to those craving an alternative to greasy burgers and grain bowls.
Indeed, if you haven't heard of it, you might have already experienced Bob's Lobster without even realising. At Ascot, they became the first handheld offering in the Royal Enclosure, serving up a ton of lobster over the five days; and last year they were invited to cater the American Embassy's official 4th July celebrations, with a thousand lobster rolls, inviting comment from a 3-star general, used to diving for his own off the Nova Scotia coast, that it was the finest lobster he'd ever had this side of the Atlantic.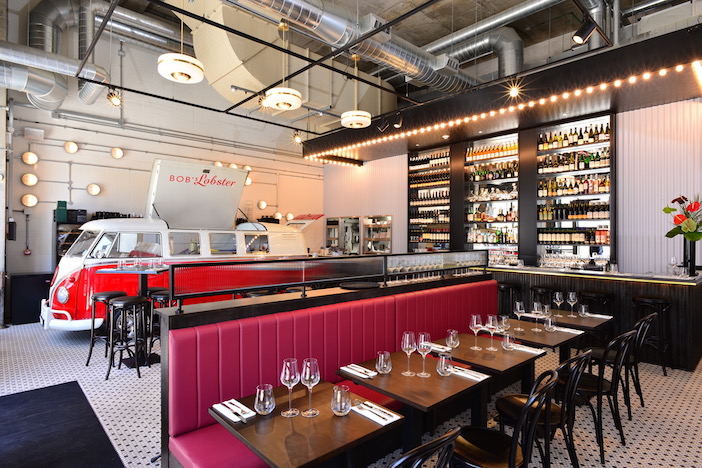 So, it comes to us with some excitement that, after five years of plying their trade from the side of a van, Bob (actually, Rob, if we're getting technical) now has his first bricks and mortar venue, occupying an enviable spot in one of the arches of the new-look London Bridge station.
The first thing you notice as you enter is the gleaming 1957 VW van. More bottom line-conscious restaurateurs may see this as occupying valuable cover space but here, apart from the obvious fondness there is for it – often deployed for oyster shucking during happy hours – it adds to the décor, giving the venue a more relaxed feel. In fact, that's the idea. Ironically, in spite of being known for its upmarket offering on the road, here it takes on a far more casual approach. It has the feel of a diner, taking the snobbery out of seafood.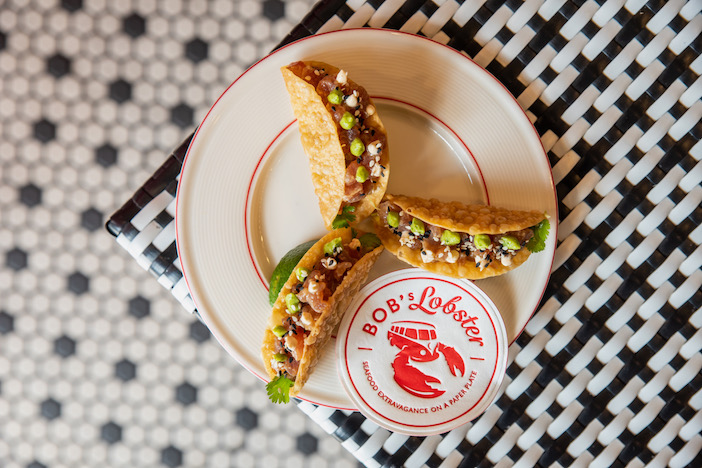 The menu continues the casual, retro theme. The food truck favourites are all there (the lobster and crayfish roll, the crab cake, the to-die-for lobster mac 'n' cheese), but there's more than a nod to keeping it unpretentious; a fish finger sandwich (pimped with wasabi mushy peas and fried caper aioli) makes an appearance for those just wanting a dose of comfort food, a brioche cheeseburger (a snip at £9), even said aforementioned grain bowl and a range of inventive (if, admittedly, somewhat blandly executed) vegetable options if you're on the health kick.
Almost all the menu, from the seafood staples to the sandwiches to the desserts, show flashes of sophistication. Cocktails are served in mini carafes on a bed of ice – and no, it's not a gimmick, it's designed to keep it cold but not watered down. The crab stack – Rob's mum's favourite, incidentally – is a neat tower of pickled white crab, sashimi tuna and papaya ginger salsa, which you would never expect in a diner; the fried chicken isn't, simply, fried chicken but tea-infused and served with an anchovy salsa verde. And that mac 'n' cheese I mentioned? It's the product of carefully selected cheeses to get the classic 'pull' as you spoon it out, and its béchamel is flavoured with lobster bisque. This is not, simply, a food truck gone mainstream. It's the beginning of a new culinary craze.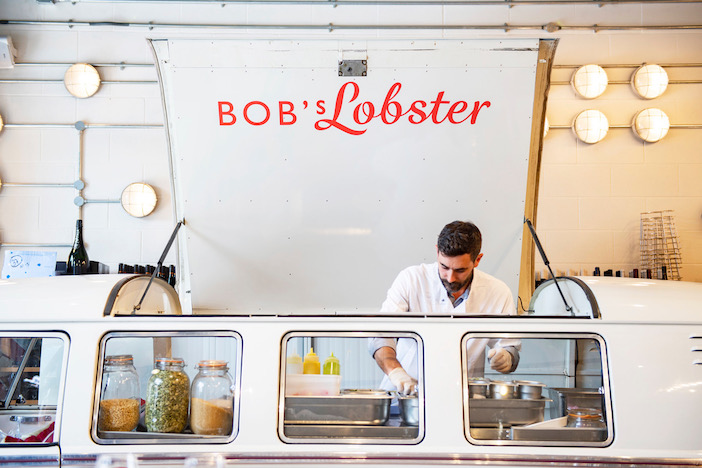 Bricks-and-mortar Bob's is an asset to an already booming food scene in Bermondsey. It's telling, too, that not only was its arrival not a case of the space going to the highest bidder – or, worse, some dodgy back-hander – but the council, in their wisdom, knowing what side their bread's buttered on. Keeping Bermondsey's character is key to its success, so chain restaurants are a no-no, collaboration is encouraged over competition, and, in this case, outlets are invited to premium spots. Bob's Lobster is there almost by design.
Bob's Lobster is neither a fictitious US senator, nor an '80s mariachi band, nor a made-up motif once seen on a T-shirt, it's fast becoming an institution in its own right.
Bob's Lobster, Unit 71, St Thomas Street, London SE1 3QX. For more information, including menus and promotions, visit www.bobslobster.com. Oyster & Wine Happy Hour takes place every weekday from 4-6pm, with shucked oysters just a £1 each.