There are certain meals that become memorable for all the wrong reasons. I don't mean any litany of horrors about the meals themselves, but the circumstances that mark the occasion. Take what you ate when you heard some tragic news, for example; or the romantic dinner that turned into a break-up; or, in my case, learning an hour before I left the office that my credit card had been hacked.
And I was running late. I greeted a patient and rain-soaked Lydia before, bristling and flustered, we entered. This was not the state, nor the mood, to arrive for dinner but with a welcome as a warm as a tandoor, any stresses immediately dissipated. Sometimes you walk into a place and instantly connect. Bombay Bustle is one of those. It was busy but not crowded, clamorous but not noisy. It's vibrant, buzzing, lively – one might even say bustling. There was atmosphere in spades. It's the sort of place you arrive at and a smile creeps across your face because it's just what you were after – tonic to a tough day – and before you've even sat down you know you're going to enjoy it.
Ushered in, as we sat at our table, I was struck by a curiosity as we surveyed the venue. What's going on here? It feels like in half the room they've kept the shell of the diner that existed before it. We're at a table booth, with side lights, poster art, there's a curved ceiling, and curious embossed metal numbered plates on the table ends. Then it struck us; we were in a train. And, indeed, we soon learned that Bombay Bustle pays homage to Mumbai's 'tiffin carriers', those frenetic white-clad meal runners that serve the city, and frequently via its train network.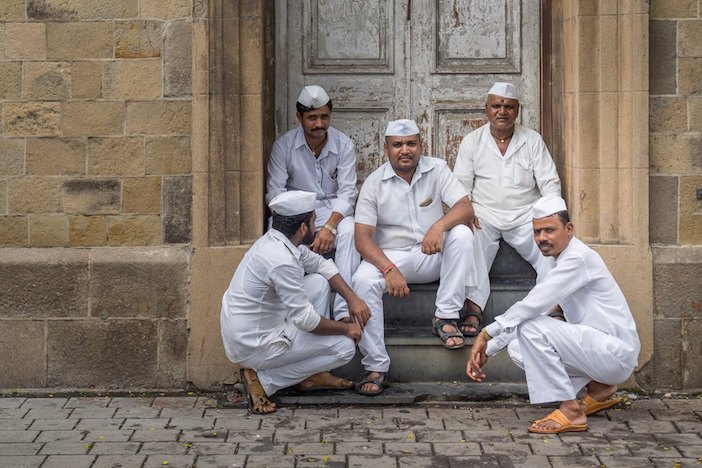 To these ends, before we'd even ordered, a brass cannister arrived and was popped open to reveal poppadum 'chips' ranged with a confection of tomato and mango chutneys. This was a lovely touch; something to whet the appetite while we perused the menu. For which any process of elimination seemed futile, and the waiter sensed our bafflement. A range of small plates numbered over a dozen, with an equally extensive tandoor menu to the side. All of which sounded wonderful; patties, samosas, stews, a trio of dosa, tikki, pao and prawns.
"Shall we start with some champagne?" our waiter intoned. Good idea. Give us a minute and we'll see how we go. One thing was necessary to begin, however. 'Since we're on a train, I'll have a Tandoori Bulleit, please.' A stirring concoction of Bulleit rye, infused in charcoal, and complimented with Lillet rouge and Campari, this was the house negroni to start our engines. Naturally.
So armed, we tackled the menu with aplomb, and fired off a selection of small plates, not objecting to the idea they arrived at different times. The Champagne arrived with Adipoli (or 'excellent') prawns in curry leaves and turmeric, and squid infused with chilli and Coram seeds. If we didn't already know, bubbles and seafood go together a treat.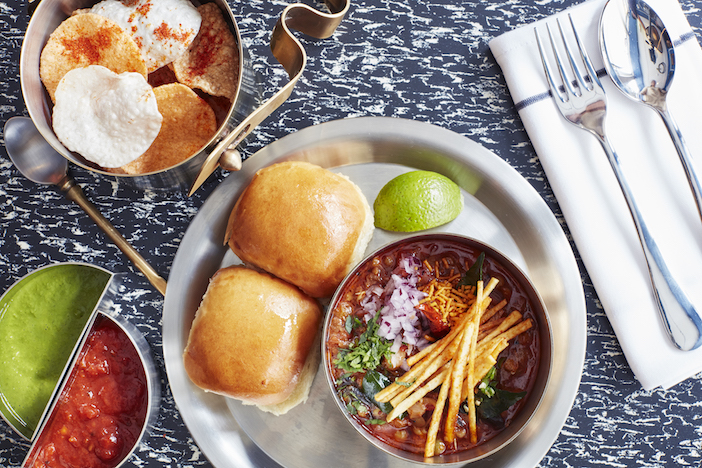 There followed a 'build-your-own-burger' style keema pao of minced lamb and mini brioche, and the trio of dosa, being crisp taco-Like pancakes with spicy keema and coconut chutney. At this point, we were gunned down with an assault of flavours, textures; we'd forgotten how much we were, technically, eating. And at each turn the waiters were assisting; water here, napkins there, a crumb down where necessary. At one point I reached for our water and the waiter beat me to it. We were on a journey through the Indian subcontinent, and this train was nowhere near stopping.
As we progressed south the dishes got spicier. Guineafowl came out with the next round, with fish tikka and Achari lamb chops. A difficult combination to get the wine right but it worked with the ubiquitous Gavi di Gavi, that seems to go so well with Indian food. It offset the fiery fish, and even placated the heat from the pickling spices that infused lamb.
For the mains – yes, now the mains – it was a tour across the country, by curry. From the Punjab with a Fenugreek chicken Makhani, we finally concluded our culinary journey at the Malabar coast at India's southernmost point with lamb in pepper and coconut milk. Dressed with sides of Ghobi mutter cauliflower, Danna dhal, rice – and a hopper (in case we ever wanted to hop over to Sri Lanka) – we flitted between an El Esteco Chilean Cabernet Sauvignon and a Tuscan Montalcino, for depth and range, getting technical and a little high-minded as we travelled.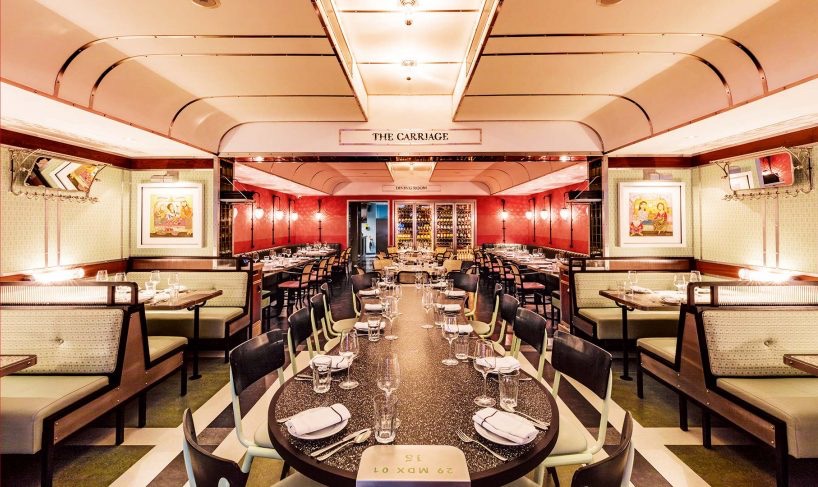 There were desserts, too, but these were more eye candy, sampling a single spoonful of saffron jalebi cheesecake and a cardamom mango panacotta. And, in the spirit of the tiffin carriers themselves, we concluded not with coffee, but the ubiquitous Indian elixir, cutting chai.
Supping and sipping, we reflected on where we'd been; in just one evening, coursing across the country by train carriage, feasting not our eyes but our appetites, and loving every minute. Most tellingly, as we metaphorically made our merry way, the voices we heard amid the bustle were Indian; not that we needed reassuring that we were experiencing the authentic taste of the continent.
That night, I'd arrived in bustling Bombay fearing a memory I would have wished to forget. I left with a memory I will cherish. Some meals are memorable for the wrong reasons. Bombay Bustle is memorable for all the right ones.
Bombay Bustle 28 Maddox Street, Mayfair, London W1S 2PA. For more information and menus, including their bespoke 'Journey Menu', and for bookings, visit www.bombaybustle.com.