Plotting a course from Oxford Circus to the corner of Foley and Hanson Street in Fitzrovia does not require a seasoned navigator, but a degree of seamanship is vital when steaming your vessel through the frothing waves of flotsam and jetsam that accumulate along the beams of Oxford Street on any temperate day in the high season. Such as it was on this fine Mid-July evening, the beginning of the heatwave, and the straights of W1 were awash with lubbers and greasy-slops. However, I was embarked upon a most profitable voyage charter: my purpose to make safe berth at Bonnie Gull, where I was to meet with chief mate, The Foodie Ed. and take on board a cargo of the finest seafood available this side of the Mariana Trench.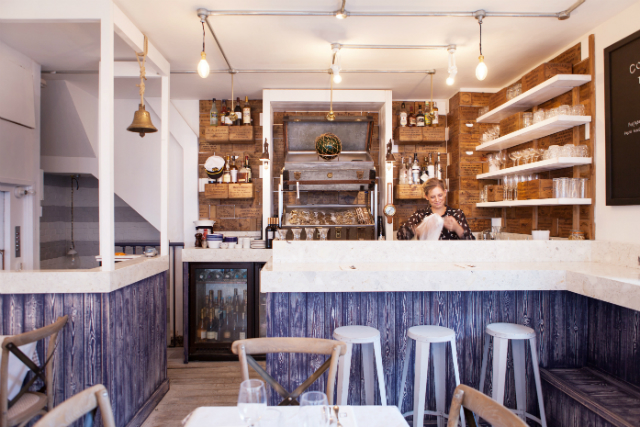 Bonnie Gull first set sail in 2011 as a pop-up in Broadway Market, the brainchild of head chef Luke Robinson, who gained his sea legs on deck at Jamie Oliver's Fifteen, and co-founder Alex Hunter, who set the restaurant on its course to furnish the public with seafood that is "affordable, simple, fresh, responsibly sourced and 100% British".
Casting off its days as a youthful pop-up, the restaurant is now more securely anchored on the site of an old, sunken fish'n'chippie, where on a moderate to good day, you can float up alongside a row of outdoor tables and enjoy your catch as nature intended, exposed to the elements. This is not to suggest that confines of the fetching little shack are unseaworthy. The décor jauntily invokes the seaside setting: as you walk in, your eyes are drawn to the opposite wall where a chalk board proudly displays the outline of the British Isles informing the inquisitive stevedore where the mountains of mollusks have been plundered from. The general colour scheme is a pallet of nautical, faded blues and whites, the floors are light brown hue of driftwood, the tables covered in checkered table cloths, and the bar area is like the galley of some boozy old tug-boat, brimming with crates of contraband. The charming vessel claims she can hold up to 60 souls, although this would be a squeeze even for the most able-bodied.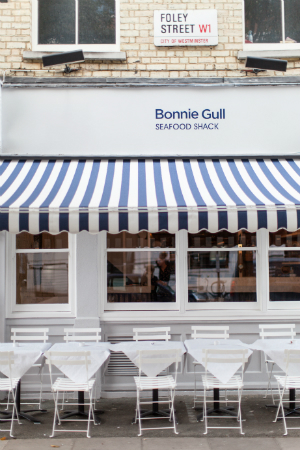 I come across Ed perusing the menu outside, at one of the aforementioned al-fresco moorings. He's humming a maritime chantey and carefully examining the prospect before him like a captain checking the minutiae of his manifest. He's right to do so; a mistake on matters of the high seas can cost a man dear, imagine working yourself up into a lather of expectation only to be served up with a limp slither of salt cod while your dining companion rides the crest of a magnificent smoked mackerel? Doesn't bare thinking about.
A drink is customary after a long crossing, and Bonnie Gull serves up a select bill of beers including Adnams Explorer and Meantime Pale Ale and a sensible wine list focusing primarily on a decent range of whites catering for the slender purse of a lowly deck-hand to the burgeoning coffers of an admiral. But if you're truly parched, your eye, like mine, will be drawn to the cocktail list. Classics with a nod to the new – A Swiss 75, just like the French, but with a splosh of Elderflower. Johnny Be Good, a classic whisky sour with triple sec. I request "One for the Gull"; Rose champagne, a draft of lychee liqueur and hint of basil. A veritable lagoon of satisfaction. It's "First Thyme for Everything" for Ed – a classic Martini with a fine spray of Thyme Liqueur. Ed assures me that he is suitably refreshed.
Our waiter, as keen a man of the sea as you could possibly hope to meet, explained to us that the menu at Bonnie Gull changes daily, based upon whatever the local trawlers can drag up from the abyss. You are therefore somewhat at the mercy of Poseidon and his cruel whims. Today, however the sea-god was clearly feeling benevolent: a fine selection of bivalves are on display in today's raw bar – Uist razor clams, Barra cockles, Palourde clams, and rock oysters from Mersea, Dorset and Carlingford. Some may choose to lay down their lives for a blue fin tuna or an Atlantic halibut, but nobody ever shed a tear for a mollusk. The Walrus and the Carpenter knew that. And so do me and Ed. A couple of the Uist razor clams and portion of the Barra Cockles will start proceedings well.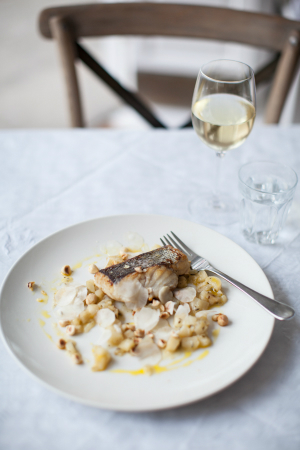 The razor clams are enormous; you could be forgiven for believing that they were sourced from the Godzilla bearing waters of Japan. Served up with the lightest garnish of parsley and onion and pepper, the coastal wash of the meaty clams is given a ghostly tickle by the dressing. The cockles are worthy of a visit too, nicely set with the smoky bacon, which gives some porcine backbone to the briney tiddlers.
Approaching the business end of this charter we look to the area of the menu where the formal starters are listed. Today's seasonal influence brings with it such offerings as Salmon with avocado puree, radishes, pickled carrots and orange; or, if you suddenly found yourself sick of the sea, a fried pheasant's egg with wild mushrooms and land cress. No such lily-livered behaviour from a pair of salty mariners like me and Ed though. I elect for a dish of baby squid and chorizo, served with tomato petals, olives and basil. Ed goes for the Isle of Man queenie scallops and samphire, potatoes and laver bread (a traditional Welsh accoutrement of cooked seaweed).
My squid dish conjures up the imagery of monsters from the deep – the oily, peppery chorizo is attractively served up in chunky blocks; while the fresh, slippery squidlings pile out from centre of the plate like the Kraken rising up through a craggy cove. Exquisite.
Ed's queenies are plump, juicy and perfectly cooked, nestled in amongst the rich, mineral laver bread and samphire; this dish pulls together a mix of British coastal bounties with considerable flourish. I have a touch of the envy.
We take a brief pause to consider the Mains. There are some serious contenders listed in today's offering including Cornish seabass on spiced couscous with fennel and tomato butter; and whole Looe lemon sole with cockles and samphire. However, it is the crustaceans that have now caught our hungry attention. I opt for the half Cornish lobster served with grillade butter, skinny fries and salad. The half lobster is a generous size, with a hefty tail of soft, white meat. The flavour is clean and so fresh that you imagine this unfortunate specimen was probably out bothering kelp that very morning, but has met its abrupt end tonight in central London. The liquid butter comes served in a miniature sauce pan, and its all I can do to resist completely covering the pink beast in the slick dairy lubricant – but I maintain discipline so as to fully savour the rich juicy flesh in its natural guise. The skinny fries are seasoned with rosemary salt – a nice touch offering a lingering, sharp tang, which remains on the tongue as you alternate between the fries and the flesh.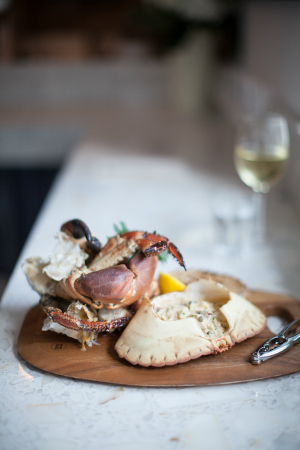 Ed orders the Whole Dorset Cock Crab – an offering that could not look more majestic if Kate Middelton wore it as a hat – the colossal beast is served with crab mayonnaise and white sourdough toast. It takes Ed a full 30 minutes to see off the lion share of the juicy, flavoursome meat, leaving just a couple of legs to return to with the crab fork. We order some beef dripping chips on the side, a little extra insulation. The dripping gives these thick, square cut spuds a beautiful, crisp shell around a light, fluffy centre and a flavour that, for a fleeting second, transports you across the sea to Belgium where the populace demand animal fat chips as their basic right.
My hull is beginning to groan under the weight of the cargo, but the high water mark is in sight. The final matter of dessert must be settled. And here too,  Bonnie Gull serves up some irresistible, classic British temptations. A lemon curd tart with apple sorbet catches Ed's eye, but I am drawn to my usual vice, a chocolate brownie with salted caramel ice-cream and candied hazelnuts. The brownie is soft and crumbly, eroding away into the pool of caramel ice-cream that was beginning to spread around in the warm July evening.
Bonnie Gull has a party tricks up its sleeve,which come in the form of three dessert cocktails – An Amaretto Cherry Sour, a Boulevardier and a Bonniespresso Martini. At the recommendation of our goodly waitress, I go for the Amaretto Cherry Sour, a classic sours construct with cherry and almond liqueurs packing a tart finish under the sweet, smooth amaretto main sail. Ed goes for the Boulevardier – a bourbon whisky with camapri and sweet vermouth. An elegant and refined number for an old dog of the sea. The right sort of diesel oil to get a man steaming out of port into the night.
I sit here looking back on that gentle voyage with a warm glow, not knowing when I will next be setting a course for the Gull, but I feel that it will be soon. Perhaps on the next low tide…
Bonnie Gull, 21A Foley Street, London W1W 6DS. Website.