There was a time (and we're going back decades here) when French restaurants in France – and particularly in Paris – were famed both for the excellent quality of their food and the extraordinary rudeness of their waiters. And in the early days of the slow and sometimes painful rise London's foodie-ism, the restaurants at the forefront of the movement directly imported chefs (and often those very same waiters) from establishments across the Channel. French food was the unchallenged pinnacle of our food culture.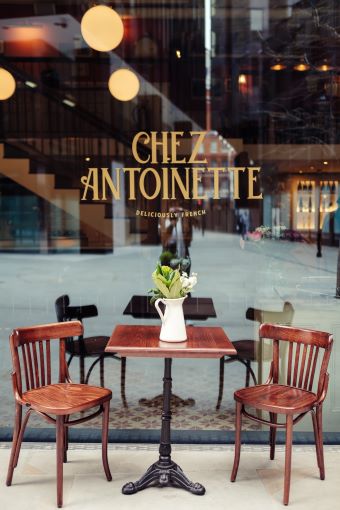 Then it all changed. There were so many new cuisines flooding in from around the world – at first, Indian and Chinese, then Japanese, Indonesian, Mexican, Thai, the list just goes on and on. As a result, as time went on, French food – and particularly traditional French food – was somehow forgotten.
So it was with some surprise that I found it alive, well and thriving in Victoria. Chez Antoinette is in a modern complex set back from Victoria Street but it exudes trad French charm. The staff are mostly French and also delightful – a far cry from that previous surly reputation. And while the site is architecturally modern, there is a definite nod here to the retro (tiled floors, bare tables, did I spot a glimpse of lace curtain?). The menu would have delighted Proust.
When the Major and I arrived on a freezing March evening, we were amazed to see lots of people outside (in coats, hats and boots) in the spacious courtyard. Not for me, but I bet it's a great spot in warmer weather. Instead, we were whisked upstairs to the balcony restaurant – Chez Antoinette is clearly inspired by Parisian bistros and set over two long narrow levels and, especially during the working week, it's busy, busy, busy.
There's a long bar, serving rather chic French cocktails (French Negroni, St Germain Spritz) and they have a Happy Hour (4.30-6.30) enticing in those working in the area. They open for breakfast (with their own proper patisserie) and stay open all the way through to 10pm. The dinner menu is so traditionally French it's like stepping into another era.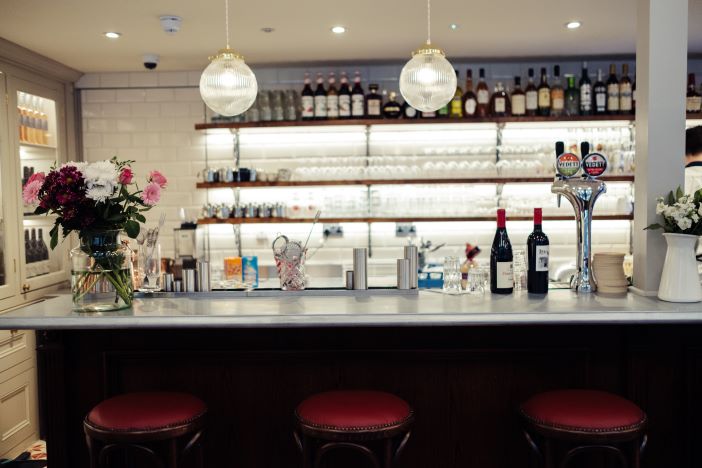 So the Major began with French onion soup – this is the authentic version that requires not just a spoon but a knife and fork, the floating toast dripping with Emmental. I had pan-fried king prawns dripping with garlic butter that seeped into the accompanying lettuce. The entrees included such traditional dishes as Snails from Burgundy and – zut alors! – Foie gras on toast. This is not a natural home for Vegans.
The clue to all this retro food lies with founder and chef Aurelia Delclos-Noel whose cookery skills were learned from her grandmother. "Everything I know about food," she says, "was taught to me by my beautiful Grandmother, Antoinette. Our menus showcase her love for authentic French cuisine, every dish is prepared with the same love and joy that my Grand-Mere imbibed into our family dinners."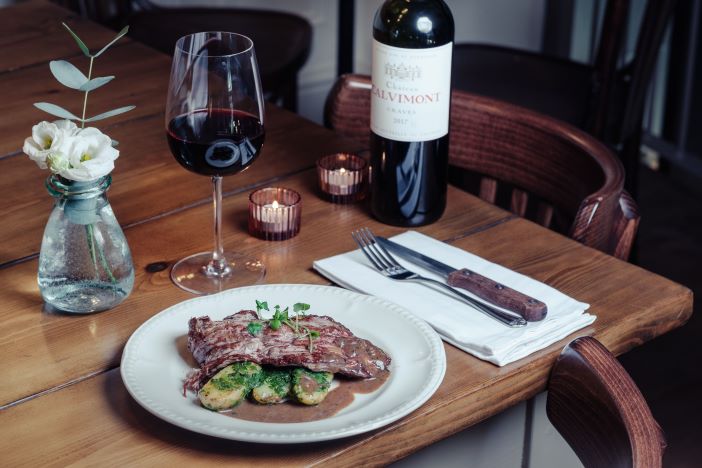 And authentic it certainly was. We had a glass of the house Champagne while the Major perused the surprisingly long (and predominantly French) wine list. We settled for a big red in the end (Cave du Tain Crozes Hermitage) as we were having Confit leg of duck (for me) and, of course, steak frites for the Major. The Major even had a pudding – a (you guessed it) traditional Antoinette chocolate cake with ice cream.
The original Chez Antoinette is still thriving in Covent Garden and has, if anything, an even more traditional atmosphere with antique French furniture and crockery imported by Aurelia. Whichever location you choose, polish up your accent and prepare for a soupcon of va-va-voom.
Chez Antoinette Victoria, 64 Buckingham Gate, 22 Palmer St, London SW1H 0PH. For more information, and reservations, please visit www.chezantoinette.co.uk.