Well, if we ever needed reassurances that we were back on the road to recovery, the packed tube, the commuters at Liverpool Street station, would suggest there'd never been such a thing as a global pandemic. It's my first time in the City since you-know-what and, bar the occasional facemask, you'd think we were back to business as usual. Indeed, speaking of business, I'm meeting an old friend who's returned to his office and we're in for that classic post-work prandial catch-up. And what better choice than Vivek Singh's signature offering, Cinnamon Kitchen. I can think of nothing more fitting, joining the ranks of stockbrokers and bankers for some fine Indian fare, as the City comes back to life.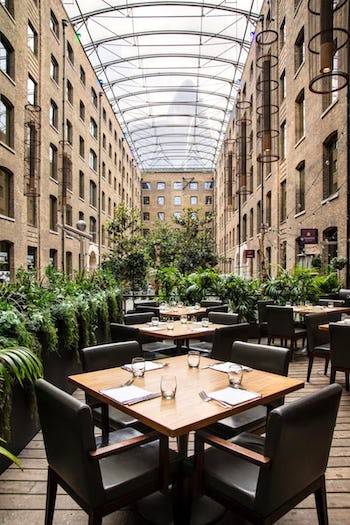 It's in an intriguing spot, not somewhere you'd readily come across. Billed as the Old Spice Warehouse (presumably for its former role trading wares from the Orient as opposed to a harbour for industrial quantities of the 1980s-vogue cologne), it's tucked between Liverpool Street station and Spitalfields, through a bricked archway into an atrium-covered courtyard.
As you enter, the acoustics heighten the hum of the crowd, making it feel busier than it is and giving the sense you're arriving at something rather livelier than a restaurant. And, as I walk up, it looks packed, so it's strange to think they'd be able to accommodate me, but the maitre d' is unphased. "We have the best table in the house for you, gentlemen." Classic. Make me feel right at home. We're ushered to a table at the back of the terrace. It's the terrace, too, where you'd choose to eat; it's a pleasant setting, framed by ferns and other flora, the buzz of the crowd bouncing off the walls.
For all the atmosphere, it does feel there's a sense of churn, indicative by our starters arriving even before the aperitifs. That said, those we ordered, a chicken tandoori infused with Rajasthani soola spices, and tiger prawns with an infinitely moreish coriander chutney, were cracking, complimented by a mighty Indian G&T and a mango sour. There's much to be said for cocktails pairing with food. Serious heat from the prawns offset by the sweetness of the mango sour, and the G&T, infused with multiple fruits, mint and a cucumber ribbon seemed to add finesse to the yoghurt and mint sauces of the chicken.
There are, too, some inventive touches, primed with source ingredients clearly with provenance and rendered by chefs keen to maintain Singh's standards. In our case, when it came to the mains, it was a saddle of Kentish lamb. Risky in anyone's hands, this was melt-in-the-mouth tender, with a sauce enriched with raan stock and pickles, and mopped up by a trio of naan. Our staple choice was the chicken biryani, a failsafe under Singh, if a little dry on this occasion, but saved by the presence of a Puglian Trebbiano.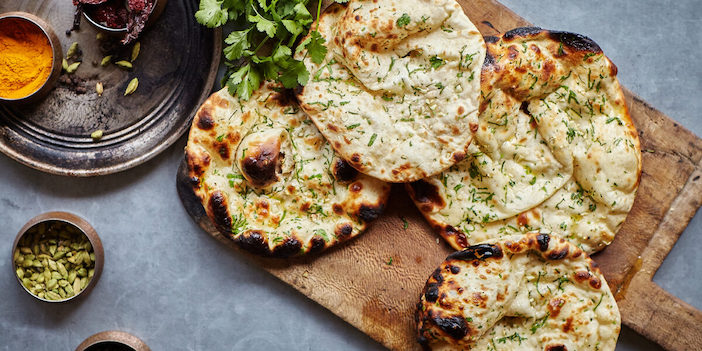 While this City outpost doesn't quite offer the same sense of occasion as the flagship Cinnamon Club, and the dishes are served with little in the way of finesse or ceremony, there is, thankfully, no loss of standards or quality of the food on offer. It is, after all, designed to be more convivial, the 'Kitchen' label – also given to its Battersea sibling – purposefully differentiating it from its parent venue. As the evening wore on, the buzz settled, as did we, rounding the meal off with a sumptuous coconut rice kheer and Punjabi kulfi, and we were sent off into the night replete and recharged.
"Did you enjoy that, gentlemen?" Our man enquired as we folded our napkins. "We did, indeed," I replied, "it's good to be back. It's been a long time coming."
"It certainly is," he beamed back, "and it certainly has."
Cinnamon Kitchen City, 9 Devonshire Square, Spitalfields, London EC2M 4YL. For more information and bookings, please visit www.cinnamon-kitchen.com.
As part of Indian Festival Season, Cinnamon Kitchen City will host a Diwali Dinner on 2nd November 2021 with a delicious 12-dish menu. As the final event in the 'Life in Spice' series, Raju Ramachandran, Head Chef of Cinnamon Kitchen City, will be joined by Senior Sous Chef of The Cinnamon Club, Surendra Nathawat, to mark the Festival of Lights, with dishes such as Sri Lankan style chicken curry with pandan leaf and spices; Tandoori rabbit tikka with soola spices and Kolkata style king prawn biryani with pomegranate raita. Tickets cost £65 per person and include a welcome drink on arrival. For bookings, please visit www.eventbrite.co.uk.