It's hard to know exactly what to expect from a restaurant called Crazy Pizza. Or perhaps not. Maybe it's completely obvious. Certainly the epithet "This is no ordinary pizza restaurant" on its website hints at what you're in for. A video flaunts svelte types grinning coquettishly, taking selfies and sipping champagne. The Lambo's parked outside, a DJ twiddles his knobs, diners throw their hands in the air, like they really don't care. Oh, yes, and everyone's enjoying what looks like delicious, delectable, stringy pizza.
With a flourish of pink flowers framing the Marylebone restaurant's facade (there are also branches in Knightsbridge and Monte Carlo), Crazy Pizza certainly looks alluring. Inside, its design is smart and unfussy, crisp even. The lighting is warm, the furniture effortlessly comfortable. Photos of Beyoncé, Gianni Versace, Meryl Streep, Brad Pitt and others adorn the walls – all unselfconsciously devouring pizza, naturally. Shelves full of lifestyle magazines and photographic books abound but, for all this scene-setting conducive to dining, the first thing you notice is the music. The loud, loud music. We walk in on Tequila by Jax Jones and, subliminally inspired, order two glasses of Social Distancing; a tequila, mezcal, grapefruit infusion. Larry thinks it lacks a kick, but I think it's just fine. It's refreshing and the black salt around the rim adds a nice touch.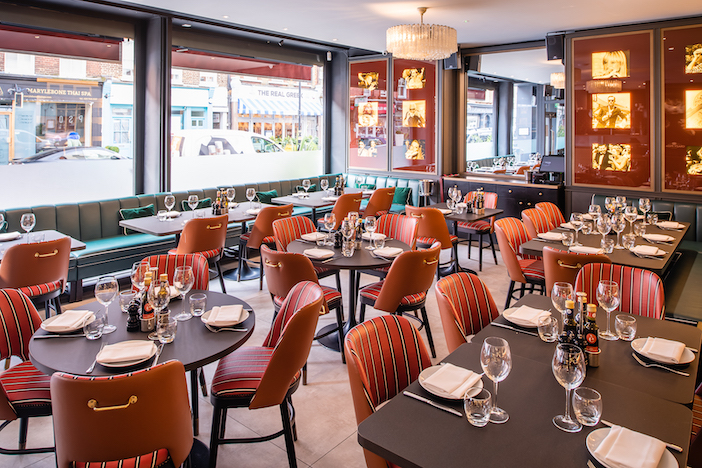 Broadly speaking, the menu is split between relatively regular sections and 'crazy' sections. Not wanting to deny our restaurant's raison d'être, we go as crazy as we dare but take starter recommendations from our waiter. Slick, attentive, bespectacled, he talks a good talk and suggests sharing a combination. Burrata, focaccia and Parma ham. We override the latter and opt for Bresaola. The Focaccia, wafer thin and toasted, goes well with the olive oils on the table, and the Bresaola's certainly moreish, but the Burrata wins out, taut on the outside, soft, creamy, buttery on the inside, like it's just been flown in from St Tropez.
At some point during the starters our eyebrows somersault, our ears cower. The music, mainstream R&B for the most part, turned up to eleven, suddenly doubles to twenty-two as the first, unmistakable refrain of Dancing Queen blasts out. It's about 8ish, and far too early for dancing. We've barely eaten, let alone are stone cold sober. It doesn't deter the other diners, however. Smiles light up the restaurant, shoulders start to twitch, a few adventurous types do wave their hands in the air. Our neighbours are singing along. Larry and I deludedly try to continue our conversation, shouting at each other but capitulating to the song. The volume returns to eleven, and a degree of normality resumes. Larry's already getting hoarse.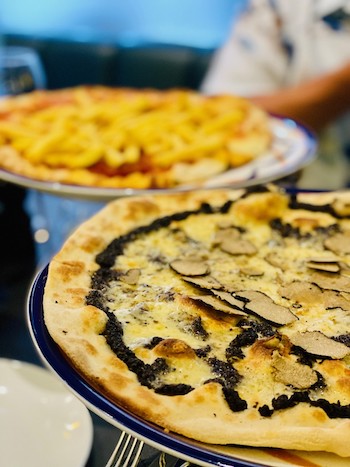 Having concluded Crazy Pizza's main goal is for its clientele to out-bling the blings they came with we go in heavy on the main and choose the most expensive pizza on the menu and the most crazy; the Tartufo comes with white truffle oil and tapenade, topped with generous shavings of black truffles. If truffle is your thing, then the Tartufo is for you. At £45 this tops the most expensive pizza I've eaten, certainly. And I've eaten pizza in Monte Carlo. By contrast, the turkey sausage-based Viennese, ordered purely for the novelty that it comes with fries – as a topping – is sold out. Neither of us had ever had fries on our pizza. And we might never have done but for our waiter, sensing our disappointment, suggesting we add fries on the Salami pizza we order in consolation. We can do that? Ah, OK, yes, please! We order a bottle of house red to celebrate and start shouting at each other again.
Throughout the night, the volume of music creeps up stealthily until it creeps up recklessly. By the time our pizza arrives, any sense of communication, whether between ourselves or the waiting staff, is futile, and, while knives and forks are provided, with the noise and the alcohol we throw caution to the wind and dive in with our hands, our critical faculties frazzled and rendering useless any intricate analysis of the food, which both win on novelty value if not much else. We asked for fries on our pizza; we were given fries on our pizza; we would probably not have fries on our pizza again. I might hope not to pay £45 for a pizza again. Even if stacked with truffle shavings and a gilted crust.
Another ABBA medley bulldozes into the room. By this stage everyone knows the drill. Hands in the air. Shine those teeth, swing those shoulders, sing those lyrics. And don't forget to record the experience on your phone. Make sure everyone can see you're having a great time and you've seen Mamma Mia. Our neighbour (probably the only diner apart from us not under 35) high-fives the guy on the table next to him. Everyone's loving it, loving it, loving it. And then, as if proceedings couldn't get any crazier, Dean Martin starts his Mambo Italiano.
It's a happy respite from the relentless disco. A chef skips out of the kitchen and spins a pizza base in the air. The diners can't believe their luck! About three quarters of the restaurant whips out their mobiles and film the crazy routine, the crazy spinning, the crazy dough. In another showstopper the staff exit the kitchen with indoor fireworks, the kind you usually get when you pay €1000 for a magnum in Shanghai or Cannes.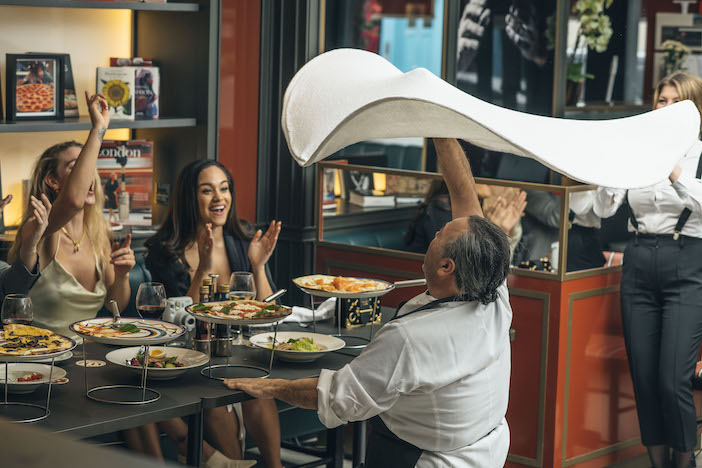 The diners lap it up. Then it dawns on me. This isn't a pizza restaurant, it's a nightclub which, by the by, serves pizza. This, we conclude, is what makes crazy pizza crazy. We may have anticipated a pleasant, sophisticated dining experience, but at least we now know what we have let ourselves in for. Larry tops our glasses up, grabs a sparkler from a waitress and starts singing along.
We decide to finish what we started and go for dessert. And how could we not choose Crazy Cake? Our waiter approaches us with a fold out tray and starts preparing this confection in front of our very eyes, as if one of life's big secrets might suddenly be revealed. It's a nice touch, adding to the spectacle. Other diners watch with jealousy. We watch with intrigue; we have no idea what the Crazy Cake is made of because it doesn't say on the menu and we've both given up trying to have any meaningful communication with each other, let alone the waiting staff. Our waiter squeezes an aerosol of whipped cream onto a large plate. He cuts a croissant into small pieces. He smears a supremely generous portion of Nutella on top. He hands us the result. Larry stares at it, mystified.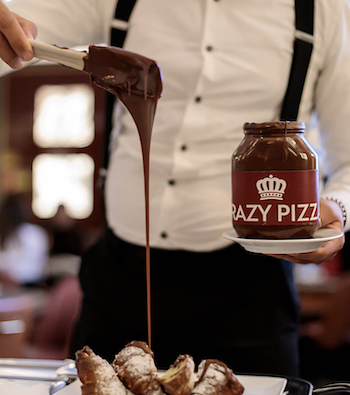 "So is the Crazy Cake just whipped cream, croissant and Nutella?" I shout at Larry.
"I think so. Not very crazy, is it?" He shouts back.
"I dunno, it's pretty crazy if you think about it…"
"It could have some nuts on it at least. That'd be crazier."
"Or Skittles. Something you wouldn't really expect."
"Anchovies? I wouldn't expect that!"
It's easy to take the Mickey out of Crazy Pizza. It's not cheap and you don't exactly go there for the culinary expertise. And if you don't like R&B, ABBA and Queen pummelling your eardrums while you eat, then perhaps it's not for you. That said, Crazy Pizza very much wears its heart on its sleeve. It tries to do something different. It tries to take your average dining experience out of the restaurant and into the nightclub – and succeeds. And if this sounds like your idea of a good time, then why not. There are worse things to do with your night out. It's an experience, that's for sure.
It's crazy. And it's pizza. It's Crazy Pizza!
Transform your Saturday afternoon with the all-new Crazy Bubbles Brunch offering. Filled with mouth-watering feasts, flowing bubbles and high-octane fun, a dining experience at Crazy Pizza never fails to surprise, and Crazy Bubbles is no exception! Enjoy Crazy Bubbles from 12pm-3pm for £100 per person. Upgrade your package to include an additional hour of free-flowing beverage for just £135 per head. For more information and bookings, please visit www.crazypizza.com.