Almost upstaged by the Victorian splendour of St Pancras, the location of Decimo is The Standard hotel's first foray outside the United States – and it cuts an equally striking presence. The cellular architecture in crisp white concrete contrasts sharply with its ornate redbrick neighbour. And you'd almost miss the restaurant if you didn't know it was there, bar the kitsch 60s signage.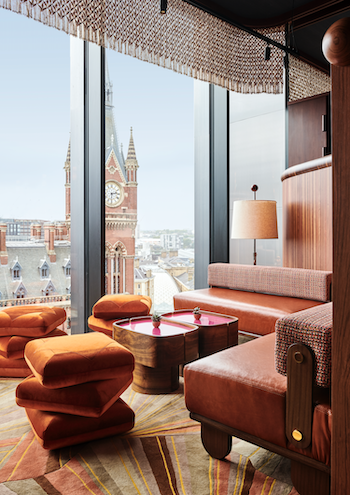 But, once in, it turns these incongruous features to its advantage; you take its scarlet pod elevator to the 10th floor, ascending in your own virtual crane shot up the façade of St Pancras, a moment to savour one of London's finest landmarks.
The retro feel continues inside, with woven cane ceiling features, taverna style furniture and gargantuan cacti, bar stools like saddles and a soundtrack to suit the setting. I feel like I'm on the set of Coogan's Bluff, and at any point Andy Warhol might make an entrance. I'm ushered to a corner banquette, afforded the view of St Pancras through string curtains from the full height windows, and settle into sultry Hispanic jazz while I consider a mescal. A huge fire pit burns to a concrete chimney at the adjacent table. It all feels wonderfully decadent for a Thursday lunchtime. And knowing my lunches with Larman, this could turn into something.
Larman arrives at pace, grinning, and barely gets his coat off before beaming "the menu is supposed to be excellent" and metaphorically rubbing his hands, "particularly the pork ribs". We can't possibly attempt the mescal flight (it's too early) – let alone the 'Agave' menu that's delivered alongside the wine list – but a mescal margarita with Amores Espadin seems de rigeur. "Be warned," the waitress tells me, "it's strong." I feel my heart jolt slightly.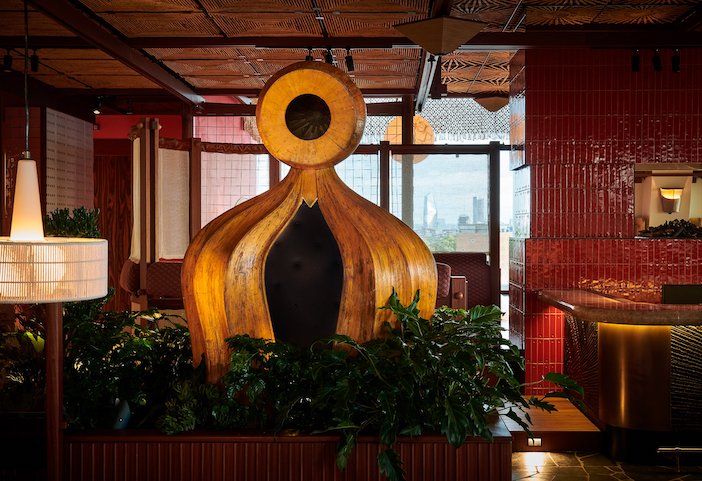 If you hadn't worked out by now, there's a Mexican theme here. Spanish-Mexican, to be precise. The chef, Peter Sanchez-Iglesias, hails from Spain, but spent a lot of time in the latter, honing his craft. "My two favourite cuisines," I tell the waitress, gleefully, as she takes our order, with another recommendation of the pork ribs.
"This looks heroic," Larman tells me, as a panoply of sharing starters are put down; toasted bread in oil, jamon, croquettas, manchego quesadillas and their signature tortilla. There's a lot to picar, as the menu states. The tortilla balloons and bursts with onions and egg yolk in a rich, flowing gravy. The bread mops it up amply, the jamon is torn by hand, the quesadillas and croquetta as are taken in one bite – each have an umami tartness and there's no denying that there's a skill justifying Sanchez-Iglesia's Michelin star.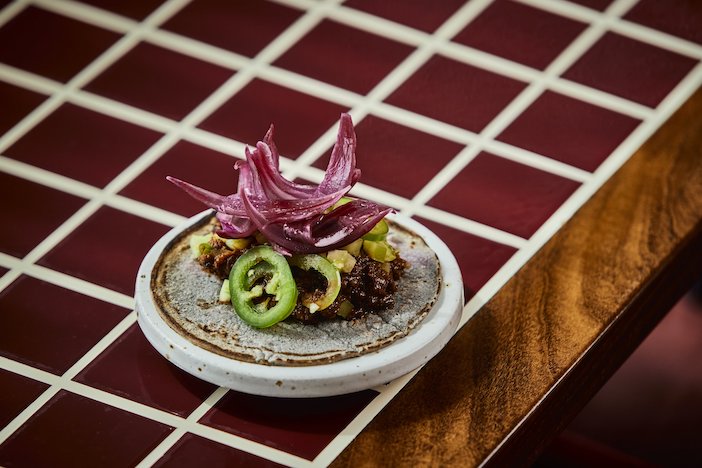 Before we order mains, and ribs exclusively most likely, Larman declares an interest in the tacos. I'm keen. We get two of the pork; they arrive on mini platters; pork belly, crackling, aioli and black beans. And a side of lime wedges. They are cumbersome to handle, but a real highlight.
As we consider those mains, I'm baffled by the frustrating simplicity of the menu: 'Fillet of Beef', 'Rib of Beef', 'Scallops' et al. Minimalism gone mad. Something spooks Larman, "How do you justify a £34 cesar salad?" Intrigued by the mention that it's a 'homage to Cesar Cardini', I ask our waitress, expecting a revelation, but was told that bar being prepared table-side there was little more than the standard ingredients. It's parked.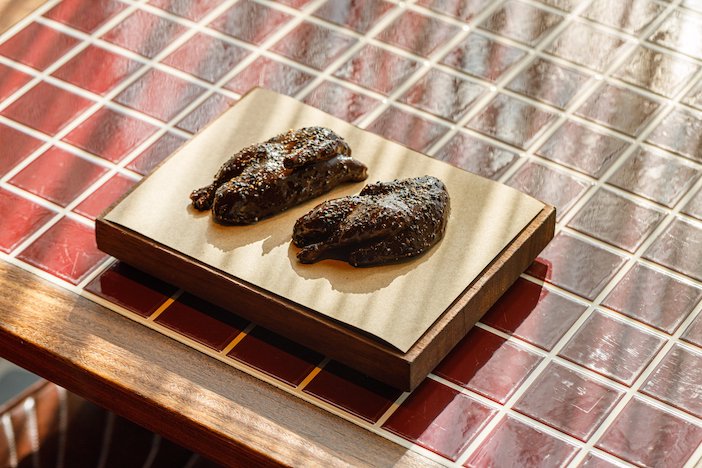 We deliberate our order, to a third recommendation of the pork ribs. Okay, pork ribs it is. They must be extraordinary. Should we get two? We add the "lamb rump", "fried potatoes, aioli", "sand carrots" and "courgette, lime". And I'm wondering why they fired the copy editor of the menu. Still, there's intrigue, and with an Argentinian malbec-merlot blend from Bodega Norton, we stand by for round two.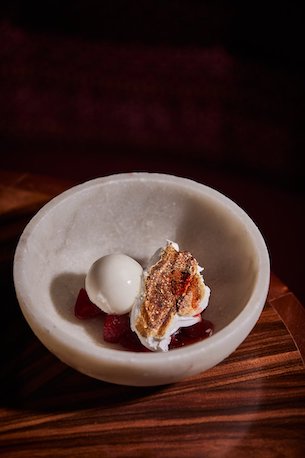 Everything arrives with a flourish, placed on wooden blocks arranged geometrically on the table. They're conservatively portioned, but this does nothing to temper our gluttony. The infamous ribs, engulfed in a tar-like mole glaze, look as tempting as a pair of rain-soaked wooden cinders, but they are definitely worth shouting about, even thrice. They are as tender as it they are fiery. We should have ordered two. It's all good, satisfying enough, and if the intent was a rustic Mexican taverna, they've certainly won on that score, but I'm not sure the prices justify the execution.
Unbelievably, we make room for desserts, maintaining a degree of restraint for the most indulgent. The chocolate mousse with olive oil feels a bit gimmicky, but our waitress sings the praises of the leche and it doesn't disappoint, entertainingly served in a marble bowl that feels like bench-pressing 150kg when lifted.
Larman and I exchange knowing glances as we prepare to depart. It's been fun, but worth the collective praise from the critics we've read? Hard to say. There's an entertaining epithet on the dessert menu; the last item reads, "The night doesn't end here…" encouraging a room for the night, complete with sleepover survival kit. That may be so, even if it's lunchtime. But hand me that mezcal menu again…
Decimo at The Standard London, 10 Argyle St WC1H 8EG. For more information, including details of brunch and late night menus, please visit www.decimo.london.