While a meal at the hands of a Michelin-starred chef may not seem much to write home about, it's not often one is invited to a dinner with a Michelin-starred chef, but that is the rare treat that arrived at the Editorial desk one afternoon at The Arb. And when the invitation came in, Larry drew the lucky straw and popped along to The Gore…
Dishes at 190 Queen's Gate are created under the guiding hand of French Michelin-starred chef Daniel Galmiche. Drawing upon his passion to marry authentic French cooking with British ingredients, everything, where possible, is sourced from organic, sustainable, local producers to turn out classic British dishes with a contemporary Gallic twist.
Hailing from The Vineyard at Stockcross before his tenure at The Gore, Galmiche has a CV to match, turning his skills to some of the most prestigious restaurants in Europe, including Le Gavroche, Cliveden House and L'Ortolan. His effusive, ebullient personality, delivered with a brogue as thick as his sauces, is not simply a name behind the cooking either, but is a recognisable face, too, being a regular guest chef on BBC's Saturday Kitchen.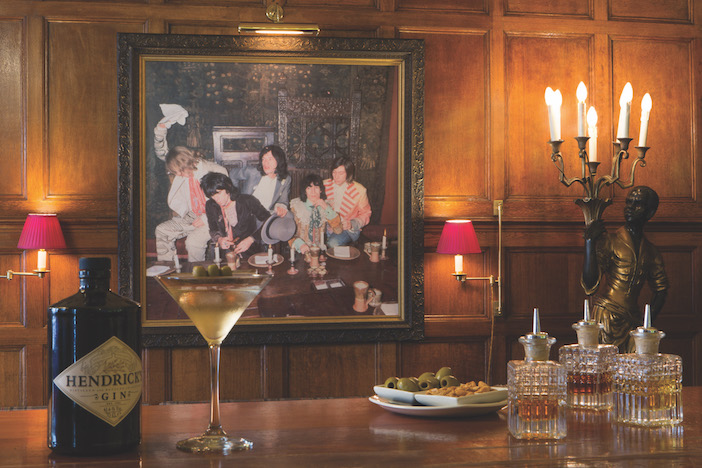 Before we join him for dinner, we have an opportunity for a small libation in The Gore's bar. In a world riven with chrome and minimalism, the low-lit gothic interior of heavy wood paneling is a welcome change of scene and I take a seat beneath one of the portraits of The Rolling Stones, themselves patrons d'honeur, having called it something of a second home back in the day.
From an extensive and exciting cocktail menu, I sample something light and snappy, a Flamingo Sour, as an aperitif. And, as if on cue, as it arrives Brown Sugar emits from the speakers as I sip past the gilded sugar rim to the vibrant pink-coloured concoction within. Vodka with Aperol and grapefruit offsets the sweeter apricot liqueur for a sharp livener before the main event, and before long, we're into the dining room at 190 for what would become a most memorable evening.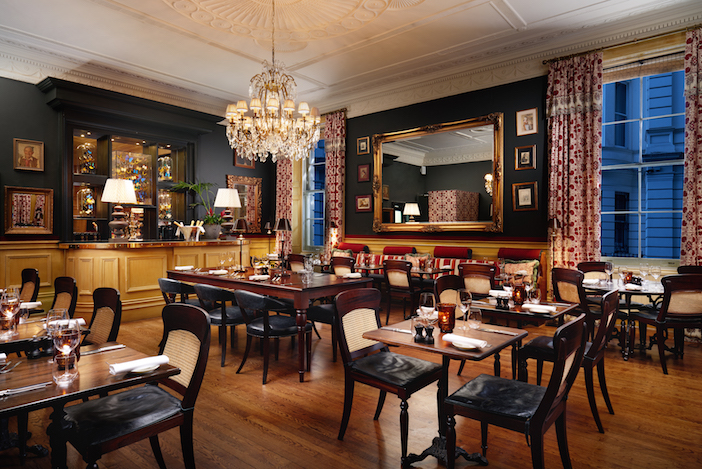 I'm met with a warm handshake and a welcome from Daniel, as a flute of Tattinger is thrust into my hands, and the first course arrives promptly. Amuses of lightly smoked halibut sashimi topped with Sevruga caviar and lime zest. I must be on to something as it seems to follow the aperitif nicely. "I love this caviar," Daniel tells me, "it's from the River Yulena in Siberia. This supplier, Attilus, really know their produce, and it's a labour of love, they wait up to 10 years to harvest the eggs from the fish." Why this one specifically, I ask. "You'll notice it's different from Sevruga, it's earthy, more salty, and just goes perfectly with the smoked fish."
All chefs worth their salt care about the provenance of their ingredients, but Daniel Galmiche seems to have taken it to a different level, often visiting producers to assess the quality of the produce. "Everything is made a la maison, he says with vigour, "it's the way I was raised. All my life I'm working with integrity of ingredients, understanding their provenance, and it's the reason I work with these suppliers for so many years, establishing relationships."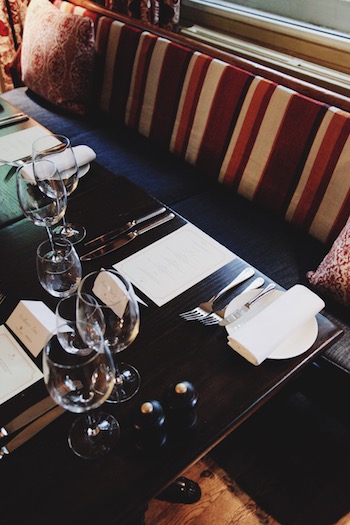 In the case of our next course, for a French chef operating in the UK, I'm surprised to learn that he's a member of the Norwegian Seafood Council. "This starter is trout, but specifically Norwegian fjord trout. I love this for so many reasons, texture, flavour, but particularly the welfare and the passion that goes into nurturing these fish…" Served with roasted endives, giving it a bit of bitterness, it speaks for itself; fresh and wholesome, flaking off the fork. "It's a very nutty, elegant fish," Daniel says, "so all we've done is pan-roast this fillet and let the fish speak for itself."
What's special about the fjord, I wonder. "It's a mixture of water, from the glaciers, mixing with salt water from the sea," Daniel says, "making a perfect, clean, pure environment for the fish, that's what makes it so special." Indeed it is, and it's gone in an instant, washed down with an Ridgeview Blanc de Noir, the red fruit aromas delicately complimenting the dish. "I would encourage you to eat the skin," he points out, "when the produce is as natural and good as this, you can."
It's going to be a hard act to follow, I tell Daniel. He excuses himself for a moment to check on the kitchen. When he comes back, we have our main, pan-fried lamb rump. "This is Cornish lamb from Aubrey Allen, a family-run business which has been consistently declared the best butcher in the UK." That's quite a claim, I suggest. "They hold the royal warrant," he replies, "supplying Buckingham Palace." Right. Pretty good, then. "It's from the only Soil Association certified farm in Cornwall, if not the UK." It's served with poached, then grilled asparagus, lovely nutty roasted shallots and, to balance it with some acidity, a little pickled red onion, with a classic lamb jus with rosemary. It's quite possibly one of the most tender, subtle-flavoured pieces of meat I've experienced.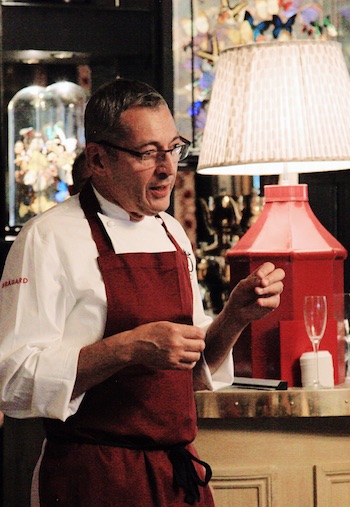 "It's lamb rump, a special cut," Daniel tells me. "Significantly, these butchers buy whole lambs, because it's the way they can control quality, how to get consistent weight range and fat level. Which, as you know, gives it its flavour." The relationship with suppliers is important," he goes on. "It's about understanding the lengths they go to, understanding their processes, how they arrive at a consistent quality, informing chefs on the best way to cook it, to serve it. It's not simply saying 'Okay, I'll buy from this guy because he's close to me, or he's cheaper,'" he says, "it's about finding the right produce and forming that partnership. And we've been working with Aubrey for years now – he tells me he supplies us first before he goes to the Palace!" With those words, I certainly give the next mouthful due consideration.
With such high grade meat, we need a wine to match, and Daniel suggests Pastor's Blend from Journey's End in Stellenbosch. "These are another pioneer in sustainability," he tells me as it's poured, "they've been producing wine like this for over 25 years. It's a Cab-Merlot blend, similar to a left bank Bordeaux," he says. We sip, and he looks in thought for a moment. "You see it has some deep, dark, earthy flavours – perfect to compliment the lamb."
Finally, we turn to the dessert, and another of Daniel's personal passions: chocolate. "This is not any kind of chocolate, Valrhona are another that make that extra effort. It's family-owned, single estate chocolate." We're having a chocolate sphere using two types, Caramelia for the ganache, and Caraibe, using 66% cocoa. It's served with a tonka bean and vanilla ice cream and a coffee streusel crumb. "Tonka is interesting," Daniel says, "it was originally used in perfume, so it adds quite a unique flavour." Once the plates arrived, our waiter then pours over a sauce. "This is a very light, creamy chocolate sauce to melt the sphere and you'll discover this lovely ice cream, which you will say yum, yum, yum! And you will want another one!" For such a dessert, what better than a Royal Tokaji blue label. I'm in heaven. And I think Daniel is, too. "This is lovely chocolate, I love it, I really do," he says with a twinkle in his eye, "I eat too much of it!" And he pops another sphere shard into his mouth with a grin.
After the meal, there is cheese, but I'm spent. It's been a banquet and a half, and with a commentary to match, it's given me a much broader understanding and deeper appreciation of the importance of provenance for a good meal.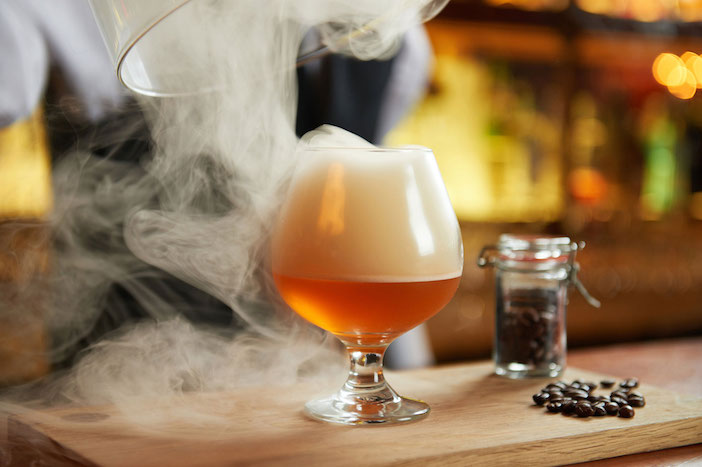 I venture back to the bar for a digestif. The barkeep steers me towards a single malt, naturally, and, in lieu of having a cigar, proposes a Smoky Gent, which arrives beneath an oversized bell jar which, when lifted, emits a huge plume of smoke almost engulfing the room. As I waft it away, it reveals a broad tulip glass with a keen 10-year Laphroaig sweetened with some apricot liqueur. Its smooth, sweet melifluous rounding off a fine evening as Jagger's own smoky tones belt out You'll Never Make a Saint of Me. That may be, Sir Mick, and while I indulge in the vice from the bar, I can't help but think that Danielle Galmiche certainly knows how to muster some divine creations in the kitchen.
The new seasonal menu at 190 Queen's Gate is currently being served at 190 Queen's Gate. For more information, including details of The Gore, please visit www.starhotelscollezione.com.
For more information about Daniel, including news, videos and links to some of his recipes, visit www.danielgalmiche.co.uk.
Dinner photos by Kate Alexandrova.