Street food fever is upon us, and with good reason. Both quick and cheap, the nomadic hawkers who circulate festival fields and line London streets are opening people's eyes to new cuisines and foods. They're even giving us a taste of the high-end restaurants that some people can't afford, like Moro's lamb wrap stall outside the Exmouth Market restaurant each weekday.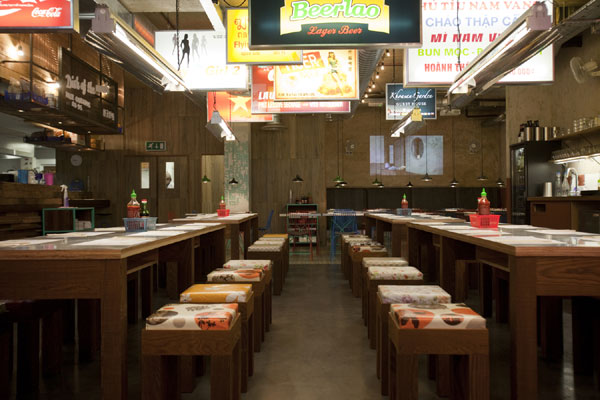 That's right, street food rocks. Rough, ready and wholesome, it's like the Dave Grohl of Epicureanism – think bulging falafel wraps dripping with tahini, obscure vegetarian curries oozing tamarind juices, or gravy-clad ox cheek served with polenta. There's a deep, perverse satisfaction to be found in walking along in the West Norwood drizzle knowing that the £4 delicacy you clutch in brown paper holds almost as much cachet as a swish new Central London restaurant.
However, street food and restaurants aren't mutually exclusive it would seem. The notion of taking "street food" indoors and retaining that same moniker is peculiar, but one that works at new Central London eatery, East Street. Located on Rathbone Place, as Oxford Street's grimier end blends into Fitzrovia, East Street offers comforting pan-Asian flavours in dishes that mimic the street food delights of Thailand, the Philippines, Japan, Korea and more.
Ever since Nigella Lawson coined the phrase "temple food" – that is to say, "your body is your temple" so feed it well – I've associated this with Asian fare. There's nothing quite like the cleansing kick of ginger, cosiness of hot coconut milk or punch of coriander to nourish a tired soul – and much of East Street's menu offers just this, like the Singaporean Nonya Chicken and Lime Curry I enjoyed with sticky rice. But there's much more than curry and noodle soups, including a catalogue of appetisers to pick at – like Gyoza (Japanese dumplings made with minced pork and bamboo shoot), Malaysian chicken satay, Bulgogi (Korean marinated beef strips with Kimchi cabbage) and plenteous pods of salted edamame.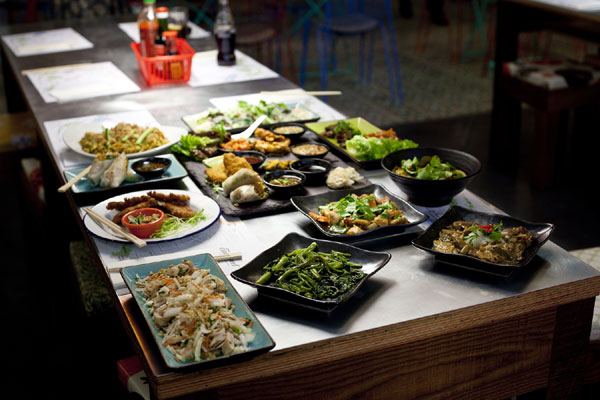 I had been apprehensive, particularly given the prices. At around a tenner for a main course, it's a bit steep for dishes deemed "street food", but then it's competently cooked, conveniently located and isn't exclusive to a single Asian cuisine. Indeed, another thing I liked was the comparisons drawn up between each of Asia's cuisines. Paper placemats, each featuring a map of the continent, demonstrate clearly the differences between Thai, Vietnamese and Malaysian foods, gently educating those who don't know and encouraging us to try something new.
The décor adds to the sense of fun. Stark grey concrete walls are embellished with colourful product-lined shelves (like Maggi seasoning and hot chilli sauces), and bright authentic signage hangs from the ceiling. Though clearly no substitute for real street food, East Street offers something different, the buzz, benches and, ah yes, booze of a sit-down Central London restaurant serving very good, very varied food.
East Street, 3-5 Rathbone Place London W1T 1HJ. Tel: 020 7323 0860. Website.
[cgview id=116 num=8 size=150×150 showtitle=always lightbox=0]