Tapas restaurants have moved on somewhat since the days of dark wood tavernas, churning out the clutch of stodgy staples of 'angry' potatoes, oily calamari and brick-like omelettes. Many are now specialists in provenance and inventiveness, packed out with tables spilling onto busy pavements, often trying to retain a sense of continental charm.
But in Dover Street in Mayfair, they do things with a little more, shall we say, panache – or should that be estilo. Take, for example, the Ultimate Rum Old Fashioned. This is a £120 cocktail, complete with a 'smoked bubble' and gold leaves. It's a cocktail list that has all the classics, with an Iberian spin, as alluring as the house music gently thrumming in the background. I'm drawn to the signature Agua de Valencia, but settle for their take on a negroni; intriguingly named Black Sea. It is, indeed, black, and dressed to impress. El Norte clearly has credentials.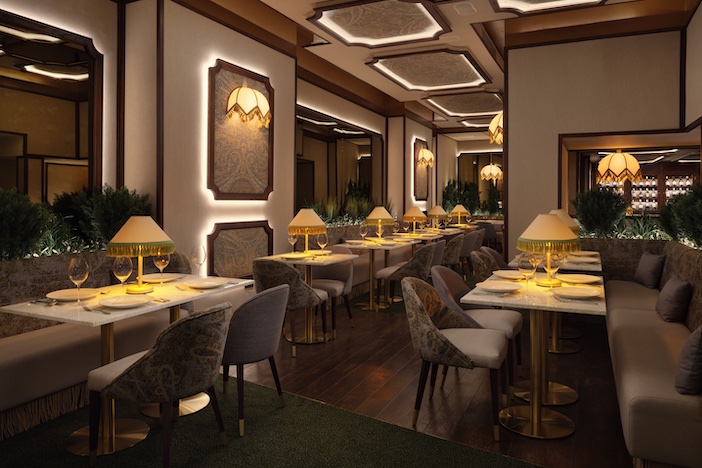 Unsurprising, really, when you consider it harks from the Spanish twins, Arian and Alberto Zandi, already making waves in Kensington with Zuaya and their own take on Italian tapas that swept the capital at Como Garden. This precedent, for sophistication and design, continues with El Norte. If Henry James owned a hacienda, it would look something like this, bedecked with upholstered wood panelling, plush carpet and tasselled table lamps. It feels fitting for a sense of occasion, such as a long overdue catch-up with an old friend. And as I sip my Black Sea, Lydia arrives, almost two years to the day since we last met, bookended by the pandemic.
We trade exchanges, and sips of cocktails, talking over each other as we review the menu. Like the bar, it is a mix of classic tapas spread with some innovations from a chef flexing his muscles. The staples are pimped, as you might expect; the tortilla is truffled, the Iberico ham is acorn-fed. It's divided, too, into various genres, from salads, to meat to fish, and accompaniments, the idea being we might select a range, some 2-3 each, but like the proverbial kid in a candy store, we couldn't narrow it down. Our indecision is salvaged by the maitre d', who weighs in to give us some guidance. In a flash, he's assessed our requests and given us the best selection across the board.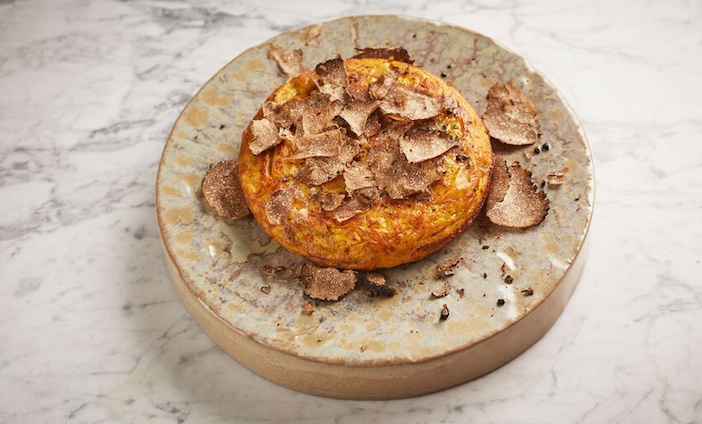 The aforementioned tortilla is worth the visit alone. It's a thing of wonder, almost balloon-like, smothered in clusters of crushed garlic and dressed with black truffle, opening to a soft centre when cut into, the perfect omelette; croquettes with goats cheese and honey prove a refreshing alternative to the typical jamon, and a tomato salad may sound pedestrian but doused in garlic, oil and chives, they're constantly tucked into.
While our table runneth over, we're sipping Verdejo like freshly cut grass. And there's more; a fish course we'd forgotten about. Gambas. Denia prawns again smothered in olive oil and garlic – I'm thankful the next morning was meeting-free. And then, a personal favourite; Iberian pork. I wavered when we ordered it, fearing overrated pork belly, but this was like a fine-sliced seared steak, accompanied, naturally, by patatas bravas like triple-cooked chips. And with it, a glass of limousin. Our glasses are switched, not just for a clean pair, but specifically glasses for Pinot Noir. Just as I point this out to the maitre d', he gives me a knowing smile. At El Norte it's all about the detail.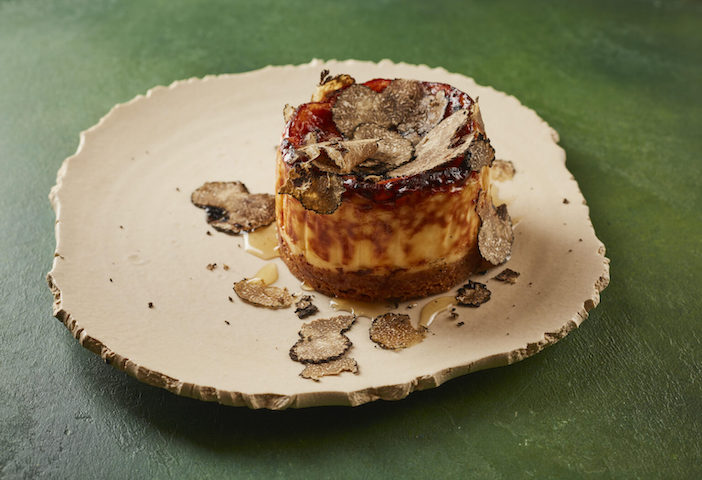 As replete as we might be, one can never skip postre in Spain; it's an institution. And after the run we'd had so far, topping the meal was going to be challenging. But, arguably, we had saved the best for last. I never order cheesecake outside New York – as pretentious as that sounds, but for good reason – but this was different. This was made with Manchego and dressed with honey and, of course, black truffle. And when it arrived, it was a perfectly proportioned nest of rich, velvety baked loveliness.
It's all unequivocally divine. I might never order cheesecake in New York again – never mind tortilla, even in Spain. And while it comes with a hefty price tag it will make you question where you choose your tapas again. In as much as tapas should be casual, taverna fare, best enjoyed in flip-flops and T-shirts with jugs of sangria, El Norte proves that it can be elevated, celebrated and afforded a sense of occasion. Such as raising a glass for a long-awaited reunion.
El Norte, 19-20 Dover St, London W1S 4LU. For more information, including details of menus, and for bookings, please visit www.el-norte.co.uk.