Flora Indica is not your average Indian restaurant. You might guess that from the name. This derives from a book that was published in 1855 by a band of Scottish botanists who went to India to discover the rich exoticism of its plants and herbs – all previously unknown in the West. These botanicals are much in evidence on Flora Indica's menu which takes dishes you might know and transforms them out of all recognition.
The style of the place might also give you a clue. This is not all red plush with the tables too close together. Instead, it's rather elegant with leather and Harris tweed featuring in the chairs (remember that Scottish connection?) and an eclectic mix of zinc, brass and copper Victorian collectibles (shooting sticks and solar topees and Sherlock-style magnifying glasses, not to mention a traditional phone box painted navy blue). The background music is soft jazz.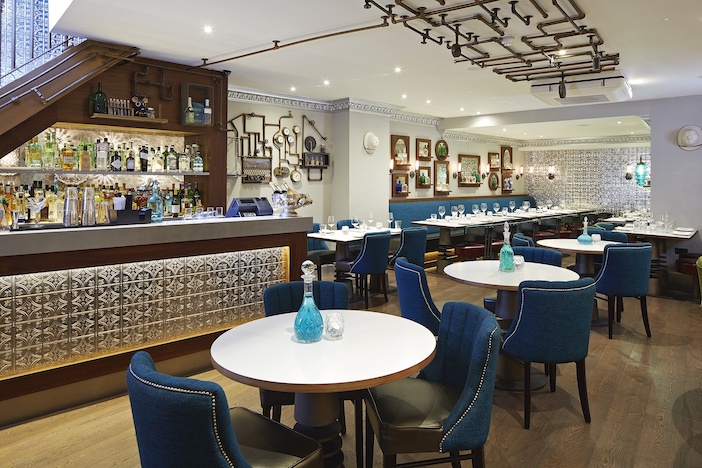 And then there's the bar. This is quite zingy in itself but it also houses a truly remarkable collection of gins. I've never been totally convinced by that story about gin being the drink of choice in colonial India because of the tonic (quinine's antimalarial qualities being the great benefit) but there really does seem to be a link that Flora Indica follows up big time. Gin has a menu all of its own and features not just a variety of brands but interesting botanicals, of course, all with an Indian slant: juniper, coriander, cardamom, bergamot, you name it…
So it should come as no surprise that the menu is stylish and imaginative, too.  There are two ways to approach it. You can either go for the traditional approach of three separate courses or you can get an assortment of small plates, tapas style. Our starters were so delicious (and of a manageable size – not the swamped plate you often get in an Indian restaurant!) – that I would have happily followed that route.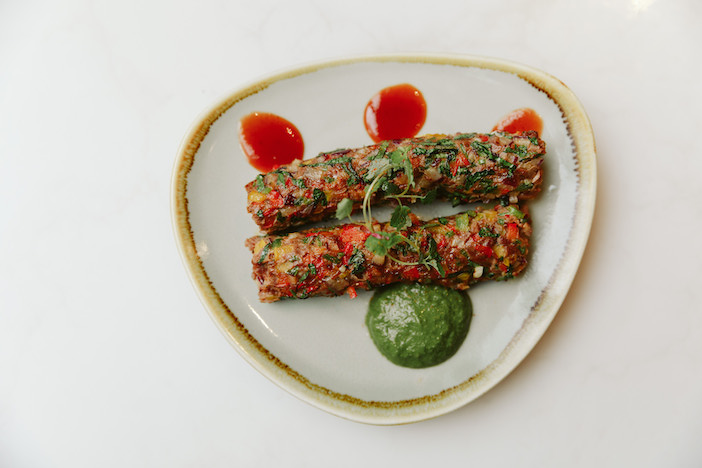 My starter was Jerusalem Artichoke Papdi Chaat with Tamarind and Yoghurt. I picked this because I happen to love Jerusalem artichokes – and I also thought it was a very unusual ingredient for an Indian restaurant. In fact, as Sai, our charming waiter explained, this was one of their signature dishes. Whatever the reason, it turned out to be a great choice: light, beautifully presented and the flavours all sang through. In the meantime, the Major had Marinated Tandoor Tuna – delicious.
However, there are all kinds of unusual ingredients in the Small Plates menu and you could also order some of the side dishes alongside them, if you wanted to go the tapas route. I was particularly tempted by the Baby Bitter Gourd Tak a Tak, Delica Pumpkin Kadi and Toasted Pumpkin Seeds. Then there was Venison Gialfi Sheek with Coriander Chilli Sauce and Spiced Tamarind and Fig. See what I mean?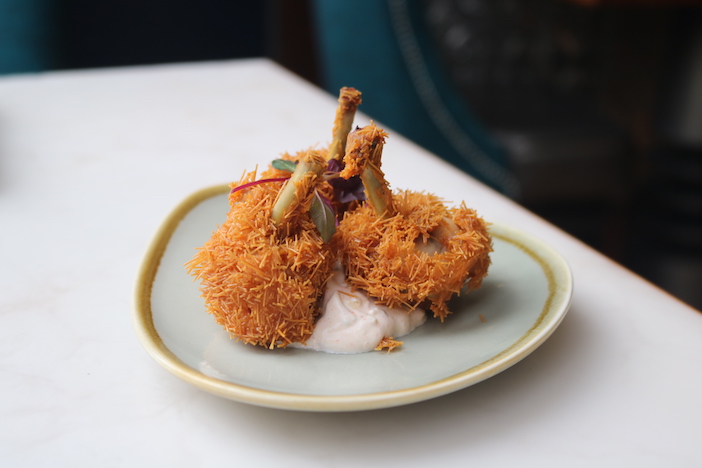 We had decided, though, on the more conventional approach and our main courses were just as good. I had Corn-fed Bergamot Lemon Chicken Tikka, while the Major went for Monkfish and King Prawn with Bengali Malaicurry Sauce. They were both excellent as were the side dishes – Slow Cooked Black Lentil and Kidney Bean Makhani and Kashmiri Red Chilli (and I can testify there was definitely chilli!) and Spiced Creamed Spinach with Dill and Cherry Tomato. There are lots of vegetarian dishes and a whole vegan menu (not to mention an extensive wine list and local – as in West London – craft beers).
Now I don't do puddings (no, really) but I did have to try Warm Candy Beetroot Halwa, Amarkhand and Seasonal Berries. How do you get beetroot, halwa and Indian in the same dish? I have no idea but this was the lightest, most imaginative of desserts, a perfect way to end.
Next time, I think I'll take the tapas approach (just to try more dishes, really) and, so as not to leave it too long, I might just try their delivery service.
Flora Indica, 242 Old Brompton Road, SW5 ODEO. For more information, including menus and bookings, please visit www.flora-indica.com.