It's funny how certain elements of a meal can stick in one's mind forever. The link between memory and food isn't a new one, so I won't bore you with tired lines from Swann's Way or The Gourmet, although both are good reads if you have room on your bookshelf or, if you really must, some electronic reader. But after an array of commendable dishes, it seems unfair to the Grand Imperial London, the first UK restaurant from celebrated Hong Kong chef Rand Cheung, that the deep fried ice-cream be the one dish I remember the most vividly all these weeks later. The concept, something I'm ashamed to admit I'd never heard of, baffled and impressed me; a bit like the odd admiration I've always had for the fax machine (I won't embarrass myself further by elaborating on that one).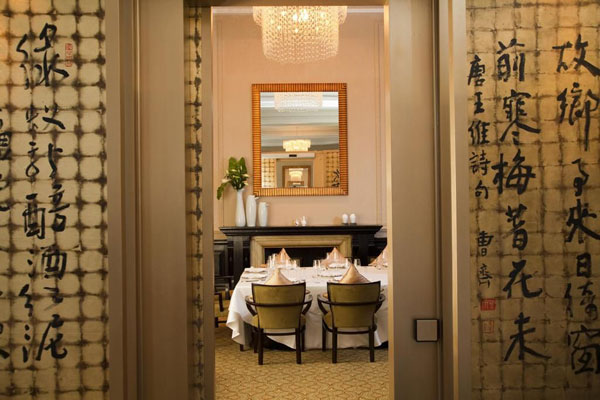 Seriously though, deep fried ice-cream (DEEP FRIED ICE-CREAM?!) shouldn't work. It sounds like one of those ridiculous plans that comes about at four in the morning, when you're 17 and high on something or other. Abandoned halfway through when you and your friends discover, what you established right at the very beginning of the lengthy, giggly conversation; it doesn't work.
Well it does, kids. Scooped up, coated in a light batter and dropped into hot oil, it comes out beautifully golden, the knobbly shell giving away to the spoon with a satisfying crunch, before gently releasing its cool, vanilla specked innards. Oh boy! So good, my manners escaped me, and instead of sharing as agreed, I pretty much ate the lot; despite rubbing my tum 20 minutes earlier, circa stir-fried duck and cashews, proclaiming that I was stuffed. What would Lord Byron, who once decided that, "a woman should never be seen eating or drinking, unless it be lobster salad and champagne, the only true feminine and becoming viands", say to this display of un-ladylike gluttony. Luckily I was dining with J, who seemed slightly amused by my excitement of the whole thing. No doubt slightly ashamed on my behalf too; I really did dig into that dish with blush-inducing gusto.
The Friday evening started off very well behaved indeed. The underground delivered me smoothly from Chancery Lane to Victoria, so I was actually early, rather than my usual flustered and apologetic arrival. Greeted beautifully by Lee, the restaurant manager, who sat me at my chosen table and handed me a glass of champagne (so in tune is Lee with his clientele, that he knew exactly what I wanted at that moment was a flute of Laurent Perrier). J arrived ten minutes later, slightly flustered and apologetic, and then the rest of the evening is a sort of delicious blur of Christmas and New Year catch-up chat, deliberating over which dishes to share, and whether we'd ordered an embarrassingly greedy amount; and then tucking into said dishes, multiple cycles of plates delivered and cleared, glasses of perfectly matched Sauvignon Blanc filled and emptied, interspersed with appreciative nods and comments on the food, with Lee checking now and again that everything was to our liking. It was, very much so.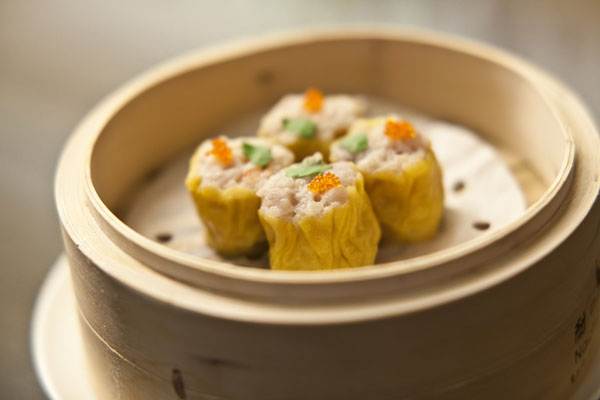 I knew it would be. Ever since I sat over in the bar with friends four months before, selecting delicate pork bao and crispy pumpkin dim sum from the impressive Oriental Afternoon Tea platter, washing them down with flowery oolong and one of the mixologist Simao's quirky Boba cocktails, I had a good feeling about the place.
On that first visit, I liked how the Grand Imperial was set up for a special occasion, but actually priced low enough to warrant a visit when you just can't be bothered to cook. Or, to save you from the mediocre morsels on offer at Victoria station next door – choose Grand Imperial's Oriental Afternoon Tea or Express Dim Sum Lunch while you wait for your connecting train, or would you rather have an overpriced and underwhelming sandwich from Starbucks? Hmm, tricky, tricky…The design of the restaurant echoed the grandeur of the plush Grosvenor Hotel it's housed in, with the addition of some obligatory luck-boasting guidance from a Feng Shui master; so strictly adhered to that 50 seats were chopped from the previous layout. Think vaulted ceilings, Corinthianesque pillars and cushioned seats with rests to lay arms suffering from chopstick fatigue. In short, a place I decided I wanted to come back to for a lengthy dinner.
With award-winning Hong Kong chef Rand Cheung at the helm, a man who has cooked for the likes of the King of Saudi Arabia and oft referred to as 'pioneer of the restaurant industry in Singapore and Malaysia', the menu impresses; championing traditional Cantonese cuisine, through contemporary techniques and delicacies such as Peking Duck and roasted suckling pig, aiming to fulfil Cheung's goal of bringing the best of Hong Kong cuisine to the UK. Something he appears to be executing rather well, as at just a year old, Grand Imperial has already attracted critical acclaim in the form of a 2 AA Rosette and a runner-up place in the 2011 Tsingtao Legacy of Taste.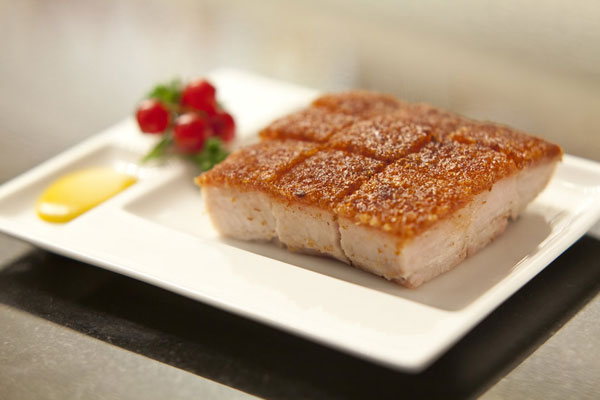 The selection is vast, with meat, seafood, poultry and vegetable options all provided in abundance, and every bite we tasted, good. No overpowering flavours, or reach for the water saltiness, as is common with poorly executed versions of the cuisine. Just fresh, vibrant and flavoursome dishes: prawns that burst in the mouth, plump and moist as they should be; soft scallops spiced with salivicious XO sauce; strips of crispy skinned duck, balanced with grease-busting pomegranate and cucumber; and honey glazed pork cut into cubes and presented in a manner the makers of Tetris would be proud of. Those and the hot and sour lobster soup, pan-fried garlicky green veg and a platter of steaming dim sum we started off with, made for over two hours of faultless dining, culminating rather nicely with the restaurant's signature chocolate dim sum platter and THAT deep fried ice cream.
A perfectly balanced selection, decided on with some guidance from Lee, who advised against some of our initial choices and suggested others. Not in a sly attempt to raise the bill, but for genuine reasons like wanting us to have an experience so positive we'd come back, friends in tow. As J and I parted ways at the end: me to take the lazy tube back North, he to smugly walk off the calories West, we agreed that was exactly what we planned to do.
Grand Imperial London, 101 Buckingham Palace Road, London SW1W 0SJ.
[cgview id=116 num=8 size=150×150 showtitle=always lightbox=0]