Ah, the 1970s. When an avocado pear was the height of exoticism, when cheese was meant to be cubed, pronged on a cocktail stick and paired with a chunk of tinned pineapple. A decade of brown furniture, blue politicians and thoroughly naff cooking, so history has it.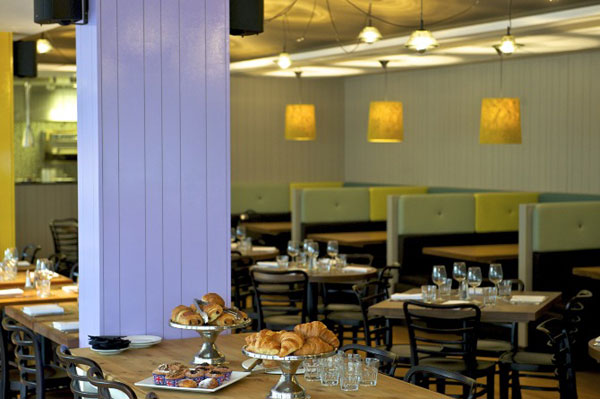 It sounded like such a time warp was awaiting me at the Bermondsey Square hotel, where Masterchef judge Gregg Wallace (the baldie, not the Aussie) has opened his second London restaurant, Gregg's Table, undertaking a revival of old-school British recipes. Stacks of Oxo cubes, Lyle's golden syrup and Colman's mustard powder set the tone for this trip down memory lane. On the menu, 70s dinner party staples such as beef stroganoff, cheese fondue and black forest gateaux raise a smile. It's a line up that would make Beverly in Abigail's Party proud.
The starters were very promising, indicating that these 70s stalwarts had been given a modern twist and embraced today's demand for freshness. Mulligatawny soup with flaked chicken and lentils was made complete with a golden onion bhaji, an inspired touch that bought out the warmth of the subtly spiced soup. Cornish crab paste came served in attractive jars with plenty of Melba toast to scoop out the salty condiment, while an accompanying ramekin of capers, finely diced boiled egg and parsley added the perfect vinegary kick.
I was intrigued to see what Gregg had done to lift the canteen staple fish fingers, chips and baked beans to epicurean heights as a main course. The fish fingers were homemade and quite different to Captain Birdseye's version, emerging as generous cylinders of crunchily-coated Pollack as opposed to those sad slivers of soggy cod we all remember from school dinners. The fish itself was pleasantly flaky and had a good bite, yet the breadcrumb crust was very thick and a little overdone – a flaw my partner found his chicken kiev suffered from, too. The chips were chunky and melt-in-the-mouth, and mashed potato perfectly smooth and creamy. With all this we enjoyed an excellent white; a zesty, concentrated Crossroads Riesling from New Zealand. But my oh my, they must have had big appetites back in the 70s, for the main courses nigh on defeated us and a shared Knickerbocker Glory with two long spoons was as much as we could manage for pudding. Cubes of jelly, sticky tropical fruit, vanilla ice-cream and a generous topping of whipped cream all topped with a glace cherry made for a suitably kitsch conclusion.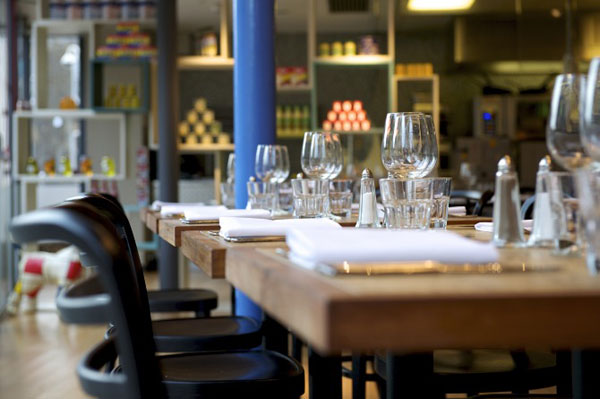 It was a menu that made me smile. A little gimmicky perhaps, but there's something quite refreshing about a modern London restaurant where there's not a sea bass or sun-blushed tomato in sight. Bermondsey Street has no shortage of enticing restaurants, with highly-rated venues like Zucca, Pizarro and the Garrison Arms putting up some stiff competition. I doubt you'd think the cooking at Gregg's Table trumps any of those, but what is evident here is a lack of pretention and passion for proper grub made with fresh ingredients. Also, an enthusiastic nod must also go to the waiting staff, who gave the sort of warm, personal, careful service that I've found lacking in some of the area's chi chi eateries.
As I'm writing this review, Masterchef is on the television in the background and I can see the man himself is on fine form: "Pass us a couple a maaangoes. Luverly" – his brand is very much South East barrow boy done good. Indeed, as many critics have hastened to point out, Gregg isn't a classically trained top chef. Instead, he won a slot co-presenting Veg Talk on BBC Radio 4 after working in the hugely successful George Allan's greengrocers. I must admit the meal I had was a far cry from the refinement and craftsmanship that his protégées are executing on Masterchef right now, and I wouldn't rate Gregg's chances were he was a contestant on the show. But in my book points go to him for offering a memorable, satisfying meal with a sense of fun intact.
Gregg's Table, 2 Tower Bridge Road, London SE1 3UN. Tel: 020 7378 2456. Website.