Sometimes you have to go a long way for a good meal.
Rosendale Road doesn't feel like it's where it should be. An avenue of plane trees and imposing red brick mansions, it's a slice of Holland Park dropped betwixt Tulse Hill and Crystal Palace. A place where a Diet Coke now costs £3.20.
Along this road, where I half expect Mary Poppins to descend from on high, a parade of shops used to comprise cheap off licenses and dry cleaners. It's now baby boutiques and delicatessens. And, among these, far from seeming out of place, is perhaps the single reason to make the journey to this corner of South East London.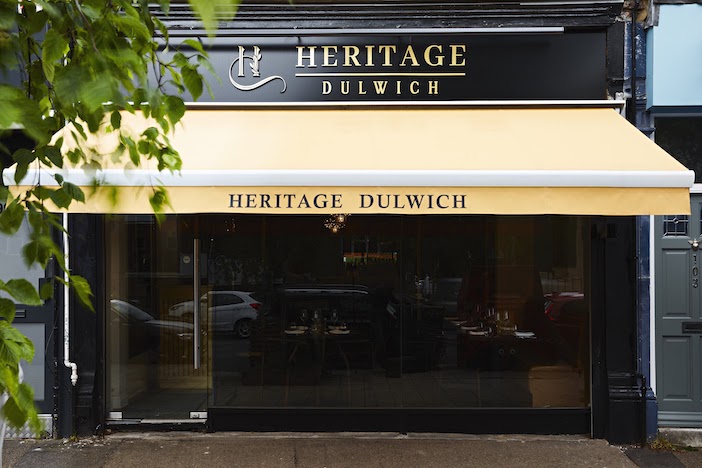 Heritage seems to sit almost imperceptibly in this leafy neighbourhood row. But don't be deceived, this is not your local neighbourhood curry house. Unless, of course, you happen to live there.
The signature restaurant of Dayashankar Sharma, a veteran of the Michelin-starred kitchens of Tamarind and Zaika, Heritage's opening earlier this year almost fell at the first hurdle, falling foul of Covid restrictions in place at the time. As with other venues turning their hand to meal boxes and takeaways, this proved almost a perfect PR coup, allowing word of mouth to spread before it eventually opened its doors. A trailer before the main feature, if you will.
Inside, it may feel like your local curry house, but it's elevated; all polished flagstones, ornate chandeliers and leather banquettes. The waiters lay out your napkin, the staff recognise your need and act, the dishes are presented in fine silverware, the restroom lights turn on automatically as you walk in – and off again if you don't move within 2 mins, as I found out writing this note.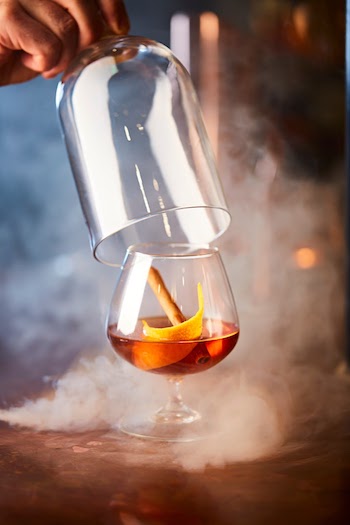 Poppadums introduce proceedings, of course, with customary relishes. But the mango chutney tastes homemade, and a compote of tomato and berries is a welcome change from astringent lime pickle.
Rather than a bottle of Cobra, a cocktail is in order. I deviate from the traditional G&T or negroni, and order whisky. 'The Gentleman' is served with ceremony, a smoke-filled bell jar obscures a tumbler containing a heady concoction of Laphroaig and Dalmore, infused with coffee bitters and spices. It sounds punchy for an opening salvo but hits just the right note. Someone behind the bar knows what they're doing.
An adjacent table orders the Tasting Menu and I have a flash of envy, but I'm drawn by several other dishes on an already tantalising a la carte. There's an intriguing array of kebabs, something of a speciality, I'm sure. It seems nothing is short of being skewered and grilled; from stuffed Portobello mushrooms to paneer and pineapple tikka. But it's the small plates that catch my eye; Jodhpuri chicken infused with tamarind is served on a bed of cumin mash, and venison with aubergine and a tangy tomato and cream cheese 'spread'. There are things here I've never seen in an Indian restaurant before, and they're demolished before we've had a chance to comment.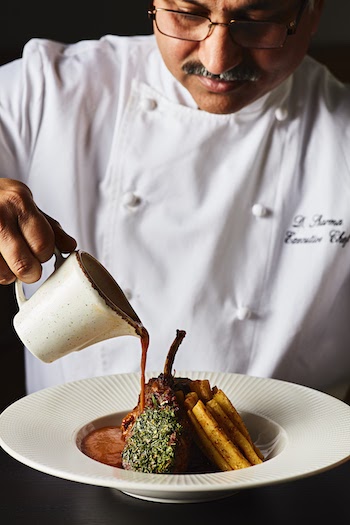 On the mains, there aren't pages and pages of dishes covering the length of the Indian sub-continent, rather Sharma clearly selects with care; just two chicken offerings is a daring move indeed. It's as if he wants to show you what he can do elsewhere. And he does.
We opt for lamb, twice. The kofte meatballs, with apricot in the centre, are a surprising spin on Indian food, but the house speciality, Kashmiri Lamb, described simply as 'traditional recipe from Kashmir' is as good as anything I've ever eaten in an Indian restaurant. How often do you scrape spoonfuls of sauce after the fact, even once the naan – in this case tomato and truffle – has long since been devoured?
My companion is already a convert. He's the one who lives locally and has the opportunity to come again whenever he pleases. "I might have to visit you more often," I muse.
As we conclude, barely able to manage another mouthful, we give the desserts a glance and order almost indifferently, so little matter they're a tad disappointing. The pistachio kulfi might be delicious but is so frozen it's like carving into pack ice; the cheesecake feels gelatinous, its rose twist almost imperceptible. But do you really hang a meal on dessert?
We came early and Heritage was already half full. I counted forty covers, and all were filling as we arrived. A long meal later and our neighbours had already been replaced. Word is definitely getting out that there's a new destination in town.
The residents of Dulwich are a lucky bunch indeed.
Heritage, 101 Rosendale Road, West Dulwich SE21 8EZ. For more information, including a full range of menus, and for reservations, please visit www.heritagedulwich.co.uk.
For those that fancy something at home, Chef Sharma has launched a new and premium modern Indian delivery brand in SE London – Jhakaas – which offers an epic food menu that takes its inspiration from India's four major cities – Delhi, Bombay, Kolkata and Chennai. For more information, please visit www.jhakass.co.uk.