It was almost a year ago that I first visited Hide. We were still in semi-lockdown and only able to eat out of doors – remember that excitement when you were actually going out pretty much anywhere? Given how extensive the restrictions were at the time, many restaurants decided not to open at all, the overheads being prohibitive.
Fortunately, Hide decided to go ahead anyway and if they couldn't exactly open their doors – at least they could open their pavement. As street cafés go, this was on another level entirely – but then what would you expect from a restaurant that got its Michelin star within six months of opening?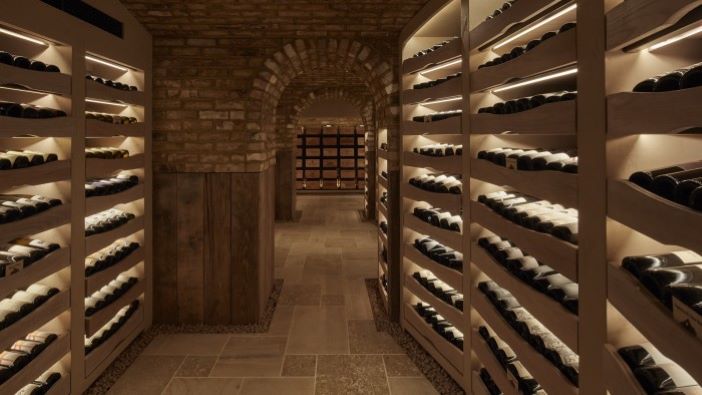 Thankfully, Hide is now fully back open and firing on all cylinders – and all three levels. Hide is quite an establishment. The lowest level is the basement bar (The Bar Below) that is also a brick-vaulted, temperature-controlled cellar. Not surprisingly, as the restaurant is the partner of Hedonism Wines and Hide's cellar is stocked by them. (In fact, if you want something not in the restaurant's cellar just let them know and they'll pop round the corner for it. Hedonism will certainly have it – they stock more than 10,000 wines and spirits, the most extensive in Europe.)
On the ground floor, behind a very solid door, protecting you from the traffic and noise of Piccadilly, is the main restaurant serving breakfast, lunch and dinner from a sizeable a la carte menu. This is for more informal dining, though you'd never guess it with such plates on the menu as "barbecued octopus and calcots with toasted quinoa, basil and feta dressing" or "kohlrabi parcels with ripe pear, elderflower vinegar and perilla in a chilled pine broth".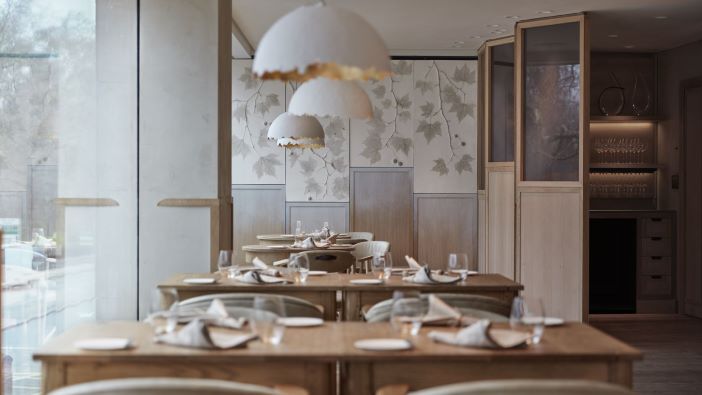 And then there is Above at Hide. It is, quite literally, above, and you ascend a wide wooden stairway that curls its way sinuously to the first floor. This is a work of art in itself and it has an almost organic feel – you expect to find yourself in a thatch-roofed tree-house at the top. In fact, this is a sleek contemporary space with vast windows overlooking Green Park (you can see out but they can't see in) and it's Hide's fine dining restaurant.
Obviously, in a Michelin-starred restaurant you're going to expect fine dining as a matter of course but up here the imagination of chef Ollie Dabbous takes ultimate flight. Dabbous opened his first restaurant in 2012 (named simply Dabbous) and was greeted with wide critical acclaim and a Michelin star. He closed it in 2017 to open Hide, explaining that: "the challenge and possibilities [of the new restaurant]were too compelling to deny. I have the same same hunger now as I did when I first put on an apron."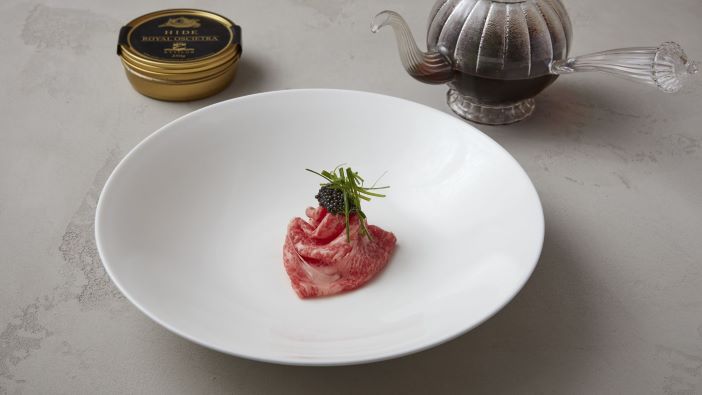 It is clear from the moment you sit at your table that Dabbous's creativity is as boundless as ever. His ingredients are the freshest, the most seasonal and turned into dishes you could never even dream of recreating at home, often served with a side serving of wit and fantasy. Consider, for instance, "Nest Egg", served in an eggshell, surrounded by warm hay. "Pandan leaf cream with tender cuttlefish, succulents and almonds" came served in an iced coconut shell. And the Flesh and Bone course included tiny amounts of charcuterie wrapped around a white bone or feathery quill.
You have probably guessed that this was quite a meal. It was, in fact, the seven-course tasting menu. However, Dabbous's food is so light, somehow you don't feel as if you've overeaten (OK, I did skip the cheese). But portions are tiny and the side dish accompanying my modestly sized main course Wagyu beef was a single tempura spring onion.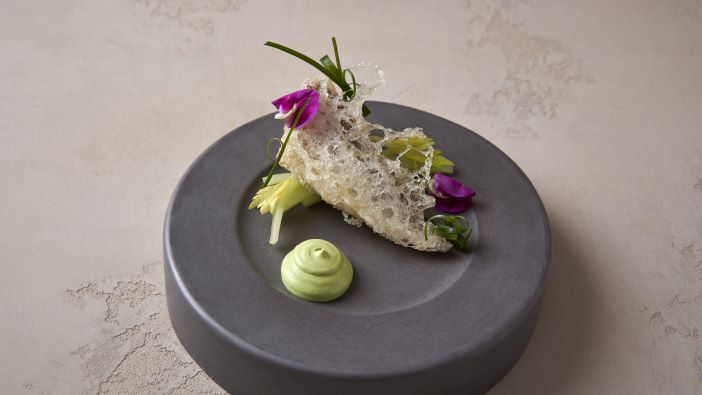 The tasting menu comes with an extensive wine flight, from a glass of Hide champagne to start with, through the unusual (sake paired with the amuses bouches), to a big, almost leathery Chateau de Chambert to go with the beef, to a Plan B Riesling so deliciously light and fruity it made me reconsider altogether a (for me) long-neglected wine.
Federica, my knowledgeable sommelier, explained all as we went along, just one of an army of staff providing an immaculate service. And despite these dizzyingly high standards of food, wine and presentation, somehow Hide feels relaxed – and they certainly leave you to linger (we were there for three hours). I think this might be my new favourite London restaurant.
Hide 85 Piccadilly W1J 7NB. For more information, including menus and bookings, please visit www.hide.co.uk.