It's late on Wednesday when the phone goes. It's Foodie Ed. The conversation goes something like this: "Is that you Richie? Course it is. Listen, I've got a job for you. See I need someone solid, reliable, not afraid to put a bit of fork about, know what I mean? The sort of geezer who's handy with an intricate tapestry of flavours. Might get a bit spicy. Understand?" I say I understand. I get the details. Imli Street. A real class outfit, not your average ruby, oh no. Opened in 2006 and run under the stewardship of Alfred Prasad, one of the guys behind the Michelin-starred Tamarind in Mayfair – culinary innovator and clever bastard. Imli (that's Hindi for Tamarind – no flies on me) has reopened after a total refurb. It always was a goldmine by all accounts, a veritable treasure trove, but word on the street is its now a major contender. I say I'll be there. I'll do the job.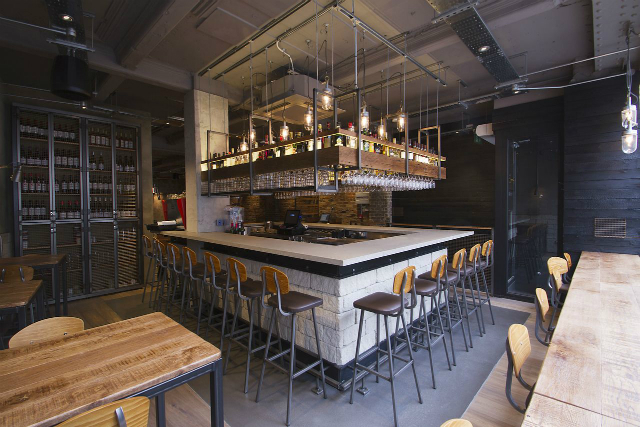 As I put the phone down, exhaling slowly, my girl stirs next to me. "Who was that?"
"The editor. Says he's got a job for me." I pause, gathering the courage to tell her. "It's Indian street food…curry."
Tears begin to fill her eyes. "But, you said you'd never go back." She protests, "You said you had left that part of your life behind! Don't you remember?"
I sigh and draw her close to me. "It'll be different this time, I promise."
You see, I used to go by many names: Richie the Raj, Tandoori Ted, the Saag Svengali, Vincenzo-Vindaloo. I did it all – Bradford to Brighton. From the high-class, West End establishments to the "slurry-houses" of Leeds. I was an addict, a spice junkie. As I walk through Soho, down Wardour Street toward tonight's target, I remind myself of that. I think back to that night on Brick Lane, the way it all ended: gasping for water, unable to put out the fire, hallucinations and searing hot paralysis, sweating like a diabetic in Cadbury World. But that was in a different life, I'm a reformed man now. I'm in control.
Number 167 to 169. I look around and spot Ed. lurking in a doorway. He strides over, his eyes darting this way and that, furtively tugging at his lapels. "Shall we?" I say, holding the door open. He checks his watch and nods. Here we go.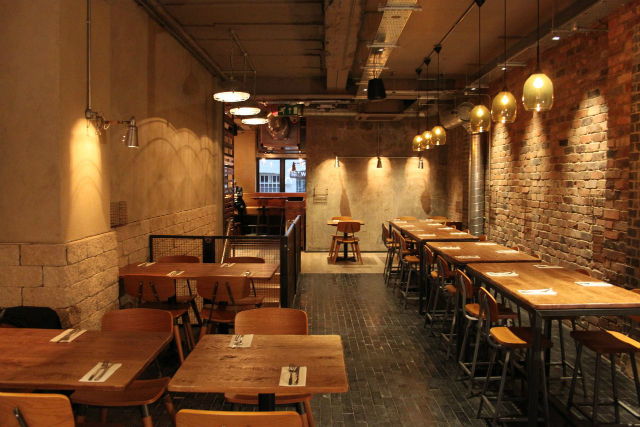 Straight away I can tell this is no run-of-the-mill balti house. No gentle sitar music. No car-boot sale paintings depicting life under the Moghuls. No off-white tablecloths bearing the yellow scars of lamb bhunas past. No robust scent like you'd just walked into a plasterer's armpit. Instead, high, bare wooden tabletops; warehouse-style exposed ceiling fittings; a bar that's more Soho than smutty mags; sharply dressed media types; steady, lounge house beats. I'm taken aback, but I don't let it show. Got to stay in control. The manager welcomes us in, shows us to the aforementioned bar where we're presented with a drinks list that only deepens this sense of the unfamiliar: The Snake Charmer – Spiced and coconut rums, splash of IPA, splash of passion fruit. Beautiful. The Nashik – 10 year old Islay malt, almond liqueur, Benedictine and bitters. Class. I haven't got a clue what's going on. I need something I recognise, something to steady the ship. I order a Twisted GT – Saffron gin, citrus twists, tonic, lemonade – a sharp and sweet take on the staple G&T, refreshing like a monsoon rain. We sit there, me and Ed., adjusting to the surroundings. The bar lady comes over, puts a dish down. Peanuts? Bombay mix? No. Miniature onion bhajis. My palms are beginning to sweat now. I swear I'm being stitched up. I glance over at Ed., but he's noshing the bhajis, oblivious to all else. I let the fear pass and polish off the rest of my drink. Better step up. Better get ready to be adventurous.
We're escorted to one of the high tables at the back of restaurant and handed the menus. The manager kindly walks us through the situation: Four main categories, each from a different mould of Indian cooking. You've got your Food Cart: think traditional starters like you might get at your local tandoori – lamb chunks, samosa, that sort of thing. Next up, Coastal Shack: an alluring selection of fish dishes, mostly in the dry, Southern Indian and Sri Lankan style. Railway Cuisine: nourishment for the long journey across the sub-continent – the territory of Anglo-Indian lamb curry, mixed vegetables. Then you've got your Beyond Borders: international cross-over, like Chinese-inspired vegetable dumplings in sauce. Two further categories sit below the main four: Naanwiches and Naan Pies – naughty. These dishes either come at you as a curry sandwich or served up with mashed potato, a starring role for the naan bread in either case.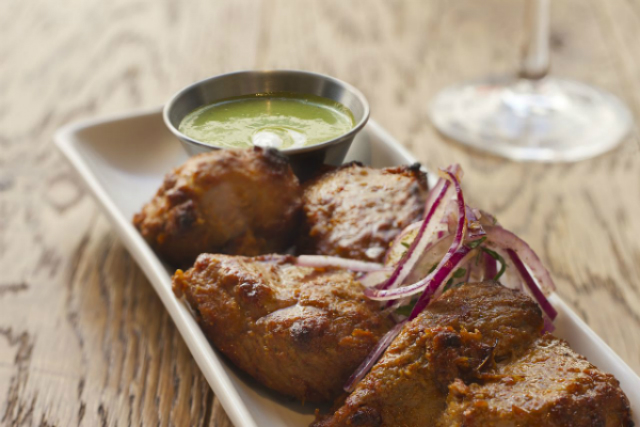 Now me and Ed, we've come to do the business, so after a minute or so of putting our crusts together we've got the master plan. Our waiter (dutiful and observant of our every need) comes over, pad in hand. This is how it goes down – Samosa Chaat, Goan Crispy Squid, Crab Masala, Kingfish Curry with Tapioca Mash, Sundal, Spicy Wings, CTC (that's Chilli Cheese Toast to you), and the Naanwich with butter chicken, pickled onions and chilli. Yeah, that should do it. A couple of beers to wet the whistle: Meantime Pale Ale, the good stuff. Now, that might sound like a lot to a bunch of lettuce leaf eaters, but the thing about Imli, what makes it a truly different kettle of fish, is that the dishes are served tapas style; everything comes as a modest platter – no sloshing vats of homogenous, spiced slop punctuated by floating specks of grey meat. The dishes are precision engineered, and I'm entirely confident that the format will stop me from falling off the chutney wagon and into the madras-binge gutter.
From the point of ordering, everything happens in quick succession. Out comes the Samosa Chaat and the Goan squid. The Samosa has all the hallmarks of the classic crisp pastry with a lightly spiced vegetable centre, however this one comes floating atop a pool of cool, fresh mint-coriander chutney that provides a sharp lift to the dense puree within. To the side is a thimble of sweet yoghurt and poised delicately against the vessel is a pipette of tamarind chutney, which can be used, it is said, to implant a dose of the rich, sweet and sour paste direct into the brittle triangular heart.
The Goan Squid, allegedly a favourite of the Sohoites, is first rate. Uncomplicated, light batter with whispering spices – the real issue with anything squid-based is the texture of the squid, its location on the wellington boot index, which is a function of freshness and the avoidance of over cooking, both factors clearly noted and expressed with virtue in this instance.
Out comes the Crab Masala, at which point I aim my fork directly at Ed's skull and warn him to keep his greedy, thievin' hands off until I've properly assessed the situation. Presented in the shell, this dish exhibits the classic Southern Indian flavours with aplomb. Hot, dry and tangy, the piercing triad of chili, turmeric and cumin slice straight through the oily residues left by the deep fried squid. The crab flesh is not entirely juicy, which I'm not sure is intentional; on the one hand it suits the style of dish, but on the other, what sort of sadist denies a man that slosh of salt water and flash of sea air on tucking into a nice bit of crab?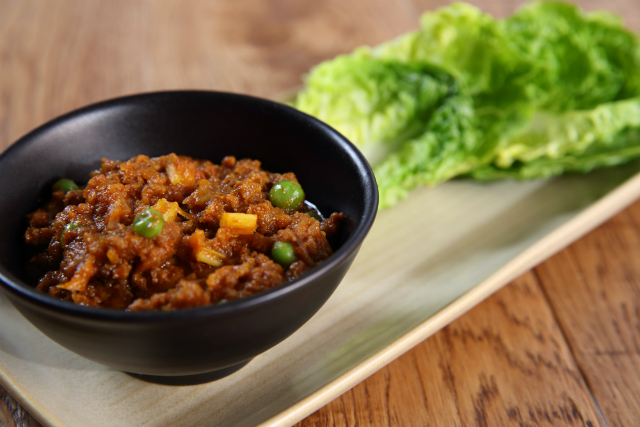 Kingfish Curry and Tapioca Mash. This is a lesser-known classic dish, very popular in the kitchens of the Indian diaspora. The Tapioca Mash is a panorama in itself, with hints of turmeric, cumin seeds, coconut and ginger. The mild, rich tamarind curry sauce partners up well with the meaty, flavoursome kingfish which is cooked to perfection.
The Sundal is a quick relief from the heavier dishes, being a dry chickpea salad, again very popular in Southern India. The Spicy Wings have a provocative peppery tang all trussed up in a super-light crispy coat and are served astride a small dish of tomato ketchup with some very threatening undertones of garlic. This is the mess maker, right here. I'm getting that birthday party look as the peppery sauce begins to ooze around the circumference of my greedy chops.
The Chilli Cheese Toast, not a sophisticated number, but a fun addition to the menu and, in fact, one of the spicier things to get to grips with.
Finally the Naanwich comes out, cut up into neat triangles and served à la club sandwich. Our waiter had been keen to let us know that this was his favourite dish and although the concept is perhaps not as inventive as some of the other creations, the Naanwich is a sensation – the naan bread is dense but soft and the aromatic butter chicken and prickly, sharp pickled onion filling go together like Ike & Tina (without the personal problems).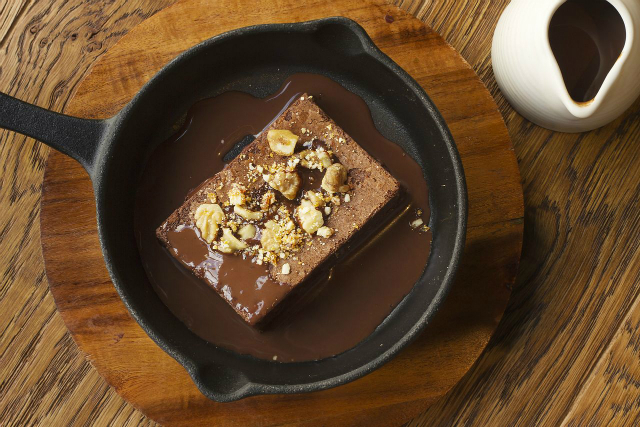 So, we've muscled our way through enough food to keep the East India Company on the march for a week. Time for a final beer and reflection on a job well done? Not yet. We're professionals. We've scoped this place out. We know where the soft spots are. So we go for it. Dessert menu. I know what you're thinking: who goes out for Indian and has dessert? Me. Are you soft in the head? No. Are you a big girl's blouse? Yes. The dessert menu is a plunge back into strange surroundings, however. A roster of the unknown. Hyderabadi bread pudding. Poached cheese with strawberries and Masala Milk. I don't think I can test myself in this way – I see my end-game. Chocolate Pataka it is. This is at first blush nothing less than a fat slice of squidgy brownie which is, in truth, all anything really needs to be in my view, but the prestige comes by way of service on a miniature sizzling pan, covered in caramelised nut pieces and dripping in dark chocolate sauce. This is a sexualised pudding. There'll be outrage in the Daily Mail. I fear that this will be banned for the protection of public morals. I nearly punch Ed off his stall as his fork makes a lunge for the last bite. He sits there, looking at his slice of Imli cheesecake trying to work out where he went wrong.
As I stand up to leave, my boots well and truly filled, I feel like a new man – no longer some curry-crazed loon but a sophisticated eater of swank Indian tapas. I can hold my head up, proud to have made it and glad that there will be places like Imli to keep me on track.