London is buzzing with 1920s and Prohibition themed parties and events at the moment – let's face it, it's a bloody good excuse to reach for the liquor and tassels! I could hardly contain my excitement when I heard about the Speakeasy nights hosted by the elegant J. Sheekey Oyster Bar. Sundays are pretty dead if you happen to be in the theatre reviewing biz, so I longed to throw on my low-slung beaded dress and long gloves and skip off, when I remembered I would need to practice my powers of persuasion on my chap, who isn't a fan of dining with 'entertainment'. The poor dear physically winced when he discovered he was in for an evening of improvised musical theatrics (he also happens to loathe musicals) and not even the fabulous venue swayed him from preferring a more traditional Sunday evening comprising of a classic film, fine wine and chocolates. Naturally, my reassuring words won out and a cheeky prohibited pink Cosmopolitan helped him get into the spirit of things, as did the sight of fresh prawns, a smoked anchovy, beetroot and horseradish salad, followed by half a dozen oysters.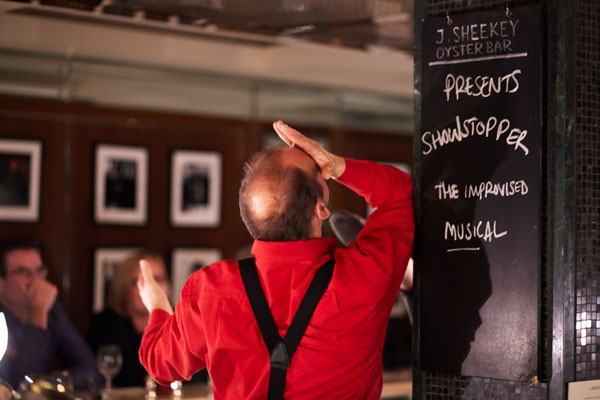 HUSH!…the lights were suddenly lowered, the pianist began to tinkle the old ivories, and the five highly acclaimed Showstoppers – introduced by comedian and broadcaster Hardeep Singh Kohli – appeared in a uniform of black and red. Without further ado, and with the help of a clipboard and audience suggestions, the team concocted an improvised 'plot' (I use the term loosely) before our very eyes – the more ludicrous the better – which continued to unfold more and more bizarrely between delicious courses, including a brioche crab roll and achingly scrumptious smoked haddock rarebit. The never to be seen or heard again musical 'Cabana' evolved as a somewhat intricate love story, set in a Moorish palace in the 19th century (my idea), between a eunuch, a lesbian and a tart, and set to tunes from Sondheim's Sweeney Todd and Rogers and Hammerstein's South Pacific (me again).
What a delightfully unusual evening! Laughter rippled around the three-sided bar like a Mexican wave – I was in my element and even my chap was laughing his head off in spite of himself. The cast are rightfully receiving critical acclaim for their vast knowledge of musicals and the ability to deliver off-the-cuff, clever, and downright hilarious lyrics around a myriad of random topics. For some reason this sort of comedy particularly appeals to my somewhat perverse sense of humour – especially when they began using a J. Sheekey ice bucket stand as a prop and linked up to dance the conga – always ensuring everyone had a prime view of all the antics.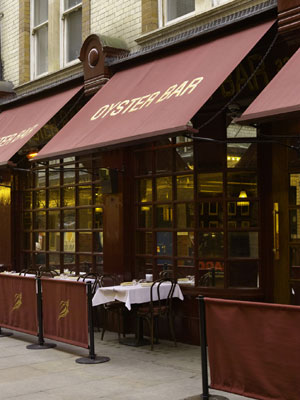 J. Sheekey Oyster Bar was an immediate hit with theatre-goers and oyster lovers alike since launching in 2008 next door to the long-established J. Sheekey fish and seafood restaurant in St Martin's Court. The original 1898 restaurant – with its iconic red front and frosted windows that make you want to peer in on the off chance of spying celebrities, politicians or perhaps even royalty tucking into lobster – has attracted many influential guests over the years, so the Oyster Bar inevitably continued the popularity of the establishment and introduced a new audience to its charms with its more informal atmosphere and a decor reminiscent of a luxury vintage railway carriage.
With staff preparing your food and cocktails before you it is an environment which perfectly lends itself to good old-fashioned entertainment of this sort. The oysters, low lighting, and excellently priced wine and champagne also make it extremely romantic and a good alternative to a stuffy dinner. The Speakeasies began last year and have been increased to four dates a month due to their popularity. The cocktail choice changes monthly and the live acts and menu change per event. Don your Sunday best and let your hair down!
Tickets are priced at £35, including a cocktail, three courses and entertainment at 7pm. For more information and reservations, please visit the website. J. Sheekey, 28-34 St. Martin's Court, London WC2N 4AL. Tel: 020 7240 2565.
[cgview id=116 num=8 size=150×150 showtitle=always lightbox=0]