"The menu is Middle Eastern and Japanese," our waiter tells us, and then, off my slightly baffled reaction, "…but it's not fusion." I'm staring at it, trying to make sense of it. Corn cob with zhug butter complements duck with teriyaki; gyoza sit alongside flatbread with labneh and tahini. "It gives you options," he reassures me, "you can mix within courses, or alternate between them." It strikes me it's about offering culinary choice when you can't decide on a venue – and it suddenly sounds really familiar.
"We've been here before," I tell Lydia, as he disappears with our drinks order. She looks about her, trying to recollect. "Not here specifically, but we've done this before – at Sumosan." And suddenly it clicks, before the memory of that night, some years ago now, kicks in. "Though I suspect this is a little more…sedate," she replies. And it suddenly makes sense; JiJi is the latest in the concept of multiple culinary offerings in one destination by restaurateur, Janina Wolkow, whose Sumosan brand of 'dine & dance' has outlets in Monte Carlo, Doha and the Tuscany coast, as well as the Knightsbridge location my dining companion and I previous visited. It is the product of a mind well-travelled, wishing to demonstrate a variety of passions.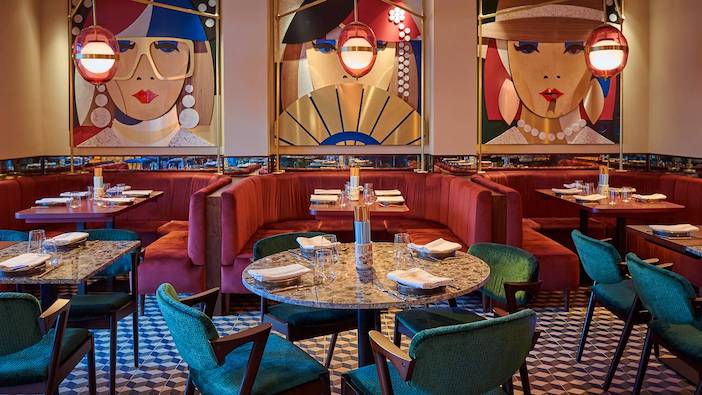 Among those, evidently, is art – or at least something of creating a statement. A colour-changing neon corridor competes with striking statement portraits on the walls by the dining booths, but both are outdone by the sheer vibrancy of the bathrooms (they even advocate taking selfies in them – we did). JiJi is as much an eclectic experience in its décor as it is in its dining, clearly.
The concept is underpinned by Japanese, perhaps Wolkow's primary passion, and we start with a sushi platter of delicate tuna nigiri and an elaborate tuna roll with a tangy ponzu and truffle mayo. It's accompanied – and it does sound odd as I write, but bear with me – by smoked aubergine 'carpaccio' with pomegranate molasses, crispy onions and feta. It's an equally delicious dish, and here's the thing – there's nothing incongruous about the pair together. It seems it's less about the fusion, more the fision, and aided all the more with a Lebanese Blanc d'Observatoire, from the Bekaa valley's leading winery, Chateau Ksara.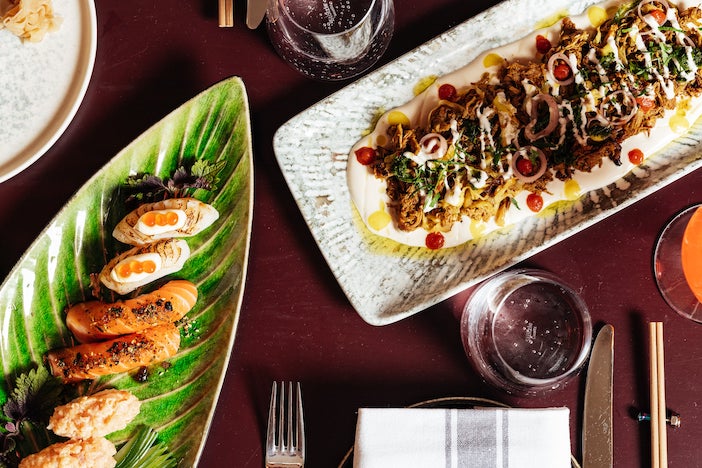 The 'pairings' continue with the mains, and the other question arising, was whether the openers were a fluke; does diversifying with a menu suggest there's no specialism? On the contrary, I would argue there's more attention to what works, and to making it work. Case in point come the mains, with a 48-hour miso-marinated salmon and a slow-cooked lamb and beef shawarma, spiced with some zhug and enriched with a yoghurt tahini; both doing justice to their provenance.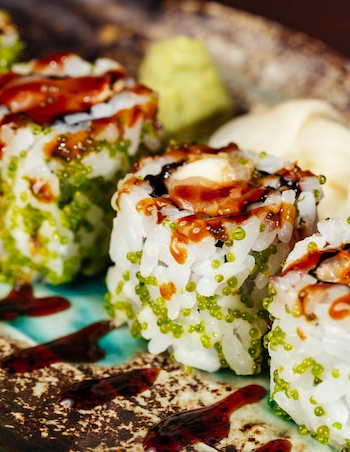 "What's your favourite, d'you think?" Lydia asked me, "the Japanese, or the Middle Eastern?" Ironically, perhaps the best dish was the humblest; a flatbread, fresh from their own Robata grill. Warm to the touch, lightly charred, I couldn't stop dipping it into the labneh and tahini it came with. Lydia concurred, but there was indecision in her eyes, "I'm still a fan of the Japanese, that sushi at the start did it for me."
By dessert, we were convinced. An excessive rocky road was sampled (how was it intended for one?) but, after a meal such as this, a light, subtle rose and coconut panna cotta proved just the ticket, and with another dash of fision; this time, a semi-sweet sparkling sake (try saying that at the end of the meal). Again, another first, a 'dessert' sake, deftly complimenting the dish, and offering a palate cleanser of sorts to conclude proceedings.
If you didn't already know it, you'd never know it existed. Among the back-to-back venues on Upper Street's 'restaurant mile', JiJi is out of sight, physically, set in a small, contemporary-looking square behind the hubbub of the main thoroughfare. Look it up on Google and it's listed as a 'Smart venue with fish tacos and sushi', the epitome of understatement. But, if you're lured in by that, there's a culinary cornucopia to be discovered inside.
Jiji, 6G Esther Anne Place, London N1 1WL. For more information, including opening hours, menus and Jiji products, please visit www.jijirestaurants.com.