The number 436 bus, my old friend. There we were again, Lady Stirling and I, high heels and pearls, cufflinks and a throw. I thought I looked fetching in this slightly off-the-wall combination; Lady Stirling thought otherwise.  The last time we jumped on this bus it was taking us to Apsleys at the Lanesborough and what a jolly fine night that turned out to be. Tonight we were destined for the JW Steakhouse, situated at the Grosvenor House Hotel on Park Lane.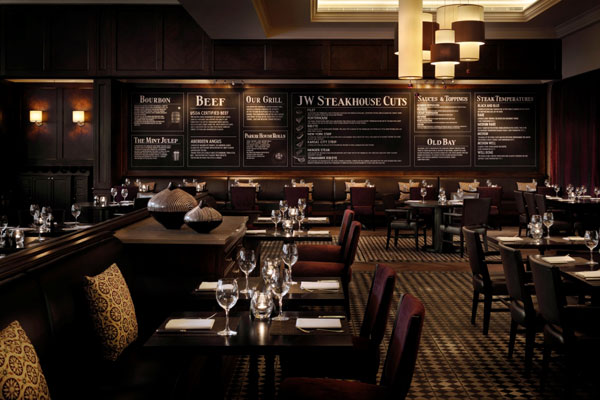 For those of you who are not familiar with the JW, you can take your visual cues from a New York restaurant whose interior leans towards that of a gentlemen's club (the sort with butlers and cognac, not chrome poles and nipples) and as such it is adorned with dark wood panelling, American oak perhaps; the 'Bourbon bar' sits nicely in one corner and a selection of meat to rival anything Desperate Dan might have had an eye on stands by ready to impress. If you want to fill your belly with unashamedly large steaks, come here. Forget the morsels at Gaucho Grill, this is steak for men*, *real men*, *really real men*, who can eat steak, shout "yee-haw", ride a steer while drinking a beer and not spill a drop. I wasn't sure I was up to the task. *Or really real women, of course.
Seated by the window, we had a lovely view of the park and the terrace as well as the menu, written in bold strokes proudly declaring the delights on offer.  At this point I didn't realise that having a starter was going to be a mistake. The Fried Calamari and JW Maryland Style lump crab cakes, both served with old bay tartar sauce, were great, but in retrospect not the lightest of dishes to kick off the evening, and when you add in delicious freshly baked bread roles the words school, boy and error spring to mind.
So we moved onto the steak. Chi Chi, who had the epic task of keeping us happy for the evening, was on hand to explain the way it worked, and after some sage advice, a little guidance and a beaming smile we chose the Porterhouse and JW 'Tomahawk', a tiny 32 oz Aberdeen Angus Rib Eye, served on-the-bone. Being lifetime members of the CPC (Clean Plate Club), we had our reputations to uphold. 
Arriving in heavy cast iron dishes the steaks looked magnificent, so we got stuck in; I felt a little like a Tudor king.
Macken Brothers of Chiswick supply the grass-fed Aberdeen Angus Beef and Lamb, which has a firmer texture and meatier taste compared to the Creekstone Kansas Black Angus which is a more subtle meat. I asked that the chef cook it as best suits the cut. Our sides consisted of the bourbon sweet potato mash with a marshmallow crust, something I'd not come across before and is usually rolled out for Thanksgiving. I loved it; Lady Stirling did not. Luckily for her we also had a portion of hand cut chips.
I think I mentioned that this was steak for 'really real men'. I was right. And I was not – a real man, that is. About a third of the way in I was close to beaten, and before you start pointing the finger, let's be clear – this is a big piece of steak; Fred Flintstone would happy to have this served to him.  I needed some help so looked across at LS but she was far too busy working on the fillet side of her Porterhouse to give me a second look. Just then Tom Petty's 'I won't back down' came on. Mr Petty, known for his ability to consume vast quantities of other less hearty substances, was pretty much calling me out, so I pressed on – the knife dug in, another slice, another mouthful of excellent steak, another and another. I was winning, I was winning.  This isn't going to beat me.  30 seconds later I'm beaten and I'm sipping at my water wondering if I'd ever move from my seat. Tom was long gone, obviously disappointed and probably disgusted I couldn't muster more mettle for the final push, half the beast was still on my plate. Attempting to tuck in further would have only recreated the scene with Mr Creosote from The Meaning of Life: "Just another wafer thin slice of steak sir?"
I couldn't sit here; I was worried I'd fall into a meat coma, so with a Herculean effort I made a break for the lobby and some fresh air.  Now, time has crept on since we dined at the JW but when we did Gaddafi was still alive, and at large. So imagine my surprise when I saw what MUST have been him walking through the front doors of the hotel.  Admittedly he wasn't dressed as I might have expected for a super-dictator, however the ill fitting tennis short, Adidas t-shirt, Fila trainers and baseball cap were the perfect disguise and had everybody fooled but me.  This short pause in proceedings and my hob-knobbing with international war criminals was enough to revive me just enough to be able to return to my seat, sip some wine and say my thanks to the wonderful waitress before waddling off towards our coach.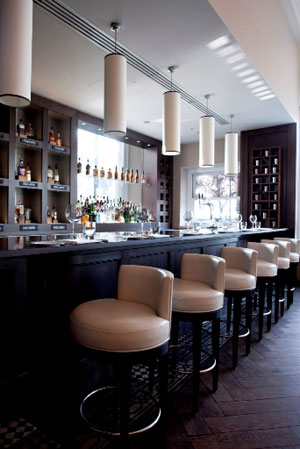 Chi Chi has other ideas. "Some desert sir?" You've got to be kidding I thought. "Ah, no thank you very much, we're rather full of your wonderful steak." Lady Stirling has also excused herself, quite possibly to try and out trump me by spotting Pol Pot or maybe even Stalin.
Chi Chi was not to be put off. "You must have the cheesecake, it's the house speciality."  Did I just hear that right? Cheese cake?  Not a light sorbet, not a fresh fruit salad, not even a delicate mousse – no, cheesecake, on top of steak. I was polite: "I think we'll probably skip it this once." My usual assertive and confident tone bounced off the Teflon-coated Chi Chi: "No, I insist, I'll bring some out for you right away." Was this a cruel joke? Were the staff 'out the back' laughing at the fool at table 16 who ordered the largest steak on the menu? Perhaps this was a punishment for not trying harder.  I glanced down at my belly and considered asking for the Tomahawk back, perhaps I could squeeze a bit more in and win back some face, but it was too late, the moment had passed, the cheese cake was on its way.  I leaned over to LS. "What are we going to do?  I can't eat another thing".  Lady Stirling just looked at me.
I'm used to cheese cake arriving in one of two ways: a slice from a large cake sized dessert, or, a smaller, round, individual pudding. This was neither. When they say cheese cake, they mean the whole thing. Not a slice, not a nibble, not a delicate little portion – The. Whole. Thing.  It arrived with aplomb and grace and was presented to us with a gleeful, knowing smile. I waited for a couple of slices to be cut and then it whisked away to another table. It sat there in its entirety. LS and I looked on, "Who's this for?" asked LS, a hint of fear creeping into her tone. I didn't like Chi Chi's answer: "It's all for you, enjoy!"  We looked at her in disbelief. "All of it? Perhaps we can each just have a little slice?" Not so.  "If you like, but I suspect you'll want more" and with that Chi Chi was gone, leaving us to look at the cheesecake, each other, the rest of the clientele and our bellies.
Being the more foolhardy one at the table, I volunteered to go first and forced in a tiny morsel. "Hallelujah, hallelujah!" was the cry as it hit my tongue; suddenly my second 'pudding stomach' opened for business and we were off again.  I fought off Lady Stirling as we tussled over the cool, creamy topping that sat on a very light mousse-like cheese cake. Now I see why we had to have it. All of it.
On the way home, Lady Stirling put together her top five tips for dining at the JW:
If in doubt, forsake the starter for the dessert as long as you are having the cheese cake
Just because you can doesn't mean you should eat all 32 oz of red meat – a take home bag will be provided at the end
Steel yourself at least a week in advance with some major culinary workouts. Might we suggest the taster menu at Apsleys with accompanying wine and work your way up from there
Don't expect delicate, fine dining with fey little portions; this is epic, quality meat
Regardless of how full you think you are, you will ALWAYS have room for the cheesecake