Walking down the stairs into Kahani, I felt like I was walking into a Lindsay Anderson film; the set changing since I was last there, a little over a year ago when it housed Le Cercle, with the experience of deja-vu making me wonder what happened to its short-lived predecessor. It's a tricky venue, admittedly. Tucked away down a basement on a residential street away from the footfall of Sloane Square and the King's Road. Little wonder it's seen three or four incarnations in as many years, each falling away before it can really get going.
Fortunately, the venue's new guise is far more conducive. The austere Eastern Block minimalism of Le Cercle has been replaced with a sort of Ayurvedic sense of hygge, beset with featured lighting, well-placed artwork, and far more comfortable table settings.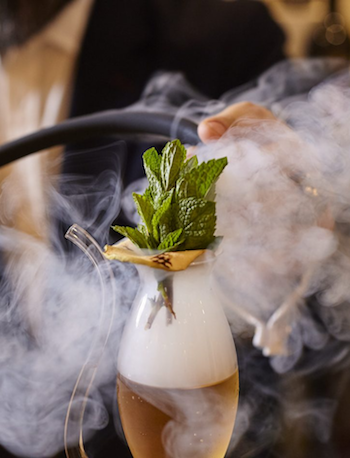 For one, the bar is inviting, not something merely designed to despatch orders. Larman and I are early and we settle in, striking up conversation with our barkeep. Cocktails set the mood for an evening of culinary adventure to come. The menu is divided into chapters, depending on mood and one's emotional proclivities, and drinks are given alluringly ambiguous names; Chaos was an option given the political climate but I settled for a Constructive, a gin libation with Italicus, wild berry and cardamom. Larman opted to test our man, who relished the chance to invent. His vanilla/lime/Thai chilli vodka infusion was a triumph, but it seems it shall become to cocktails what Monty Python's killer gag was to jokes. We shall never know nor recreate.
While we sipped, the third of our number arrived – our learned lady friend, Lucy – and began proceedings with a Harmonious, a tequila-based confection, and, quite unbeknownst to us, completing what became a rather fitting arrangement for dinner here; the three of us mirroring Kahani's inspiration, the three virtues of Indian philosophy: energy, change and harmony.
It's manifest in chef Peter Joseph's (of Tamarind fame) approach. Kahani means 'story', and the dining experience here is based on the story of his journey to its point of creation; his first touchstone is his home country of India, specifically Tamil Nadu in the south, providing the flavours. The second represents Kahani's principle of communal eating, sharing, and this inspiration came from his time in Spain and tapas culture. Finally, for his third key note, he comes to England, where rolling hills, green fields and Cornish fishing boats provide the source for his ingredients.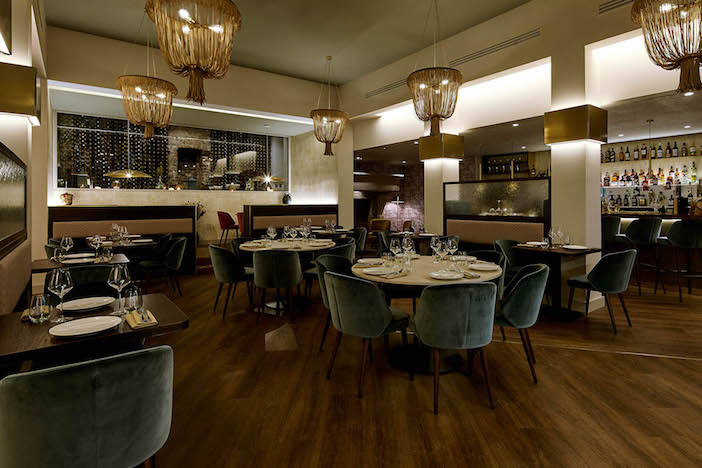 It's a propitious basis for our dining, and nestled into a banquette against the striking 'wine wall', we survey the delights of small plates on offer. Taking our lead from chef, we dive into Bengali beet cakes, soft shell crab and lentil dumplings. We break from tradition as our sommelier arrives with Riesling before we've even ordered. It transpires we didn't need to; Riesling is the perfect accompaniment calming the crab's chilli hit and complimenting the mustard-infused warmth of the beet cakes. Each dish had history, even unfamiliarity. There are things you might not encounter in any other Indian restaurant. The lentils, for example, a somewhat bizarre offering; oddly cold and yoghurty, but these it transpired were a street food classic; less bizarre, more 'Chawri bazaar'. Unfamiliar to our palates but nonetheless our being in no doubt we were in the hands of a fine, and inventive, chef at the helm.
One of the pleasures of Kahani is that it provided many a first for me, including a 'kebab course'. We indulged in a chicken tikka (naturally) with a coriander and mint purée, Malabar prawns the size of baseballs, with curry leaves and subtle coconut, and slivers of sirloin marinated in truffle oil, fennel and cumin. Sticking with the Teutonic vino, our sommelier offered a fruity Austrian Sveigel to balance the beef. It did. This man knew his onions.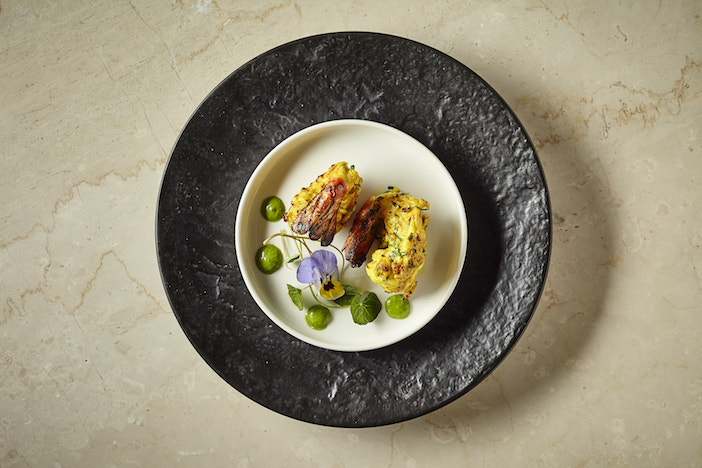 At this juncture, the cocktails kicked in and tongues were loosened, conversation became bawdy, bouncy, gregarious before we were settled with the mains; a vegetable biryani, butter chicken, nali gosht lamb, aloo chatpate, all familiar, all comforting but with a few new, simple inventions. Naans were gruyere (nice touch) and Kahani's own rice came infused with spices. With all the meat, we considered something weighty on the wine, something with body but, on advice, went for Kevin Judd's Greywacke Pinot Noir. Nothing too heavy but plenty of structure, and a little acidity, far from challenging the red meat it allowed the spices to shine.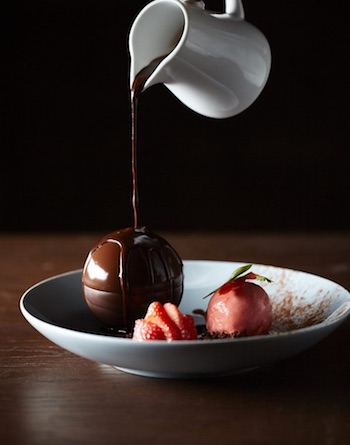 With such a smorgasbord of flavour and dishes, it can be hard to single anything out, but one thing made me come back for more and more and more: the humble spiced stir-fry potatoes. These, coupled with the dahls, were divine. It's testament to Kahani that more often than not dahls are barely touched – these bowls were almost licked clean. But it's not, simply, about the food. Joseph's principle of communal eating carried through. It's the beauty of shared meals: conversation. Phones are barely looked at, dishes we all try become talking points.
Desserts, as ever, simply can't be ignored. And as impossible as it was to even contemplate, when we saw the menu we ordered with aplomb. Three desserts, three spoons. Diving into a chocolate bomb, and rich peanut butter parfait and, a healthy, harmonious option; tandoori pineapple. Well, we had a reputation to uphold as the three virtues, after all.
Three, it seems, really is the magic number. And I have a feeling Wilbraham Place may have found its happy mainstay in the shape of Kahani.
Kahani, Wilbraham Place, London SW1X 9AE. For more information, including reservations and details of private dining, visit www.kahanilondon.com.