Don't expect a warm welcome at La Poule au Pot. That is, if you arrive before 6pm – the staff will be eating. And at this London institution, eating is taken very seriously.
La Poule au Pot was first opened in 1964 by an actor called Charles Brody. Back then it was more of an extension of his living room than a fully fledged restaurant. It wasn't until an employee called Niel Ware took the place over that it was transformed into what it is today: a classic French restaurant beloved by many a snail-eating Londoner.
Sadly, Ware contracted Aids in the nineties and, rather movingly, it was his last dying wish that nothing be changed in the restaurant. So nothing has changed. Or, so we're told. I'm here to test this and I've brought along my 80 year-old father because not only is he a mighty good eater, he frequented La Poule au Pot with clients almost every Friday back in the seventies.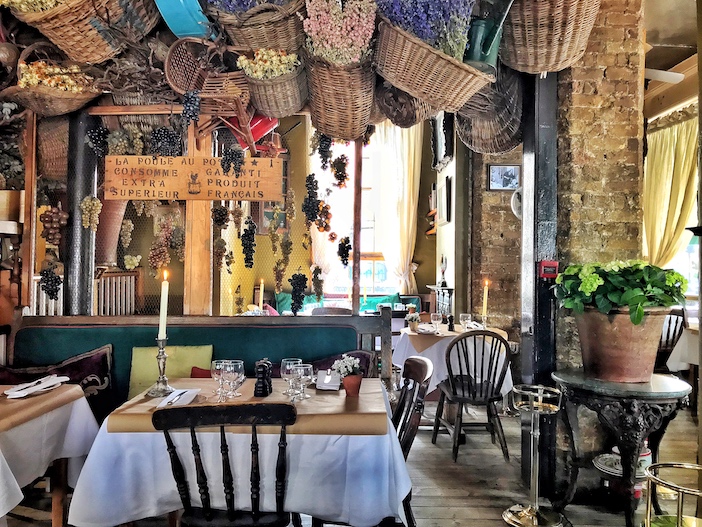 First test: atmosphere. Inside, it's dark. A wooden trough sits at the entrance laden with baguettes waiting to be sawn into chunks. Among the paraphernalia hanging above us are bundles of dried flowers and giant wicker baskets. A single church candle dribbles at the centre of each table. The kitchen is tiny and strip-lit and is the pulse of the dining room. So far, no change. Apart from, my old man tells me, there is no longer the Poule au Pot cat gracing the windowsill.
We're visiting on the hottest day of the year so we take a table outside. This, my father tells me is new. Enough seating for 45 covers now extends across Orange Square. Passers-by veer off course, attracted by the scent of garlic and herbs, only to be immediately turned away.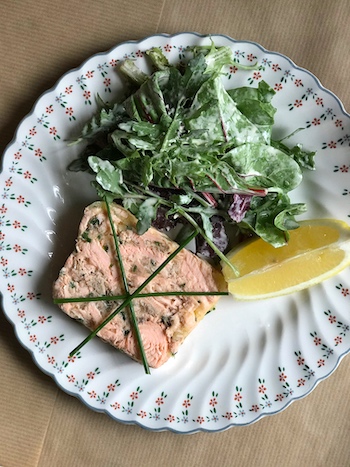 The restaurant is fully booked tonight – as it is most summer nights – and sitting there, menu-in-hand behind the restaurant's red velvet rope, I can't help feeling incredibly smug.
Second test: Food. The rillette du saumon (salmon terrine) is soft, tender and served at exactly the right temperature. The escargots are excellent. The fresh green asparagus with Hollandaise sauce are succulent. Everything arrives on vintage floral plates that could have been picked up in a brocante in Aix-en-Provence. Even the butter comes in beautiful packaging.
Third test: Wine. Back in the seventies, the house wine came in magnums and the waiters would mark the level you drank down to then charge accordingly. Joyfully, nothing has changed. An unlabelled but very quaffable magnum of red is delivered to our table and someone young and charming regularly comes over to top up our glasses.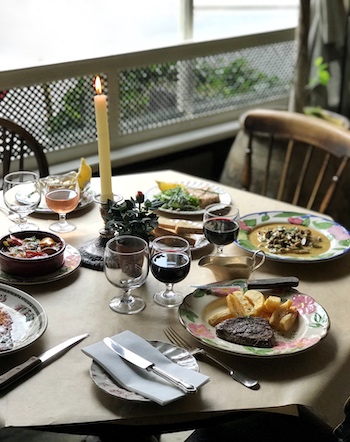 On to the mains. The Carré d'Agneau arrives poised – tiny clipped bones neatly interlocked. Pink. Whole cloves of garlic and shallots swim around it; and for decoration, full sprigs of thyme. My choice, 'La Poule au Pot' (chicken in a pot) is the 'house dish' – unchanged since the seventies. It comes in a wide shallow bowl; large pieces of succulent chicken in a rich broth, the depth of which I can only compare to my mother's stock. This is a compliment. Perfectly cooked carrots and courgettes accompany the meat. It's hearty and healthy – and big enough for two (I take home half for lunch the next day). A variety of house veggies is delivered with the mains. Tonight, it's soft little petit pois cooked in bacon, a robust ratatouille and wickedly good potato dauphinoise.
Plates wiped clean, we finally look up. The restaurant is filled to the brim with people who, from the looks of it, have been coming for years. Probably decades. They greet each other with hugs and kisses, cashmere jumpers tied round their shoulders. There are a few suede loafers and quaffed hairdos, but on the whole, they are an easy-going jolly-looking bunch.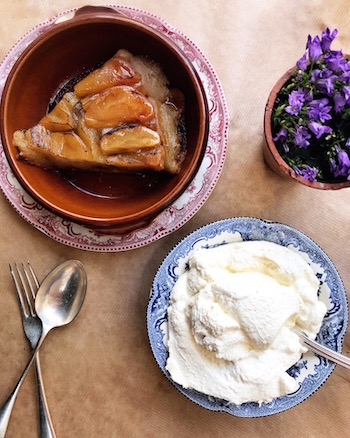 Final test: Dessert. My chocolate mousse is diminutive and unfussy and tastes so good it makes the back of my mouth ache. The tarte tatin a moodier customer. Moody yet magnificent. Not too sweet. It comes with whipped cream and has carameled parts so chewy, they stick to your molars.
In conclusion, you won't find better French paysan fare anywhere in London. Or Paris for that matter. My father can vouch for this. He was in Paris the very next evening dining at Le Grand Colbert.
La Poule au Pot is special. It's blasé yet elegant. It's home cooking with a cultivated edge. It's a love letter to France in the heart of the capital. Best of all, it hasn't changed a soupçon in five decades.
After polishing off his final glass of red, my father looked around wistfully. He took in the elegant bronze statue of Mozart opposite, the young patrons spilling out of the pub on the other side of the road, and a passing 211 bus – our ride home.
"I wish it was the 1970s," he said with a glint in his eye.
What better sign of a life well lived?
La Poule au Pot, 231 Ebury Street, London SW1W 8UT. Set menu available all day every day (two courses for £32 | three courses for £37). For more information, and bookings, please visit www.pouleaupot.co.uk.