I've had some receptions on entering restaurants, but none quite so grand as the welcome at Lavo. We're met with a cadre of about five people as we walk in; a member of staff to greet, to take our coats, to escort us downstairs, and to smile. Short of holding swords aloft, it's as close to a royal entrance as Larman and I have made anywhere.
He can't suppress his giggles as we descend, feeling rather Winslet-like sashaying down the Titanic's central stairs, passing a statement olive tree below. And that, indeed, is indicative of the greenery about us. It's never normally something I'd spot, but you can't not notice it; there's a garden wall, and each pillar and banquette is fringed with topiary – and as Larman excuses himself to the gents, I reach out to touch it.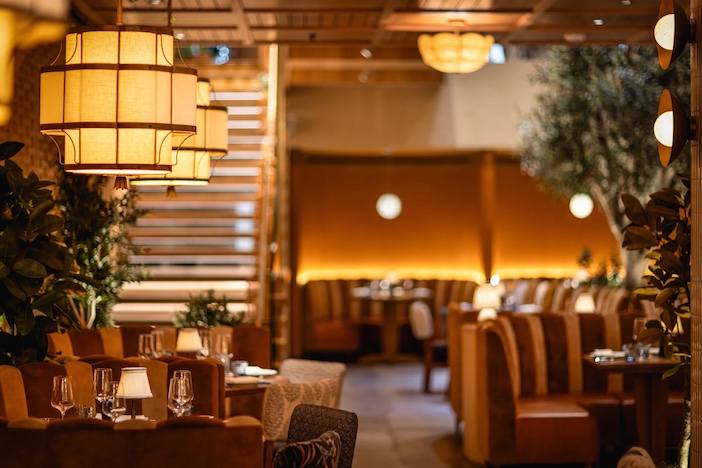 He sits back down, "I'm loving the foliage," he imparts. "It's plastic," I reply, surreptitiously, and he roars with laughter. "Let's hope the food isn't, eh?" He quips. Fortunately, all the set dressing is not indicative of the quality of what's to come.
A garnish selection for water is an interesting, if unnecessary, touch, and I opt for a slice of grapefruit as our waiter, Raoul, presents a bottle of Tau branded water as if it is a St Emillion grand gru. The continuing flourishes seem rather over the top but Raoul espouses all the virtues of the service; it's delivered with a patter that trips off his tongue in a fluid Spanish timbre, only pausing for breath when we start to engage him in the cocktail menu. I like him instantly.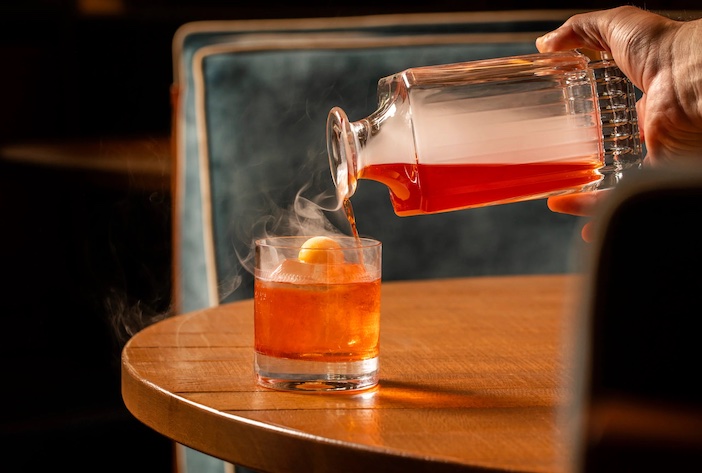 While Raoul's enthusiasm for each cocktail knows no bounds, and Larman seems content with his Pineapple Tommys, I'm less than impressed with my Sweet and Spicy Daiquiri. Raoul senses my dispiritedness and asks for my favourite. Negroni, I reply. Then the best thing I've seen arrives; a bespoke negroni menu. It's punchy at £24 but it's a clever idea; the ability to choose your respective ingredients.
As we survey the menu, rattling off orders like a bingo caller, one thing is crying out at me. 'The Meatball' (singular) is emblazoned across the middle like an ensign; '500g of wagyu and Italian pork sausage with whipped ricotta in a marinara sauce'. I'm salivating just thinking about it. Larman protests, insisting we already have a substantial rib eye to share. Even Raoul is questioning me, "The meatball, sir, is like a cannonball…" he cups his hands into a baseball-sized shape. It would amount to a kilo of meat we're ordering. I approve, confidently.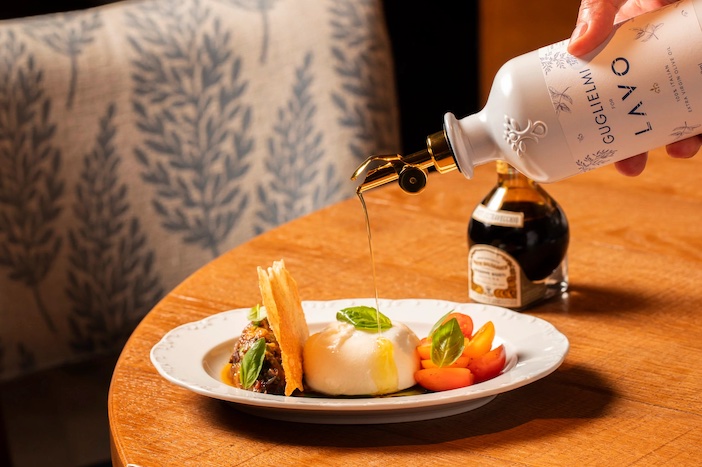 Throughout the meal, we are showered with attention. A small plate of crudités arrives (including figs, of all things) and is drizzled with oil, and the starters – and they look terrific. Langoustines are presented opened up with lemon, pepper and capers, delivering the flavours in spades, and the frito misto are light and crispy with a delectable tomato sauce. I feel like we are sat less in a Marylebone basement as at the edge of the Mediterranean.
Raoul returns, topping up our glasses with an excellent Vermentino. I take a moment, nervously, to ask, "The meatball, can chef make it smaller?" He gives me a dismissive look as Larman, again, shudders with laughter.
And then comes the meat. The steak, presented pre-cut, is accompanied with an absolute mountain of fries topped with truffles, and further chargrilled sprouts with pancetta and grilled mushroom, and then… the meatball. It's big, sure, with a moat of tomato sauce and a ricotta crown, but not as daunting as I'd feared.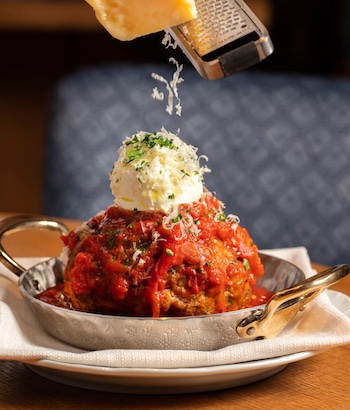 Raoul carves and everything is immaculately presented. The flavours are sumptuous; there's a richness that's not overwhelming, and with the tangy marinara and soft ricotta, it's something I must try and emulate at home. Larman focuses on the steak, it's just blue enough to appreciate the cut, its seared edge adding depth. The sides, too, deserve a mention. I've had griddled sprouts before, but these are earthy and potent. It all exceeds expectations – and our appetites.
"I might actually die after this," Larman collapses back into tie banquette, defeated. Raoul comes back. "Dessert, gentlemen?" He sits right back up. "Of course, we can't not try the tiramisu…"
By the time it arrives, presented with the now customary theatre, the place is heaving. As much as this whole evening has been something of a performance, it's not without merit. Lavo delivers when it comes to the main act, and there's much to add besides.
There are many dining destinations that favour style over substance – and, fortunately, a few that offer substance but eschew any style. But if you want an evening out with both, where the food is as diverting as the service, then you could not go far wrong with Lavo. Just don't forget to ask for Raoul if you want that extra dose of enthusiasm thrown in.
Lavo London, The BoTree, 30 Marylebone Ln, London W1U 2DR. For more information, and for bookings, please visit www.taogroup.com.
Photos by Johnny Stephens