In London, we are used to new cuisines from around the world popping up over the years: Japanese, Korean, various kind of South American – the list goes on. But Lusin is surely a first. This is an Armenian restaurant (Lusin, in Armenian, means "moon"). It's opening on Monday 31st October and, despite the fact that this is Hallowe'en, there is nothing scary about Armenian food. I took the Major along for a sneak preview.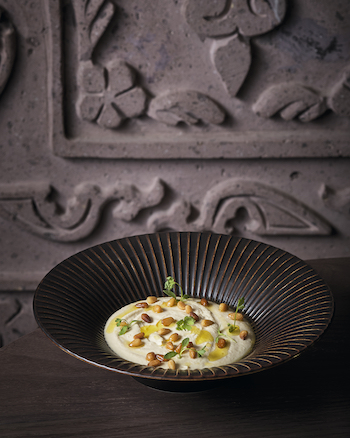 So, what is the USP of Armenian cuisine? Well, first off, it's a big country so there are regional differences. Western Armenian dishes bear a strong resemblance to those of Lebanon, Greece and Turkey (plenty of mezze). In the East, though, the influence is Russian, so the meal starts with matzone (yoghurt) and there's plenty of herby chicken involved. Armenia's bread (lavash) has been singled out for UNESCO cultural listing and that's the first thing that appears at Lusin as a pre-starter with a creamy, cheesy dip.
They weren't running the full menu for the preview but it promises to be extensive. Even the limited menu, though, had plenty of surprises. So there were four sharing starters with more lavash on the table. Lentil kofta has a kofta-like shape but is soft and spicy without the crisp exterior you'd find on the traditional meaty version. The kibbeh had nuts and pomegranates along with the bulgar wheat.
Then there was hummus with pine nuts. Everyone knows hummus, right? But this was the creamiest, most delicious hummus I think I've ever eaten. The Major waxed lyrical. So far, so Lebanese or Turkish. The last dish, though, was Sujuc Rolls. Sujuk is a spicy fermented beef sausage, served at Lusin in thin slices. This may not sound very exciting but it was little short of sensational. Two of the staff told me it was their favourite dish on the menu. I'm not surprised.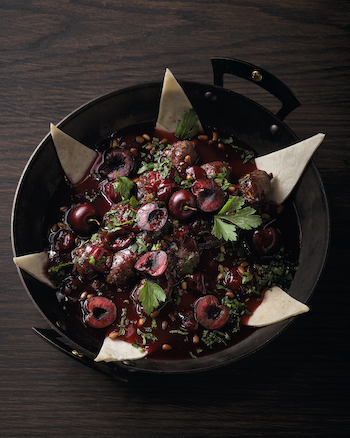 The main course was "the famous cherry kebab". Now, this may sound like a strange concept but it works – and at this point I should declare that I am not a fan of putting fruit together with meat as a rule. The cherries are the sour version, so a little piquancy there alongside the spicy meat. The whole thing is scattered with pine nuts.
It is, perhaps, the most typical regional dish but the longer menu also reveals lots of spices and herbs, more bulgar wheat (served in a variety of ways) and masses of legumes, nuts and fruit – especially pomegranate. So quite a healthy cuisine as well as a rather delicious one.
This is not the first Lusin. There are four in Saudi Arabia (the first opened in 2011), founded by Mazen Amulgbel, doctor turned food entrepreneur and restaurateur. The London menu has been curated by Marcel Ravin (he's got two Michelin stars) and based on authentic Armenian dishes by Anahid Donigulan (author of the Armenian cookbook "Yepelou Arveste"). So we're talking authentic – and upmarket here.
That goes for the décor, too. For London, they have created a rather glamorous contemporary space with a central bar and plenty of Armenian touches. As you come through the vast doorway, there are three pillars carved with Armenian symbols and the walls feature Armenian tuff stone – this comes in four colours: pink, Arctic violet, black and, believe it or not, anti-tobacco.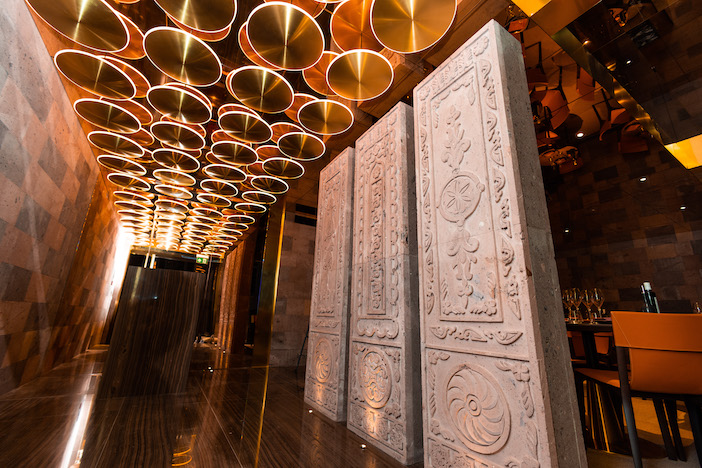 At the preview, they had not yet got in their Armenian wine (we had French pinot noir) but that is on its way. If it's anything like Georgian wine, which I suspect it is, it should be sensational. They've certainly had time to get it right. In 2011, the oldest winery on the planet was discovered in a cave near the Armenian village of Areni.
Lusin Mayfair, 16 Hay Hill, London, W1J 8NY. For more information, and for bookings, please visit www.lusinrestaurant.com.