Recently refurbished and renamed, Marcus Wareing's flagship restaurant at The Berkeley Hotel in Knightsbridge is a sumptuous temple of fine dining. Now sporting hues of eau de nil, greys and dark red, adorned with modern art and textured glass panels, this is everything you would expect from one of London's finest eateries.
I lasted visited this restaurant four years ago when I interviewed Marcus over several cups of coffee about his past, present and future. Since that meeting, he went on to open The Gilbert Scott in St Pancras and at the time of writing is about to launch a third restaurant, Tredwell's in Covent Garden. True to his words back in 2010, his flagship restaurant at the Berkeley will be the only fine dining venue in his expanding portfolio.
His television presence is also growing as this year he will replace Michel Roux Jnr as a judge on MasterChef The Professionals. This is excellent news for fans of the series, and contestants will be quaking in their chef's whites at the prospect of having to cook for him.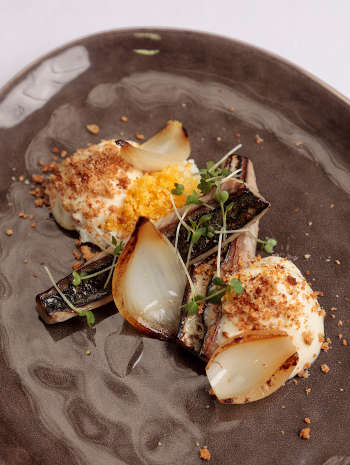 Marcus, much like his MasterChef predecessor, has an admirable approach to food. He's a stickler for classic haute cuisine and is undeterred by the foraging forays of Simon Rogan or the test tubes of Heston Blumenthal; you won't find snail porridge or bits of hedgerow on your plate here. What you will find is the best produce that money can buy, cooked to perfection and served in a way that champions the key ingredient on the plate. Flavours are big but well balanced, combinations are expertly considered, presentation is a delight. This is true fine dining of the highest order that traces its roots all the way back to Carême and Escoffier.
An amuse bouche appeared as a generous foam of chicken liver parfait with sweet caramelised bacon bits and toasted brioche sticks, along with another dish of cured prawns in a zingy tomato, chilli and basil marinade. The chicken liver foam was so delicious I would've dived head first into a swimming pool of the stuff. This is food that makes you happy to be alive. And that was just the opening palate teaser…
A first course of foie gras with mango and granola sounded simple but was anything but. The rich foie gras, enhanced by the sweet mango, evaporated on tongue – I'm not sure how they achieved that but it was a delightful sensation – while the granola provided a pleasing crunch and a savoury, oaty flavour contrast.
Mackerel with onions and fluffy, grated egg was a salty, sweet and sour cacophony, served on a mussel shaped plate; a perfect harmony of tastes and textures. Veal belly with frogs' legs, snails and wild garlic was a tribute to our neighbours across the Channel, or perhaps a humorous poke in the ribs; a dish that transported one to the green and sleepy pastures of rural France.
Huge, plump scallops with cauliflower and cucumber was an innovative dish of refinement; I've never eaten scallop with cucumber before and it worked splendidly. Lake District lamb, so tender that it could've been a fillet steak, was served with beetroot and barley. The ideal main course for a balmy summer's evening.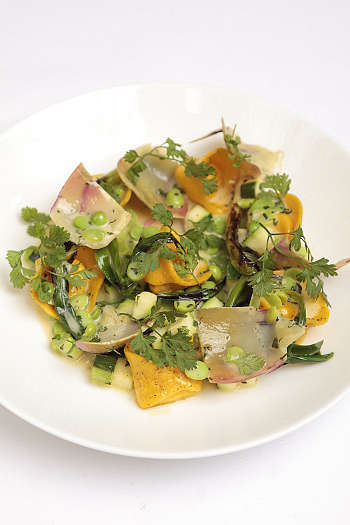 A big mousse-like foam of Tunworth cheese with raisin was deceptively airy on the tongue but a heady, savoury treat for the taste buds, harking back to the indulgence of the chicken liver foam at the beginning of the meal.
A dessert of tiramisu, which, true to its origin, was a light and playful dish rather like eating a mascarpone cloud of coffee and biscuits. The final instalment was a lemon meringue with 'iced tea' which had all the punchy flavours of your favourite home-cooked lemon meringue but in a highly refined and elegant form. It was the best meringue I've ever eaten.
So often the big names in gastronomy fail to deliver. They seem to be more concerned with industry accolades and fancy techniques than satisfying their customers. Marcus is not one of those chefs. At the heart of his cuisine is a passion for exemplary cooking, using a sensitive, respectful approach that seeks to draw out every molecule of flavour from every ingredient on the plate. Marcus wants to share his love of fine food with his customers, and that's why they leave his restaurant feeling happy, full and looking forward to the next visit. One of London's best.