A chocolate box pretty restaurant if ever there was one, the baby blue No. Fifty Cheyne in Chelsea, originally a Victorian corner pub and more recently the Cheyne Walk Brasserie, is enticing far more than locals since Sally Greene (founder of The Old Vic Theatre and Ronnie Scott's Jazz Club no less) took it over. As you'd expect from anything Greene touches, it opened to great fanfare in 2019 following a complete renovation, with Executive Chef Iain Smith at the helm specialising in the most luxurious comfort food you'll find anywhere in the city.
I hadn't been back since dining at Cheyne Walk Brasserie many years ago and there wasn't a single thing on the menu I wouldn't want for my last meal, although I quickly decided it would be the first of many I would have here – trying to work my way through the menu before it changes each month! Whether you venture to No. Fifty for a romantic dinner for two as we did, Saturday Brunch with friends or the acclaimed Sunday Roast with family (all with a slightly different atmosphere and clientele) you'll be missing out if you don't sample something from their grill – a prominent, open-plan addition to the ground floor restaurant which has created an inviting atmosphere and a connection between the kitchen, front of house and diners which brings a beautiful synergy to the overall experience. You may wish to applaud the chef too.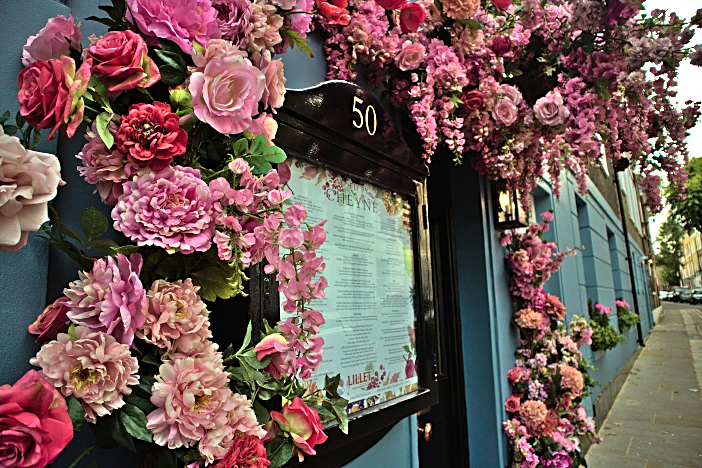 The ground floor 70 cover restaurant, with comfortable seating, crisp white linens and tall candles, features a bar area beside the constantly-busy grill, making it an elegant and chic environment that's clubby rather than stuffy – in large part due to the unfailingly warm and hospitable front of house team. No. Fifty Cheyne appeals not only to the well-heeled residents of Chelsea, but those on the W1 restaurant circuit willing to take a peek outside their own culinary bubble for this exemplary neighbourhood establishment where Smith, previously Head Chef of Jason Atherton's Social Eating House, is clearly enjoying the creative freedom to share his own take on classic cuisine and the superb British produce he feels passionately about. Ever since the first reviews came out, critics have referred to Smith as a 'rising star', but I'd say his star has risen. Michelin, who often dish out their proverbial stars too easily, and far too reluctantly in others, are late to the party.
Speaking of parties, you'll find the 50-seat ruby-red Cocktail Bar and elegant Drawing Room overlooking Cheyne Gardens and Chelsea Embankment on the first floor, perfect for hosting private dining and events including civil ceremonies. No. Fifty Cheyne is undoubtedly the kind of place I favour for small, intimate weddings where the bride and groom actually get to talk to their guests – but furthermore to prove to guests that wedding food can actually be a gastronomic affair, celebrating the fact that the bride and groom are kindred spirits when it comes to fine food. I can only pray that one of my friends reading this will take my advice and tie the knot here. Food is not only an excellent marker of a successful wedding but a good omen for a successful marriage. You'd also have the excuse to return every anniversary.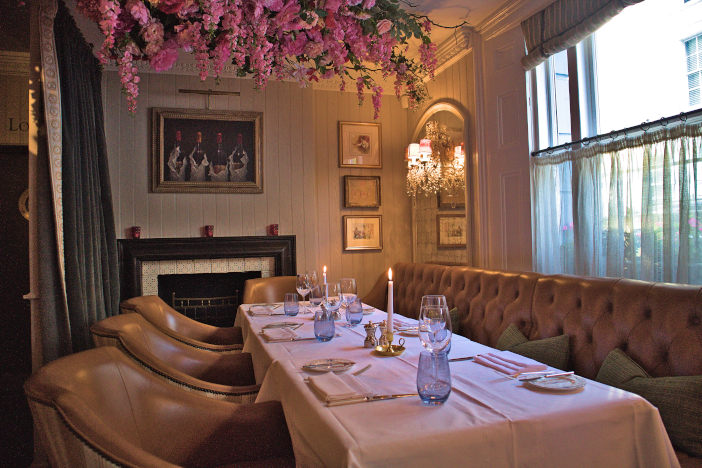 Regulars are encouraged to become so thanks to Smith's seasonal menus which, packed with an enticing array of premium ingredients are orchestrated into a veritable musical singing with flavours, textures and techniques and this world-class chef is sharing them with a highly appreciative and discerning audience. The only tourists you're likely to see are Instagrammers on the pavement outside, excited to find yet another building draped with pink artificial flowers which they can photograph for their 'feed'. Although No. Fifty Cheyne is such a pretty establishment that I defy anyone not to take a snap, we were interested in quite another kind of feed and fortunately this frivolous adornment, which continues inside, belies the seriously good food on offer.
Homemade focaccia, sea salt crusted breadsticks and our delicious mocktails, 'Clean Coconut Margarita' and 'Clean Cobbler', featuring Spencer Matthew's CleanCo alcohol free drinks, arrived as we were still weighing up what to order – not an easy call. I knew my other half well enough to immediately guess we'd both be drawn to the decadent-sounding shellfish starter of Orkney scallop and crab raviolo with Oscietra caviar, aubergine and basil with seaweed, and it proved a sound choice. The pasta of the raviolo was as thin as a supermodel, with a crab and scallop filling bursting with intensity, finished with a plump slice of sweet, caramelised scallop and a generous serving of chive butter sauce that required spoons.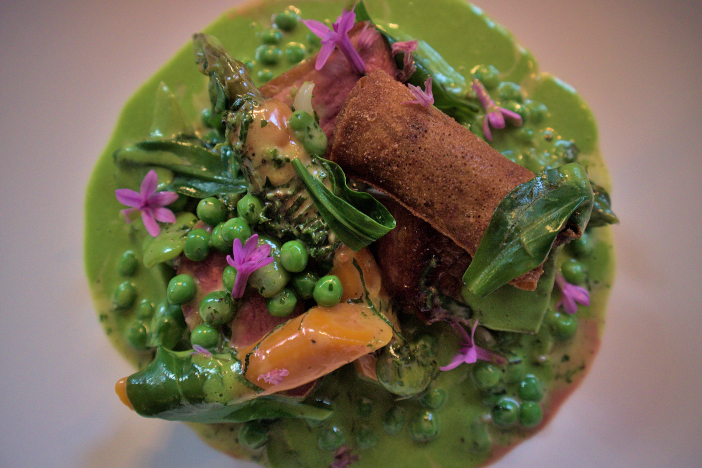 I certainly didn't need a serrated knife for my main course – the most meltingly tender duck breast with a honey and lavender glaze, accompanied by a pastilla of slow-cooked shredded duck leg. To off-set these rich meat elements, a fresh minted pea puree, fricassee of spring vegetables, herb mousse, wild morels, popped buckwheat with lovage and a vividly green wild garlic sauce was draped tantalisingly across this celebration of English kitchen garden and woodland ingredients. Moving north, my husband opted for (and subsequently raved about) the fillet of 45-day-aged Belted Galloway with peppercorn sauce, padrón peppers with a herb dressing and the restaurant's signature extra chunky beef fat potato chips which almost made me head to the divorce court when he (the defence would have said understandably) refused to part with more than a bite. Red Argentinian prawns can be added as a 'surf' extra – a wise move indeed judging from the beauties that were demolished on the neighbouring table. Another item to add to my 'next time' list.
But my test of a truly memorable dining experience is whether I would not only happily eat the same dishes again, but return because of them and be disappointed to find that they're no longer on the menu. The answer in the case of No. Fifty Cheyne is YES!!! A sentiment I utter in capitals with a few emphatic exclamation marks. Dessert is a good example of the dishes that were worth journeying to the moon for, or at least the other side of the River Thames – a leafy Sicilian orange tart with ultra fine pastry, cappuccino coffee ice cream and chocolate tuile, which tempted my husband away from ordering the classic chocolate fondant (when are we going again?!). My Granny Smith apple and caramelised custard soufflé with a lemon thyme crumble and salted almond and honey ice cream (to be spooned into the centre), was as light as air yet as comforting as a soft blanket and a log fire in autumn, complete with an apple compote at the bottom of the ramekin that made me wonder why I would ever want to eat a regular apple crumble again.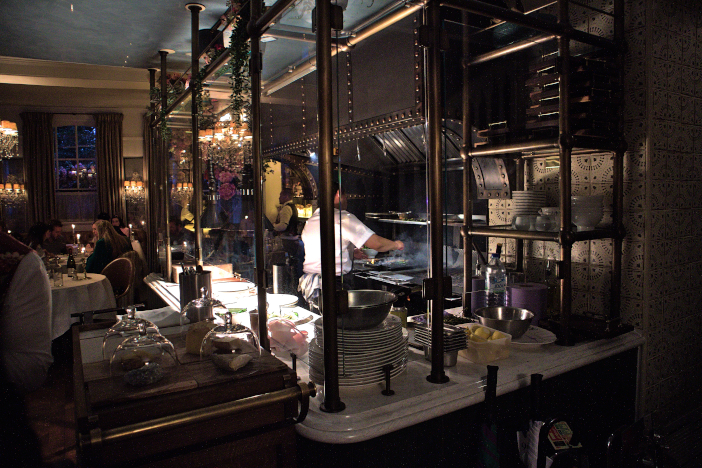 This picturesque area of Chelsea has always been legendary for the famous writers who once lived here including Ian Fleming, Somerset Maughan and the 19th century Scottish writer and philosopher Thomas Carlyle whose statue is located in Chelsea Embankment Gardens across from the restaurant which is just a short walk to his former address at 24 Cheyne Row, now a National Trust property. But these days you're more likely to want to visit a certain Iain Smith at No. Fifty. Carlyle (who looked like he could have done with a good dinner), once said, "A loving heart is the beginning of all knowledge," and I say, "A loving chef is the beginning of all cuisine."
Fifty Cheyne, 50 Cheyne Walk, Chelsea, London SW3 5LR. For more information and reservations please visit the website.
Photography (c) Soho Photographic