I'm standing in a snaking queue populated by gazelle-like glamazons in six-inch Louboutins and slinky Issa dresses. Peering behind me, I spot former England football coach Sven-Göran Eriksson in a charcoal grey suit. He notices that I've clocked who he is and seems pleased at the recognition, beaming back at me with a toothy grin. We are in the coat queue at Novikov, the newly opened pan-Asian and Italian restaurant of friend of Putin, Arkady Novikov – Russia's answer to Sir Terence Conran. Opening his first venture in Moscow in 1992, Novikov has steadily built up his restaurant empire, and now has over 50 sites in the city – including the GQ Bar and Vogue Café – under his diamond encrusted belt. Branching out of Moscow, the mogul has chosen to open his first outpost outside Russia, in Mayfair.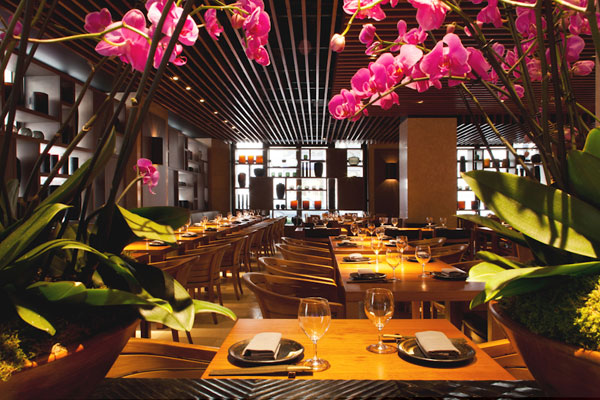 Audaciously placed opposite paparazzi favourite Nobu on Berkeley Street, the 400-seater is the size of a small country. Manned by a burly black-clad bouncer, the revolving doors reveal a dimly lit bar prettified by the aforementioned glamazons. For Novikov is where the beautiful come to feed. All are tall, tanned, buffed and botoxed. Everyone looks vaguely famous. They probably are. Split into two restaurants, skip the more vanilla Italian and head East to the pan-Asian side, filled with more wood than a lumberjack's holiday home. Everything that doesn't move is wooden, from the ceiling and the floor to the tables and chairs, even the vases, home to snowstorms of white orchids, are wooden. I fear if I stay still for too long, I too will be turned to wood. A honeycomb pattern carved into the black wall panel reminds me of Doris Salcedo's Shibboleth, affectionately known as "Doris's crack" – the lightning bolt-like fissure that once spanned the length of the Tate Modern's Turbine hall.
The glass-fronted kitchen is filled with nimble-fingered chefs frantically fulfilling orders. Giant king crab legs poke provocatively out of ice, as if engaged in a synchronised swimming routine. Despite its sprawling size, tables in the Asian side are so tightly packed, I'm privy to my neighbours' Russian ramblings. From the open kitchen to the trendy lounge music, Novikov has cleverly been carved from the same mould as London's chicest pan-Asian offerings: Hakkasan, Nobu, Zuma and Roka, like the stepbrother they never wanted.
I'd turned up expecting Novikov to be a lesson in style over substance, but was pleasantly surprised by the quality of the food. Split into snacks and soups, dim sum, salads, sushi, charcoal grilled, wok dishes, and rice and noodles, having perused the menu online, on asking for our order, I unscroll a sheet of paper besmirched with pink highlighter and proceed to reel off the dishes I desire, waiting for the waitress to flinch. To her credit, even after dish twelve, she kept her cool, diligently scribbling as I rattled them off quick as gunfire.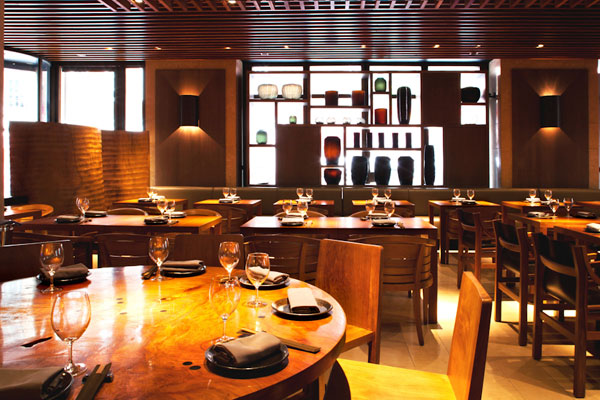 Round one consisted of an army of colourful California rolls wearing what looked like clown wigs of burnt orange flying fish caviar. Filled with fresh crab meat and just sliced avocado, we were off to a flying start. To follow came an artfully presented plate of 'new style' salmon sashimi in a yuzu soy dressing. Cut into triangles, the translucent slithers of silky salmon were crack to the tastebuds, achingly fresh and lifted by the lemon tang of the yuzu. One of many culinary highlights was the crispy duck salad in an umami-rich Peking dressing. Flecked with jewel-like pomegranate seeds, the still warm duck was perfectly pink and pleasingly crisp, tamed by the yuzu-drizzled leaves into a refreshing, juicy, deliriously good dish worth returning for alone.
Out of the frying pan came golden brown nuggets of rock shrimp with chilli lemon mayo, neatly packed into a china bowl like deep fried popcorn, their light and crispy batter enhanced by a satisfying kick of heat from the dip. One of the only duff notes of the entire meal was the tuna tartare. Molded into a candyfloss pink mound, in a hat tip to Russia, the crest was decorated with a spoonful of Royal Beluski caviar fashioned into a blackberry. The dish had a disconcertingly smooth texture more akin to wallpaper paste than the shard-like fragments you expect from a good tartare. Amplifying the horror was an entire absence of flavour. Equally bewildered, my dining partner stopped shuddering when served a trio of pork su mai dim sum finished with tiny pocket squares of black truffle. Appearing like cupcakes in pleated cases, the meaty morsels packed a serious flavour punch, the juicy interiors complemented by the earthy truffle.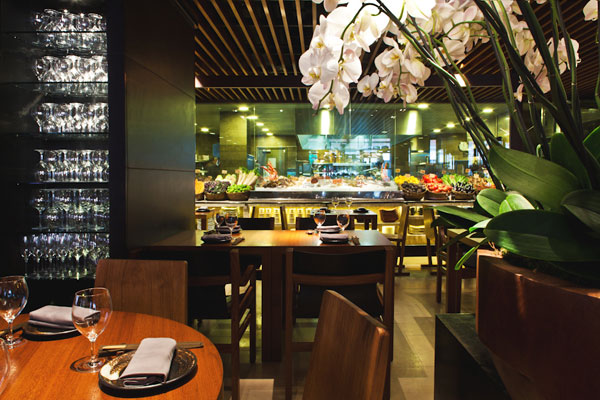 In terms of liquid pleasure, the wine list has a heavy Italian bent, with many bottles borrowed from the sister restaurant's stock. Happily, our ebullient sommelier went off piste, offering us a bottle of Domaine Schlumberger Les Prices Abbés Riesling 2007 from Alsace, its mouthwatering, off-dry, lemon sherbet and sour apple character refreshed by searing acidity, which, in turn, assuaged the spice in the food. Lingering over the wine, we moved to the main event – the litmus test of any pan-Asian restaurant: black cod. Novikov's arrived enshrouded in a crisp brown leaf that had to be theatrically unwrapped, revealing an enticing slice of fish gleaming with glaze. Falling off the fork, the ice white slithers were enchantingly sweet. You can't cut corners with black cod – it needs to lounge in a miso marinade for 24 hours before being cooked, further proof of the substance behind Novikov's style. Desserts are an event – I opted for the chocolate orange praline, recalling the invigorating interior of a Jaffa Cake, served with a tennis ball-sized scoop of palate cleansing blood orange sorbet.
With courses hovering around the £17 mark, reaching a peak at £55 for the 150g seared wagyu sirloin, feasting like an oligarch at Novikov doesn't come cheap, but the rewards are plentiful. The food is well considered, artfully presented and nearly always expertly executed. Nobu should be worried – the (sushi) knives are out.
Novikov, 50 Berkeley Street, London, W1J 8HA. Tel: +44 (0)20 7399 4330. Website.
Photography (c) Juliet Murphy
[cgview id=116 num=8 size=150×150 showtitle=always lightbox=0]