Halloween is upon us again, in all its souped up, populist pomp and nonsense. Time to put away your pumpkins and your ghoul costumes. Forget Trick or Treating. Dismiss the whole commercial fiasco that turns our children into sugar-fuelled demons before Christmas is even upon us, quite frankly.
When it comes to Halloween, the Mexicans seem to be the only ones who have it right, with one of the country's oldest traditions, their 'Day of the Dead', a celebration that really does honour death, where families pay tribute to their departed, respectfully.
And, this year, in the spirit of the festival, celebrated Mexican chef Martha Ortiz is bringing a unique take on her food through aspecial menu at her Mayfair restaurant, Ella Canta. With a certain dark twist. A black twist, to be precise.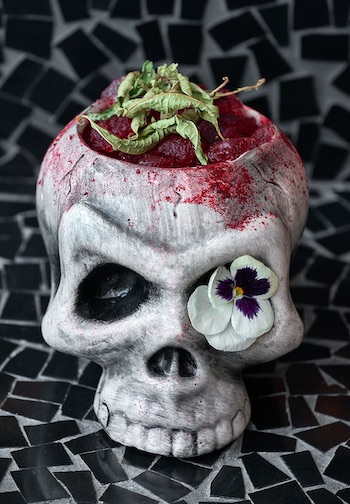 The Painted Black menu, exclusively for this annual Mexican holiday, encourages guests to discover the flavours of Mexico, kissed with a touch of black, the colour of death, while enlightening diners on the beauty within it. Black is, as Martha puts it, beauty. Black is strength. Black, it so happens, is also the colour of food.
It's said that when Martha plates, there's an artistic spirit that moves her. In this dramatic menu, over a series of six stunning courses, diners are taken on a unique journey into darkness, as much visual and visceral as it is gustatory. From black snack-sized quesadillas through octopus with black sesame and lime, and seabass with onion ash powder, Martha exudes the intense passion that comes with the iconic culture of her native Mexico.
Guests will end their experience on a sweet note, with a refreshing Hibiscus sorbet and for the grand finale, they will discover María la Catrina, an ornate creation inspired by La Calavera Catrina, the elegantly-dressed skeleton figure representing immortality and symbol of the Day of the Dead celebrations.
Throughout the Day of the Dead festivities, Ella Canta also offers a selection of refreshing cocktails, paying tribute to specific elements of the holiday, including The Lady in Black, a citrus focused margarita made with Amarillo Chile infused Patrón silver tequila and Cointreau, taking its name from 'Lady of the Dead', the Day of the Dead goddess.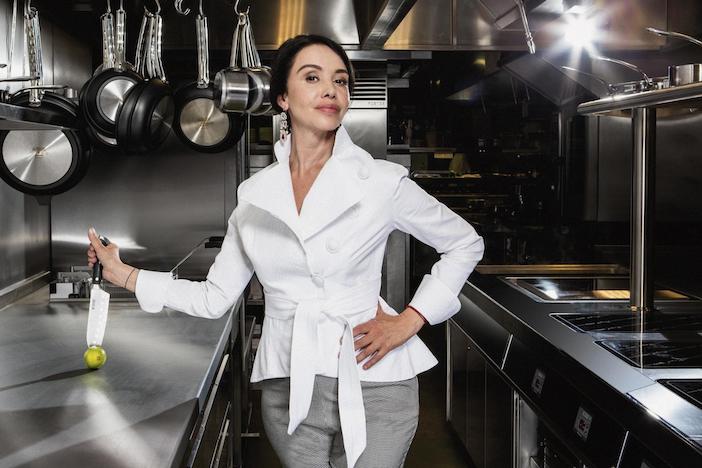 About the new menu, Martha says, 'The Day of the Dead is a longstanding tradition, which builds Hispanic countries as a nation. Contrary to the common belief, the festivities are a way of celebrating life, rather than being afraid of death. The tradition involves family and friends gathering to remember their loved ones, and that way they can live eternally. With the Painted Black menu, I sought to pay tribute to this Mexican heritage, by presenting black dishes that are striking but convey a beautiful message'.
So, Halloween is upon us once again. If you're going to do it at all, do it Mexican.
The Painted Black menu is available at Ella Canta from 31st October until 16th November 2019, priced at £70 inclusive of a cocktail. For more information, the complete menu, and for reservations, please visit www.ellacanta.com