Designed by The Langham's award-winning Head Pastry Chef Cherish Finden, the Asprey Diamond Jubilee Tea partners The Langham's 140 year heritage as the first European 'Grand Hotel' with one of England's most renowned jewellers and luxury goods suppliers, both synonymous with quality and elegance. Asprey were awarded their first Royal warrant in 1862 by Queen Victoria and The Langham was opened by the Prince of Wales in 1865 where they have served afternoon tea to discerning ladies and gents ever since. Back in the 19th century tea was served for one shilling and sixpence, the equivalent of seven pence in today's money.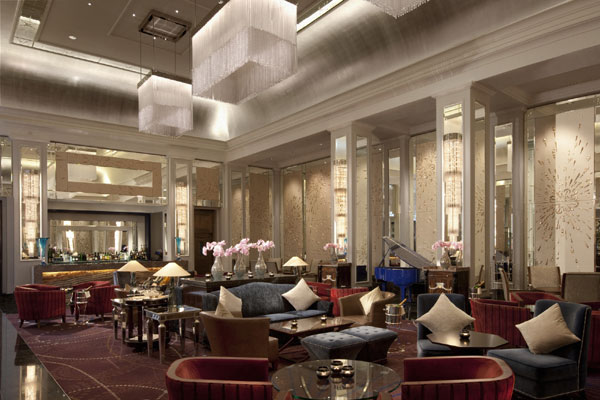 Served in the glamorous Palm Court – the focal point of the impressive 2009 £80 million refurbishment – to the sound of a classical pianist, this afternoon tea easily wins the prize for some of the most imaginative, decorative and opulent tea time treats I have enjoyed in some time. As an afternoon tea fit for Her Majesty herself, I chuckled to read everything on the menu, from the selection of speciality teas to the sandwiches – described as 'Uber' – but I reluctantly concede that if anything is ever Uber then this tea is.
The generic and often tediously dull finger sandwiches we've all come to expect were replaced by canapé-like bites including suitably 'Royal' ingredients – Scottish smoked salmon mousse with caviar on a dark rye disc, asparagus with Wiltshire ham, melt-in-the-mouth parmesan crisps with cream cheese and celery, smoked duck with foie gras and blackcurrant, and Cornish crab with cucumber and shiso served in soft, plump mini brioche rolls.
The scent of warm and melting dark chocolate and marinated orange scones overwhelmed my chocolate-loving chap and no conversation could be got out of him until he had heaped obscene amounts of clotted cream and jam onto the heavenly vessels and manoeuvred, as nature intended, a large bite into his cake hole.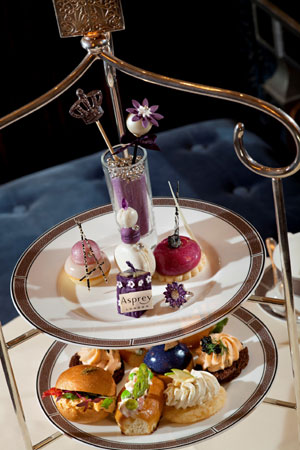 One of my recurring disagreements with him happens to be regarding his preference for applying the cream before jam – a point to be argued. Debrett's state 'the most practical way of consuming it is to split the scone in half, spread the jam first, then add clotted cream on top. This pragmatic method is favoured by the people of Cornwall, but it is thought that in Devon the practice is to spread the clotted cream first.'
We moved onto the myriad of stunning sweet dainties; dreamy blackcurrant and white chocolate mousse, paradisiacal Pina Colada macaroons with pineapple jam and Malibu buttercream, insanely clever blueberry and bilbury battenburg cake with blackcurrant jam and finally Daisy adorned chocolate praline lollipops – but be warned, so many strong flavours can be rather overpowering if partnered with an equally perfumed or aromatic tea, so why not seek out the advice of the Langham's tea sommelier? The strong purple theme is representative of Asprey's iconic branding and Royal heritage with references to their Daisy Heritage, Woodland, and classic jewellery collections.
Thankfully the 'Uber' comfortable armchairs meant we could recline in sheer exhaustion – my love looking as flushed and debauched as a Regency King from copious amounts of tea and cake. After several hours of feasting in true patriotic style, we staggered home arm in arm, with a couple of chocolate crowns as edible souvenirs.
The Asprey Diamond Jubilee Tea is £49 per person and is available until October 2012. Visit www.palm-court.co.uk for more details. Afternoon tea sittings: 13:00, 15:15 and 17:30. On 10th June 2012, in the spirit of tradition, and to mark the hotel's 147th birthday, the Palm Court will be offering guests the Wonderland afternoon tea (worth £40) for the original price it was served in 1865 – one shilling and sixpence – just seven pence in today's money. For a chance to win a table, visit the website and enter the competition.

[cgview id=116 num=8 size=150×150 showtitle=always lightbox=0]