Rules. I simply can't abide by them, never could. Maps, recipes, instructions, it's like I'm allergic to them. The second I start driving, the sat nav's monotonous tone is drowned out by my dramatic reinterpretation of Rihanna; the moment I start baking the recipe is buried amidst an explosion of flour and chocolate, and as for instructions, pah!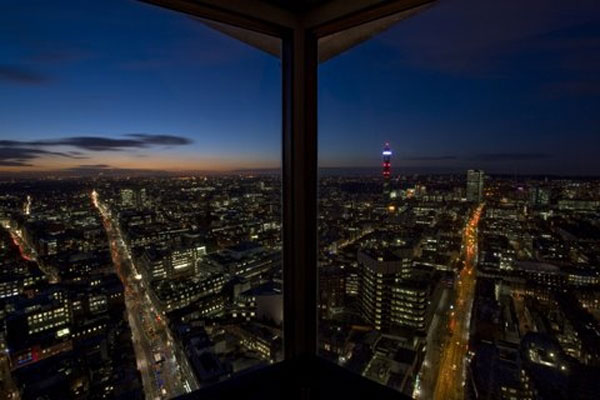 I am that endlessly frustrating friend who did not read the invite, never opened the email and turned up to your party on the wrong day. Admittedly, I am probably better suited to the recent influx of no-bookings restaurants than uptight fine dining, oh but how the menus do lure…
I am a glutton for quality you see, the way a good champagne dances across the tongue, popping as it goes, the way velvety foie gras melts in your mouth, oozing indulgence. Luckily London has undergone a dining renaissance, with many people preferring to enjoy Michelin quality food in relaxed, even casual surroundings. You see, uptight rules, high price tags and tux-and-tail clad waiters no longer automatically go hand in hand with the capital's best food.
As I strolled up to Paramount, the ex-members bar and restaurant which graces the top of Centre Point, I was given a quick once over by the receptionist who guards the ascending lift.
"Do you have a reservation?" she asked.
"No, I just wanted to pop up for a quick drink please," I explained.
"I'm afraid you can't without a reservation," she said without even looking at me.
"But I did a few weeks ago?" I queried.
"Well I've worked here a year and a half and that has always been The Rule," she said with a curt smile. "It does say to book on the website."
Damn it, the 'R' word. I've done it again. But in all fairness since when did you have to ring a bar to announce that you would be arriving for a drink?
If there is one thing I hate more than rules, it's games. But sometimes needs must. "I see, well would it be possible to make a reservation?" I asked teasingly.
"I can have a look…when for?"
I quickly began counting the number of floors the lift had to climb. "Ooh, in about two minutes?" I said with a smile.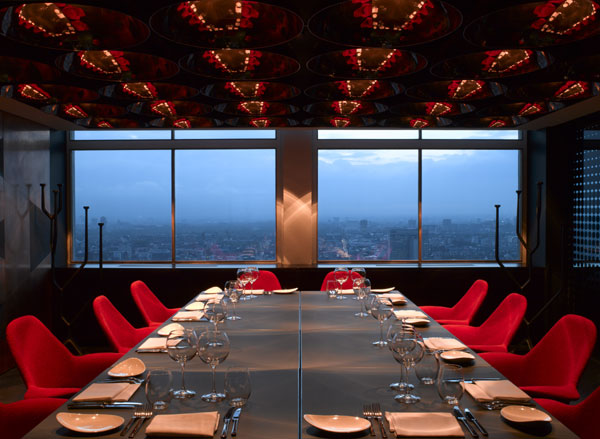 As the lift shot up to the thirty-second floor and my ears popped, I was silently amused to enter a totally empty bar. We had our pick of the seats, but where to choose? Face west and marvel at the lights along Oxford Street or east overlooking the ever growing Shard and proudly illuminated St Pauls. It was some comfort to think that Paramount not only looked down on me, but on every Londoner. But what a view.
Once in, it cannot be denied that Paramount has without doubt one of the best views in the capital. The airy lounge area makes an impressive drinks venue. Since my last visit (when I did not book, honestly!), the upper viewing gallery has had a chic makeover and is a pleasure to walk around with seating sprinkled about to offer the perfect view over which to enjoy a cocktail.
As my friend Karen and I were finally united with our drinks, I mentioned that I was ironically returning the next day to review the restaurant. "I'll be interested to see what you think of the food here," Karen laughed. "Last time I came it was so disappointing I was contemplating doing a runner…that was before I remembered we were on the 32nd floor."
On my return the next evening, I made my way to reception, email reservation in hand, and I was greeted with a warm smile before a dramatic character in an elaborate velvet dickie-bow escorted my date and I up into the London skyline. Quite a different experience to my last visit.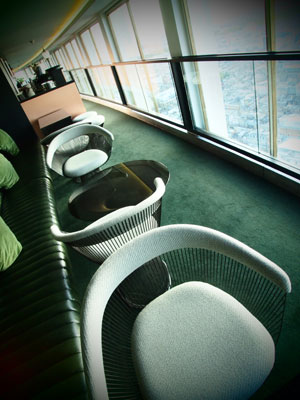 As I made my way to a fabulous table by the window, I sat down thinking how naughty I had been the day before, if only I had played by the r-r-r-r-rules. At that point our attentive, slightly stern French waiter sauntered over to take our wine order; I retained a little chivalry and suggested that my date select the wine.
"You can choose from the Shiraz, Merlot or Cabernet, sir" our waiter offered.
"The Shiraz, please" my date replied.
"Ohhh, I wouldn't have chosen Shiraz, sir, it's not very nice at all."
We stifled our laughs and recommended that our waiter choose the wine. Admittedly it was very pleasant. Much nicer than that feisty Shiraz I'm sure.
With Karen's story still ringing in my ears, I was unsurprised to find my foie gras gritty and flavourless and my date's Cornish crab salad was more reminiscent of fish and chips than soft shell crab tempura; the batter heavy and all consuming.
My main of venison, however, was tender and well complemented by the sweet red cabbage it perched on, but once again the waiter returned to the kitchen with unfinished plates. It's never a good sign when your date explains "I think my favourite dish was the side vegetables," and then adds, " I only tried the carrots, but they were pretty good."
It seems that Paramount, like its views, gets better as you continue. Our desserts were well presented and the crème brûlée was luxuriously creamy with a crispy top which allowed that satisfying crack of the spoon. My apple and cinnamon pain perdu was deliciously fruity and gave me the sugar hit I needed to draw myself away from the view and make my way to the upper viewing gallery.
As I walked over the capital, watching the shoppers ebb and flow through the glinting streets, I couldn't help feel that as a canvas Paramount is as good as it gets, perfectly located and with views to die for. But it's not a members club now, chaps…
Paramount Restaurant & Bar, Centre Point, 101-103 New Oxford Street, London WC1A 1DD. Tel: +44 (0)20 7420 2900. Website.