Park Chinois was originally the abundant dining concept of restaurateur Alan Yau, best known for having established the Asian food empire Wagamamma which launched in Bloomsbury in 1992. Having turned to high-end dining on selling the popular noodle chain Yau went on to open what is still considered one of London's destination Asian restaurants, Hakkasan. Inspired by the French rococo period with decadent Chinoiserie, sumptuous red drapes, cosy sofa seating for two, tassled lamp shades and sultry lighting, Park Chinois immediately transports you to a dazzling 21st century Mayfair version of a 1930s Shanghai speakeasy.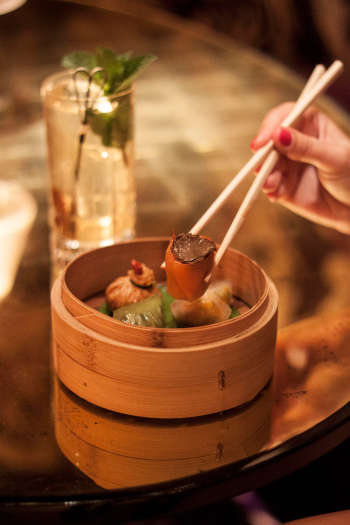 Having understandably attracted the attention of the world's press when it opened in 2015, the 242 cover restaurant on Berkeley Street is decidedly more fantasy than reality – but then who wants reality? James Bond meets Moulin Rouge, this isn't the kind of trendy establishment which attracts attention by giving guests uncomfortably stark wooden chairs and bare tables; Yau already ticked that box with Wagamamma, a world away from the ostentatious Park Chinois, an unashamed hedonist's paradise, which is worth enjoying a drink at the bar just to catch a glimpse. Although Yau is no longer involved, the concept remains one of the most exciting venues in the city.
A palatial, labyrinthine 15,200 sq ft premises spanning two floors and encompassing the basement Club Chinois with its flamboyant cabaret and two seductive bars, Wave and the Salon Bar, even the first floor restaurant, Salon de Chine, offers a lounge-club ambiance thanks to its nightly live music and entertainment. Fine dining with absolutely no need to whisper. With an impressively skilled and attentive front of house team that know the menu inside and out, Salon de Chine is all about spectacle, and with this in mind the dining room features gilded columns and a raised "U" platform. For more intimate occasions, the Salon Noir is a voyeuristic private dining room overlooking the main floor, proving that Park Chinois isn't simply the place to be seen, it's the place to observe.
The restaurant doesn't just appeal to lovers – we were dining alongside families with grown up children and groups of ladies decked out in Louis Vuitton and looking more than at home in one of London's most elaborate dining rooms. The fact that it's popular with countless celebrities (Rihanna, Kate Moss and Drake to name but a few) makes it a paparazzi hot spot, just don't get disappointed when you step outside and no-one takes your picture. It can be a humbling experience, which is perhaps a necessary evil if you're well heeled enough to dine here. It's called Yin/Yang.
Despite the abundant glamour and show, the food (although it's easy to forget about eating in such jaw-dropping surroundings) is special enough not to take a back seat amidst this highly theatrical experience. Diners are delighted with an extensive range of traditional Chinese and European fusion a la carte dishes designed to share, and the menu at Park Chinois is every inch as glitzy as the backdrop of golden dragon-scaled walls, with high ticket items such as wagu beef, lobster and caviar designed to attract the super rich gourmet who won't blink at spending £60 on a main course, or even £350 for 50g of the Béluga Impérial.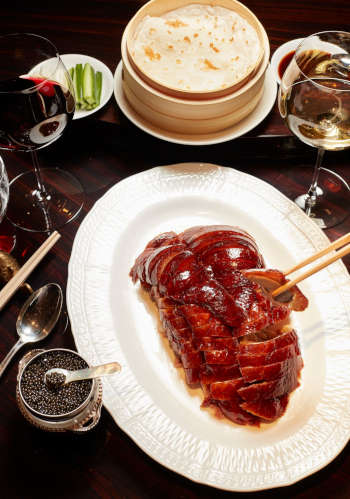 For a non-drinker like myself the inspired mocktails add just as much to the overall culinary pleasure as a fine wine might for others. The smoky "Cigare Citronelle" featuring lemongrass cordial, pineapple, Seedlip Spice 94, Lapsang Souchong tea, ginger, lime and oak smoke droplets was the perfect match for the sharing starter of wasabi prawns and a platter of dim sum featuring immaculately prepared har gau, scampi shumai, xo hokkaido scallop and a morel mushroom dumpling.
The signature grilled black cod with yuzu, pomelo, supreme soya was equally majestic, so too my companion's wagyu beef short ribs and black bean sauce. The most expensive main is the Japanese Hida wagyu rib-eye at £120, second only to the Duck de Chine (£98), roasted to order and served with pancakes, baby cucumber and a leek & duck sauce. Fortunately, the other house signature of Cantonese duck with a Champagne and orange sauce (priced £39) won't send you quackers when you receive the bill, and is by all accounts a supreme version of the French classic, duck a l'orange.

The dessert menu also pays tribute to French cuisine, with an 85% oozing chocolate fondant, paired with a cognac sauce and gold leaf (mirroring the restaurant's ceiling) and a classic apple tart. We decided to stick with oriental flavours and opted for the lychee pannacotta, which, being vegan has a firmer texture than the classical Italian version, and allowed for a perfectly turned out work of art topped with delicately placed raspberry puree dots, accompanied by a homemade peach sorbet, edible flowers and a dusting of dehydrated raspberry powder. Enjoy dessert with a pure cacao hot chocolate served warm at 50 degrees, or the Xie Xie Luxury Tea from the world renowned Mountain Da Yu Ling plantation in Taiwan which sits 2600 metres high. Entitled "the Champagne of Oolong", it has a price tag to match at £24 for a pot of Oriental Beauty. When you compare that to the Salon de Chine's superb value set lunch (£30 for two courses or £35 for three) it's pretty extravagant however 'flush' you happen to be.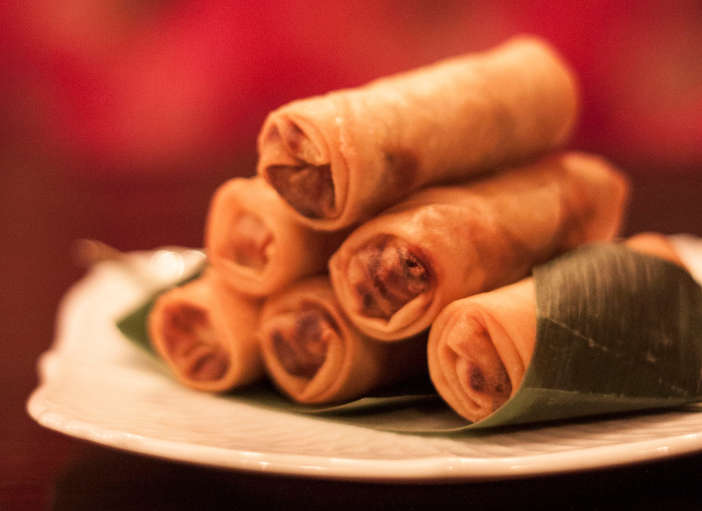 The newly launched Champagne Brunch Chinois will doubtless appeal to the Bright Young Things of Mayfair. Taking place at Club Chinois every Saturday from 12-4pm, brunch lovers will be spoiled with a cocktail on arrival, a three-course set lunch and half a bottle of Charles Heidsieck's Brut Réserve for £58pp, along with a vibrant DJ set that will kick off the weekend in style with friends who appreciate the finer things in life. It's fair to say that Park Chinois is as intoxicating as the fine Champagne they serve, but as the Chinese proverb goes, "by falling we learn to go safely".
Park Chinois, 17 Berkeley Street, London W1J 8EA. For more information and reservations please visit the website.