Restaurants inside hotels don't – at least generally speaking – get many accolades, especially in a city like London. Their tendency is towards the generic, producing food that will appeal to as many of their residential guests as possible. The businessman from LA usually wants a comforting burger before he turns in. It was with some trepidation then that I went to Penny Squares, the new restaurant in the new Canopy by Hilton London City, near Aldgate.
In fact, it wasn't till I arrived that I realised it was inside the hotel itself – I had an image in my mind that it would open on to the street. It is, though, Canopy's main restaurant but any resemblance to your usual hotel restaurant ends there and burgers are extremely thin on the ground.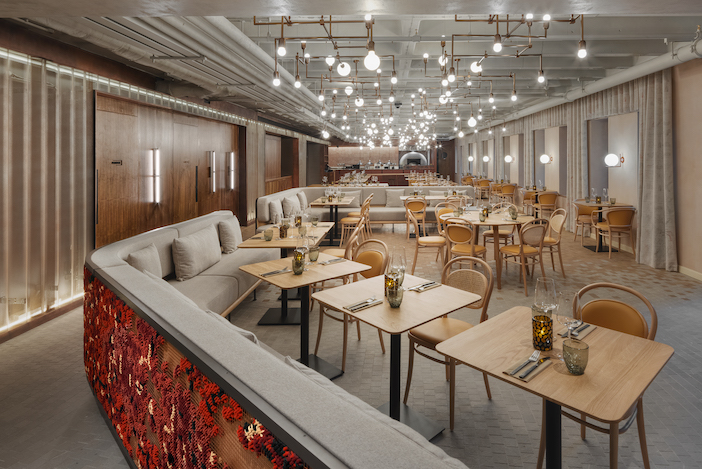 The inspiration for Penny Squares comes from its location. Five minutes' walk from Liverpool Street Station and just about opposite Aldgate, we're getting into East End territory. It's the part of London where, historically, people newly arrived on our shores – usually as refugees – would live, bringing their culinary cultures with them. It's made the East End a vibrant foodie enclave and it's this heritage that Executive Chef Walid Farag (The Lanesborough, Conrad St James, Corinthia Hotel) explores at Penny Squares.
Local and sustainable ingredients are given a twist (or several twists – Middle Eastern, Indian, Bangladeshi). Celeriac, for instance, (that great, too-often neglected English vegetable) is crushed with cumin; cauliflower is battered and served with lemon chilli yoghurt; Scottish cod is marinated in tamarind sauce and served with coconut dhal. Now, I have to admit, this is my favourite kind of food, so I am biased when it comes to this menu – but, believe me, this was beautifully cooked and presented.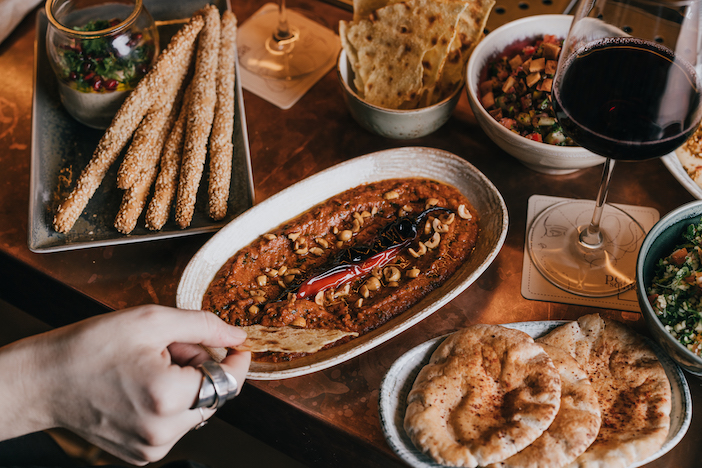 So, we began with bread and dips. Fortunately, my companion, Gem and I agree easily on food (we like it) and, to the surprise of waiters everywhere, have no allergies, intolerances or dietary requirements. In other words, we eat everything. So we began by sharing the beetroot, labneh, cucumber and mint dip served with spinach pitta bread – a dip with a lovely creamy texture, thanks to the labneh, and a bread with an almost cakey texture.
After this, we diverged. Gem had Karkade Cured Salmon (marinated in hibiscus, poppy seeds and compressed cucumber), while I chose Madras Octopus. Both were entirely delicious but I have to say I think my octopus was particularly good. I do love octopus but this was as tender as can be and the curling tentacle made for the prettiest of plates.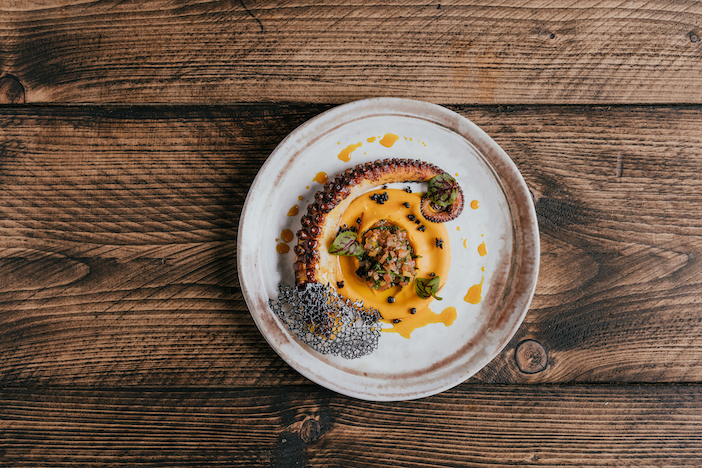 The mains were just as good. Gem had the Crusted rack of lamb with ras al hanout, pea mash, minted courgettes and lamb sauce. I chose Tamarind glazed grilled aubergine which came served in a sea of tahini and date puree – so good. There were some very tempting desserts (warm vanilla bird's nest pastry; mango chocolate mousse; rose and lime meringue) but we just didn't have any room left. I blame the spinach pitta. There's a thoughtful, interesting wine list as well as cocktails though, when the rooftop bar, Florattica, opens in the autumn, I suspect cocktail drinkers will flock up there instead.
And the name? The Penny Square was a quilting technique brought over by the Huguenots in the 17th century, Protestants who fled France and religious persecution. Also known as redwork, over the years such embroidery became an essential part of the education of young women. The name then is a commemoration of one of the East End's historic cultures, just as Penny Squares, the kitchen, celebrates those that followed in its very unusual and exciting menu.
Penny Squares, Canopy London City, 11-15 Minories, EC3N 1AX. For more information, and bookings, please visit www.pennysquaresrestaurant.co.uk.