Staying relevant and afloat in a city where new dining spots are popping up weekly and the spotlight favours the dining trend du jour is quite an achievement. Doing so for almost thirty years, while retaining at least one Michelin star, and despite being forced closed for six months after a devasting fire, is an even more impressive feat.
Perhaps Pied à Terre's success is in its reliable consistence, leaving fleeting food fads and slippery slate plates to the new kids and remaining focused on delivering fine French cuisine in an insouciant setting that lets the food speak for itself and its patrons enjoy it at a luxuriously unhurried pace. A place that, as the name suggests, feels just like being in a private home, and from the outside looks like one too. Albeit one with a little soiree in flow, where the guests have spread out and split off into their own tables of twos, fours and more, rather than just huddled in the kitchen, or outside smoking cigarettes.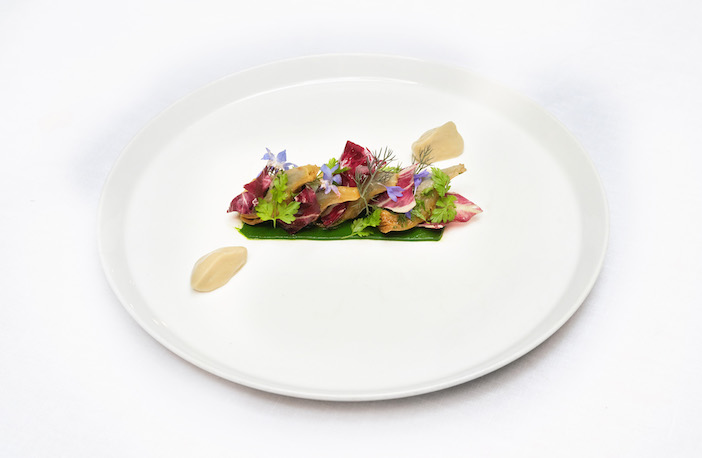 Restaurateur David Moore plays the excellent hands-on host; a man who truly seems to revel in running the show three decades after he started it. Aiding him over the years has been a string of notable multiple-accolade chefs, such as Shane Osborn, Marcus Eaves, Tom Aikens and Andy McFadden. Helping Moore keep the stars burning bright since 2017 is Athens-born Asimakis Chaniotis, who at 28 was the youngest chef in London to earn a Michelin in the 2019 list.
Chaniotis's seasonal, in some cases personally-foraged, ingredients nod to the restaurant's French fine-dining heritage as much to his Greek motherland. It's a combination that reads cosily on paper and is equally comforting to eat. And coming from a chef with a past dalliance in street art and a restaurateur with a penchant for a punchy shirt and a Peter Blake, it's all artfully delivered.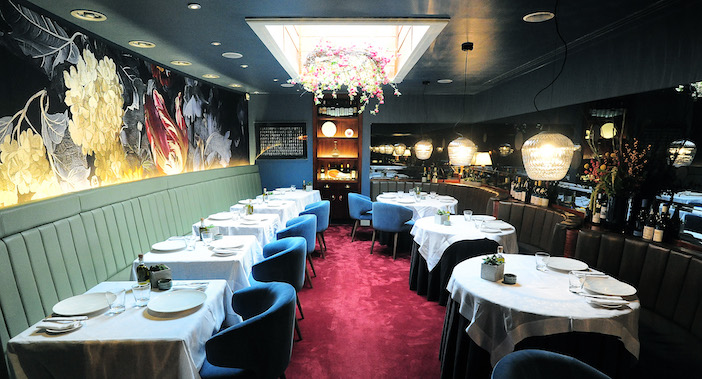 When we arrived one evening in October, every nook of Pied à Terre's ground floor area was gloriously abuzz with the buoyant chat of Saturday night diners, caressing a glass of something or other, gingerly stabbing a fork into a pretty plateful or slurping bouillabaisse from a conch. As you do. The deep blue walls, low lights, sinkable green leather booths and unobtrusive background music, were the perfect anecdote to the discombobulation of being outside my immediate square-mile and back in the city for the first time in forever.
It felt great to be eating out, out. Even better to be somewhere with a bit of history, the anticipation of something delicious and, more importantly, not cooked by me at home. A break from the lockdown Groundhog dinners; a break from lockdown completely, save for the subtle reminders in the waiters' face shields and a bottle of sanitiser on each table. I craved the element of surprise the brief tasting menu descriptions provided; the what you see is not necessarily what you'll get theatre of Michelin star.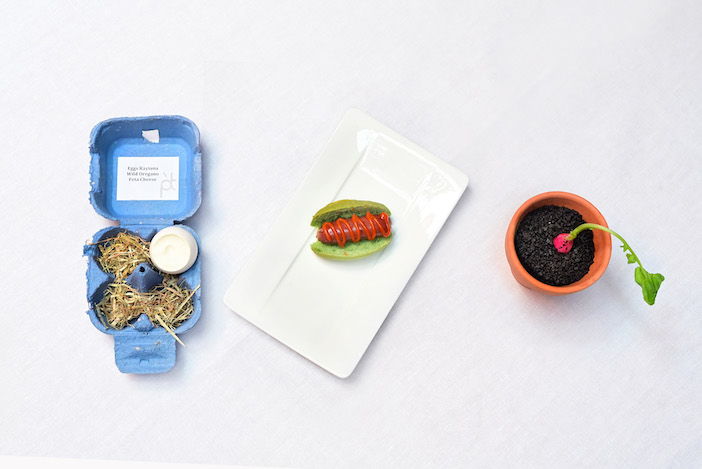 There are eight and ten-course tasting menus at dinner, as well as the option to select a la carte, and the same offering for vegetarians and vegans, which sounded equally as enticing. There's also the Chef's Table in a private dining area upstairs, next to which you'll find a tiny bar manned by a lovely Bolognian called Sebastian, who shakes up a mean Aviation. We went for the eight courses and made an occasion of it by opting for the matching wine flight.
Out came a terracotta plant pot of 'olive soil' with two portly French breakfast radishes poking from the top for us to pluck. It just as quickly disappeared (down a rabbit hole presumably), which was the only sad part of the evening, as I'd have liked to have kept digging in for more. Hands-down the best hotdog I've ever tasted followed, a canape-sized treat made of Wagyu beef, then duck egg shells hollowed out and filled with scrambled egg, feta and oregano.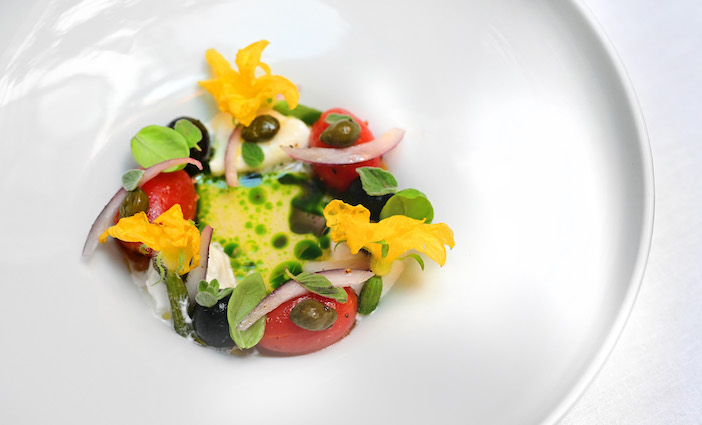 'Greece featuring Italy' was the dish I would've snapped and 'grammed such was the spectacle: a substantial conch lined with dainty British whelks and filled with a take on a bouillabaisse inspired by a traditional Greek Kakavia soup involving sea water, a dozen vegetables and six different spices. Asimakis' Special Dish was comparatively tiny, but packed a punch with Chicken of the Woods mushroom, Jersey milk curd and caviar. Creamy dishes that paired wonderfully with a rosé.
Almost two hours whirled by as we swirled from a deep Mencia to a citrusy Australian Riesling to a Muscadet so good, I tapped the sommelier's shoulder on the way out to get a photograph of it. Dishes came and went at a pace that allowed us plenty of time to linger and breathe in between, while releasing in time for the curfew, when presumably we'd all turn into hugging, disease-spreading pumpkins at the strike of 10pm… After tender young grouse with Autumn truffles; lemon sole a la Bariguole using delicate baby artichokes and Riesling, and a cheese dish with Greek apricot and verbena jam, we ended on an absolute high with kumquat souffle and Douglas fir ice cream.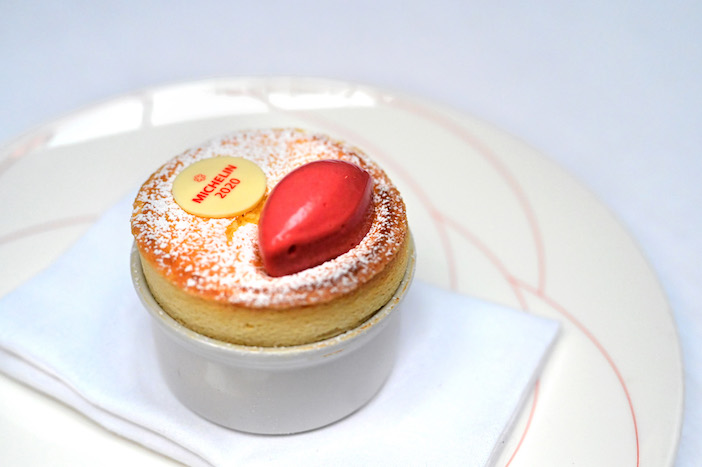 After weeks of lockdown, the evening was everything I was craving, reminding me there's a glorious city twinkling out there, and re-igniting a love for dining out in it that I'd completely lost my mojo for. Now, as we prepare to ascend from 2.0, it's the guaranteed deliciousness and comfort of a trusty place like Pied à Terre that I'm craving again. And as luck would have it, there's a new festive menu to try.
Pied à Terre, 34 Charlotte Street, London, W1T 2NH. For reservations call 020 7636 1178 or visit www.pied-a-terre.co.uk.