Good waiting staff are an irrepressible bunch. It's a common perception in this country that the service industry is lacking, populated by expats and students, underpaid, undervalued and, by default, uncaring. And this in spite of the emphasis we place on good service. So, when good waiting staff come along they're to be valued, respected…and given good grace by the diner.
So, when Larman and I arrived at Plate, we didn't know it at the time but we'd be putting our mild-mannered waiter inadvertently through his paces. It began when we couldn't decide on the aperitif. He was kind, friendly and, above all, as patient as a saint. Let's call him Carlo.
"Two glasses of champagne, please," Larman piped up, before Carlo even had the chance to welcome us. And off he went. "But I didn't want champagne," I intoned.
He returns promptly with two glasses. "Sorry, my friend here doesn't want champagne." Carlo apologises, though I don't know what for. And I apologise. Larman intercedes, "Don't worry, I'll have it."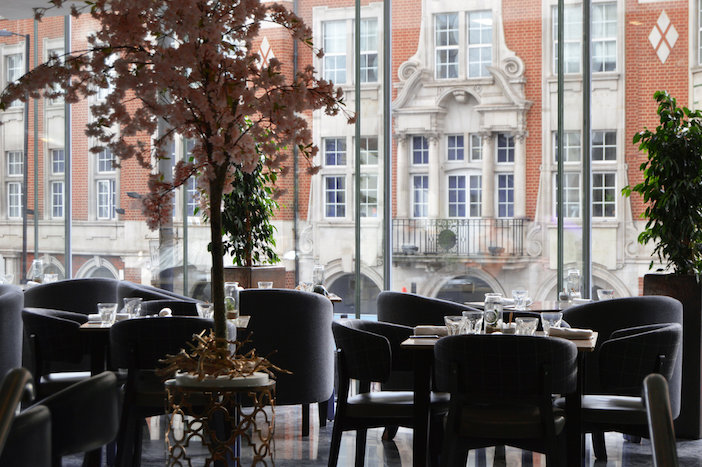 "Something else instead, sir?" I opt for the cocktail list, and spy an 'exotic' negroni. Our man gets excited about this, it must be a house favourite. And I can see why; all the hallmarks of a negroni but with whipped egg white and a charred rosemary stalk giving it some additional layers.
We review the menu. And at this point, I should say we're mildly tarnished by the setting. Situated in M by Montcalm, one disconcertingly enters through the lobby before venturing upstairs to the restaurant. Consequently, it has the feeling of being a hotel add-on rather than a destination itself. And, typifying a City establishment, all glass and polished tiles, to some this might sound contemporary, but floor-to-ceiling windows are not ideal when the view is the choking traffic of the City Road. Otherwise known as the A501. It is not, as an estate agent might put it, 'a vantage point for watching the world go by.'
Moreover, as if to drown out what the plate (ahem) glass might not mask, we're treated to slightly too-loud muzak in an attempt to sustain the contemporary vibe. It all feels too much like the strained efforts of an overstretched hotel chain attempting to keep up past standards. In short, this setting is not conducive to a dining experience one might have looked forward to.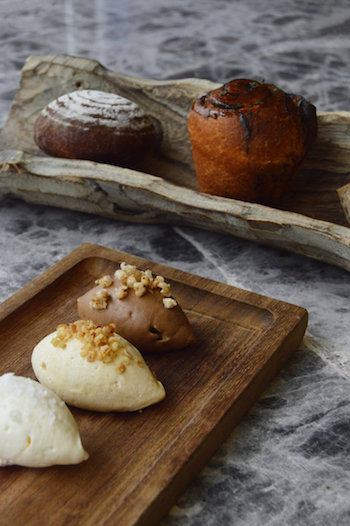 However – and there's a big however – we're there to eat. And Plate comes with pedigree. Hailing from Arnaud Stevens, protégé to Koffmann, Ramsay, Atherton and Corrigan, this is Stevens' first. On paper, the menu is short, with nothing immediately leaping out as being particularly inventive. Indeed, these are staple dishes, British classics. Expectations summarily lowered, we take guidance from Carlo.
"Can I recommend the bread flight, gentlemen?" This is the first time I've ever heard of bread being presented as a flight. It comes presented on driftwood, and there's a choice of three, including Stevens' signature Marmite bread, with accompanying butters; balsamic, onion. Bread, normally dismissed as an aside, here grabs our attention. One might never normally comment on it in a review, but this bread stopped conversation for comment. The sourdough is the finest I've ever had.
Meanwhile, we're agonising over the starters. "The terrine, please," says Larman. I opt for the gravadlax. "No, wait, I don't want meat on meat. "Not your usual steak then, old boy?" I tease. He switches to the soup. I change to a beetroot salad. "But that doesn't feel exciting." We start again. Carlo crosses out his scribbles. Five minutes pass, with starter tennis. Carlo commentating. He reassures me the gravadlax is a good choice. I take it. Larman goes way off piste with a tomato salad.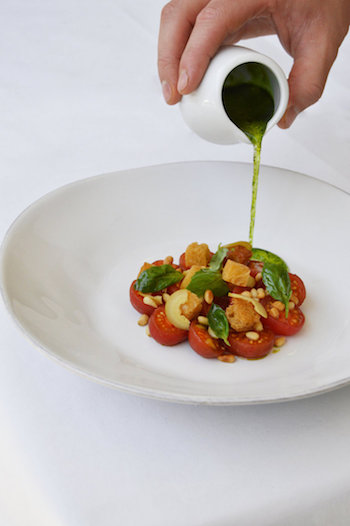 For the pain we put him through, Carlo was right. The gravadlax is fantastic. It's salmon, pimped, with shavings of beets, herb leaves, a lemon crème and marmite crumb. I await Larman's grimace as he tries the tomatoes, but instead he grins. "I think I win," he says gleefully. I try the salad. It's divine. Isle of Wight tomatoes dressed in fine goat's cheese shavings (done by freezing the cheese and grating it, I later learn from Josh, the Executive Chef).
More tomatoes follow with the side to the mains. A salad featuring every varietal; it's less a tricolore, more a tomato rainbow, flavours galore and brought to life with shallot rings and a biting, tangy vinaigrette.
We avoid competition with the mains, each opting for the pork belly. It's a dish I selected by default, not wishing for the fish and chips, nor a steak, nor more fish in the shape of turbot. It's both tender, and given a crispy finish, dressed in a deep, rich satisfying gravy.
Disappointingly, there's little to test Carlo with when it comes to the wine, and it's an easy recommend of the Castello di Radda Toscana for the pork, but this doesn't stop us leaving him exasperated by the end of the meal, not that he'd ever show it. For all our indecision, our effrontery, I'd have thrown in the napkin an hour earlier.
I sense the relief on his face as we conclude with dessert, a shared millefeuille (the only disappointing part of the meal), and, sensing we're on the home straight, he offers us a dessert cocktail. "A dessert cocktail?" I ask, "Try me." What comes back is a bizarre confection. Something akin to a White Russian and a Baileys. It's part tiramisu, part hen night. It's awful. Carlo looks crestfallen. "I'll bring two espresso martinis," he sighs. "But the dessert wine is delicious!" I call after him.
Plate is a curious affair. It requires one to know what one's facing; not to expect much in the way of ambiance, or setting, but that becomes a harmless distraction when the food starts to arrive. This is a fine meal from someone that's clearly on the ascendancy – though perhaps Stevens should choose the venue for his second a little more carefully.
But I do hope he keeps his front of house team.
Plate Restaurant & Bar,151-157 City Road,London,EC1V 1 JH. For more information, menus, and bookings, visit www.platelondon.com.