I'm in an empty hallway with soaring ceilings. In front of me, a staircase lined with flickering candles leads up to an illuminated red cross in a vision hauntingly similar to the tragic final scene in Baz Luhrmann's Romeo and Juliet. At the top of the stairs I'm greeted by a lithe, long-haired, mustachioed man who looks more musketeer than maître d'. He leads me into an expansive, expensive room in this, our setting – 50 St James's Street. Designed by Benjamin and Philip Wyatt, the brothers behind the Drury Lane Theatre and Duke of York's Column, the building began life as a gaming house in 1828, oft frequented by the Duke of Wellington. It went on to become the Devonshire Club – a meeting place for young liberals and home to art historian, antiquarian and man of letters Sir Horace Walpole.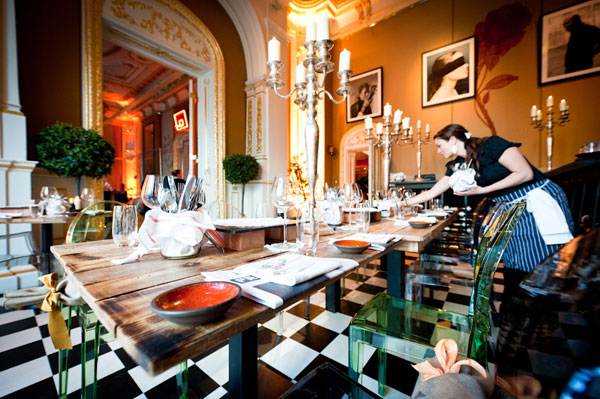 Today it serves as a spectacular setting for lavish lunches and decadent dinners. The main dining room is a mash up of old and new. Framing the entrance is a large replica of French Impressionist Manet's famed Le déjeuner sur l'herbe, given a modern twist with the Louis Vuitton pattern, which corrupts every inch of the canvas. Inside, vintage candelabra sit happily alongside chicken wire playground fences, black-and-white stills of A-listers including a winking Jack Nicholson, paintings of skateboarding Rabbis and a Tracy Emin-esque neon slogan proclaiming "You'll Miss Me When I'm Gone." A luminous basketball hoop shares wall space with a wooden mobile adorned with funerail flowers and empty bottles of Moët, which hang precariously above diners' heads. In the centre of the grand dining table, which spans the length of the room, an abundant flower display recalls the 1939 Vogue cover designed by Spanish Surrealist Salvador Dalí featuring a woman on a beach with a bouquet of flowers for a head.
The swan white ceiling is prettified with gold, mirroring the Art Nouveau exterior of the Secession building in Vienna designed by The Kiss painter Gustav Klimt. Hanging from the ceiling is a chandelier resembling a giant ball of fettuccini, an apt touch given the occasion – the launch of this year's Pret a Diner, entitled "Italians Do It Better", headed up by Northern Italian chef Giorgio Locatelli of Michelin-starred Marylebone restaurant Locanda Locatelli. Last year, German caterers Kofler & Kompanie set up shop in the Old Vic Tunnels in Waterloo, calling in celebrity chefs such as Nuno Mendes of Viajante to cook for the likes of Kevin Spacey and Madonna. Running from 9 May until 30 June, this year's Italian-themed Pret a Diner is spearheaded by Locatelli, who has devised a series of traditional Italian menus which will be pitted against more subversive, innovative offerings from a sprinkling of Italy's top up-and-coming chefs, including Viviana Varese and the Costardi brothers.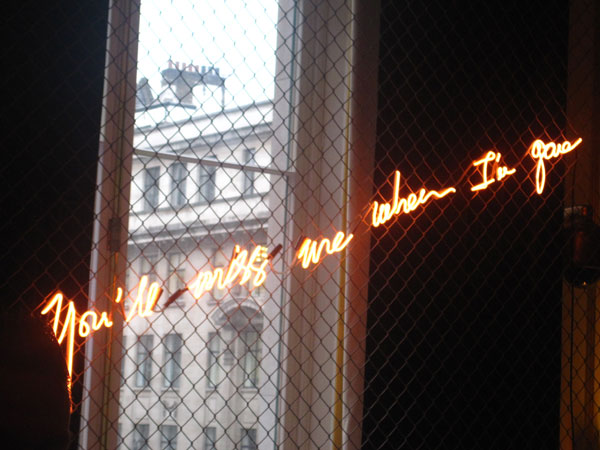 Taking my place at the top table, I'm offered a newspaper, Il Corriere, splashed with Locatelli's icy stare. Menus are printed on recycled brown paper and attached to wooden clipboards with clothes pegs, while bread arrives still piping hot in a brown paper bag. Its fluffy, homemade contents pairs particularly well with the accompanying Sicilian olive oil, both grassy in colour and taste. To kick off the feast, we're served perfect squares of crunchy brushcetta topped with ruby red chopped tomato, basil and olive oil, which pack a serious flavour punch despite their diminutive size. Asked which menu I'd rather try: Locatelli's traditional menu or the experimental alternative offering, I opt for experience over the exuberance of youth, keen to see what the gran formaggio can muster up en masse. First up is "La Mamma" burger, a hunk of tuna flung inside a dictionary-thick sesame bun laced with lettuce, mayo and gherkins. Beside it is a jar of glinting homemade ketchup begging to be spread. The burger is juicy, comforting, and a dramatic departure from the refined food upon which Locatelli hangs his hat.
The second course, "Pasta con la Sarde", consists of thick tubes of riggatone in a sardine and anchovy sauce flecked with fennel, pine nuts and sultanas, lending it an almost Middle Eastern exoticism and a wonderful sweet and sour character. The main event – Fritto Misto – has a ludic quality to it. The golden nuggets of fish and vegetables of varying shapes and sizes are only identifiable on eating, and even then much of the fish is indistinguishable. Served on brown paper with a wedge of lemon and garlic mayo, while the breadcrumbs are light and uplifting, the dish leaves me deflated. Fortunately, my disappointment is soon assuaged with the don of Italian desserts: cannoli – tube shaped shells of fried pastry filled with cream made famous in Francis Ford Coppola's The Godfather when one of Don Corleone's henchmen is ordered to "leave the gun, take the cannoli," after carrying out a hit in the back of a cab. The evening is rounded off with white truffle martinis mixed by bearded, bow tie-wearing maestro Tony Conigliaro of 69 Colebrooke Row. It seemed sweet and fitting to have a fellow Italian provide the libations, and what could be more Italian than an earthy, pungent, aphrodisiacal truffle?
For more information and to book a table, visit the website.
[cgview id=116 num=8 size=150×150 showtitle=always lightbox=0]