When did Indian cooking change? We've all been brought up on biryanis and papadoms, naan bread and curry (though, of course, we know better than to call it that nowadays). Isn't chicken tikka masala now the favourite meal in Britain, leaving in its wake fish and chips or roast beef and Yorkshire pudding?
In recent years, though, Indian restaurants have begun to change. Gone is the red flock wallpaper and menus of stock dishes that are the same up and down the country. There are now innovative Indian chefs who are going back to their roots and exploring authentic Indian cooking in India. And simultaneously, they are playing with traditional recipes and adding their own flair.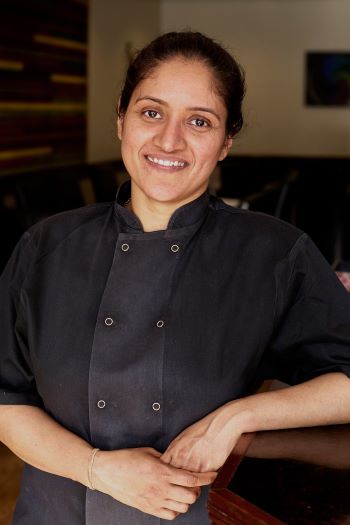 One such chef is Shilpa Dandekar. She started her career in the renowned Taj group in India and went on to work with such legendary chefs as Raymond Blanc (she was part of the opening team for the very first Brasserie Blanc in London and was later promoted there to head chef) and Sriram Aylur of the Michelin starred Quilon in Westminster. She opened Pure Indian Cooking in Fulham in 2015 with her husband, Faheem Vanoo who manages the front of house.
Her philosophy is simple. "Freshness of ingredients and seasonality," she says, "are very important to me. All the top chefs I've worked for have instilled this in me because the flavours of the dishes become much more distinct and enhanced by the usage of such produce. I also like to experiment and marry tried and tested Indian flavours with quality British ingredients."
This is clear from the menu. You don't see all of the dishes you'd expect to find in an Indian menu and there are lot of ingredients that might surprise you. There is, for instance, a lot more fish on the menu than in most Indian restaurants. So starters include mussel soup flavoured with lime leaf and coconut; Andhra shrimps are tossed in spicy fennel masala. I chose the seared scallops with beetroot lime zest pachadi and pinenut dry red chilli podi. The scallops were delicately cooked and the sauce had just the right amount of kick. The Major (he loves a good curry) chose chicken pieces that had been marinated in spices and coated in a lentil, chilli and semolina crust, served with coriander chutney.
We had already had (while thinking about our choices) a couple of papadoms with two chutneys, one sweet mango, the other tomato with roasted garlic – the latter, I thought, was especially delicious. And the main courses were an even more difficult choice. We were both tempted by the halibut fish curry with the Major winning out in the end on that one. This is one of chef Shilpa's own signature recipes and was, I hear, superb.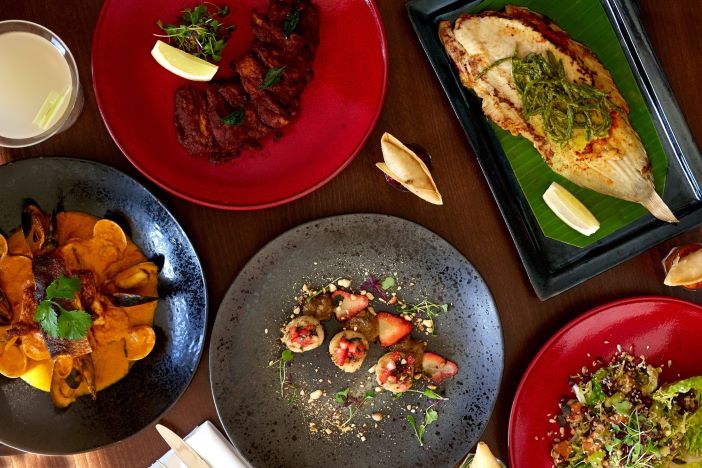 There was a lot of other seafood, too: panfried stonebass with mussel sauce; lobster pulao; Telangana prawn masala. Again, all very tempting but I'd had scallops for my starter so thought I'd go for tandoori chicken and see what Shilpa's twist was on such a well known dish. She makes it with kalonji (nigella seeds), sesame, coriander, green chilli and mint – lots of my favourite flavours in there. It came with Dal tadka (lightly spiced yellow lentils) and we shared an aloo gobi (potato and cauliflower tossed in spices).
There are, in fact, a lot of vegetables on this menu and it's a good choice for vegetarians: spinach, sundried tomatoes and goat's cheese samosa; khatte baingan (baby aubergine with sesame, coconut and tamarind); paneer and corn bhurji (scrambled cottage cheese, corn and peppers with fresh ginger and cumin); asparagus and pinenut porial.
The Major (a man with a sweet tooth) couldn't resist the masala chocolate pudding. It had a melting soft chocolatey centre and came with mint ice cream. And I have to admit I did have to have a try – just perfect.
Pure Indian Cooking, 67 Fulham High St, London SW6 3JJ. For more information, including details of menus, and for bookings, please visit www.pureindiancooking.com.