I last dined at Quilon back in 2010 for a whisky-pairing dinner that ended somewhat hazily, but what I do recall from that night is that the food was excellent and the décor was atrocious (think 1970s Holiday Inn). Thankfully, the venue has undergone a complete refurbishment – it's now a modern, slick and understated space – a perfectly neutral backdrop for Chef Sriram Alyur's vibrant South West Coastal Indian cuisine.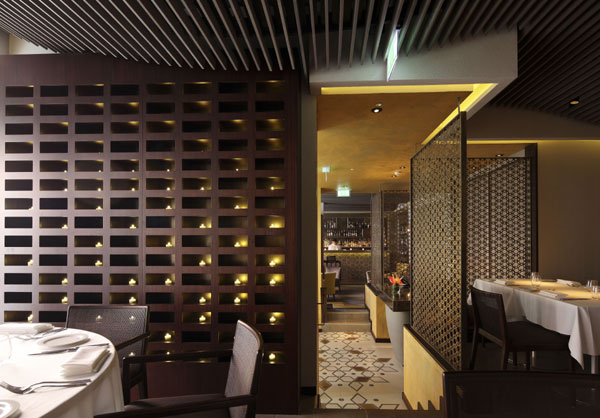 This time, instead of whisky, we were sipping gin. A G&T, according to my very knowledgeable and always-correct lady, is the perfect accompaniment to a curry. Having forced red wine upon her during our last Indian meal out – the flavour of said wine being obliterated by all the spicing – I had to agree that the soothing and palate-cleansing properties of a G&T really did the trick. If you've never tried this combo, I urge you to experiment.
The menu at Quilon is well thought out and there is enough differentiation between dishes to make it a simple affair to whittle one's choices down to a well spread variety. Chef Aylur's philosophy is that you should leave his restaurant healthier than when you arrived; as such, he uses very little cream and minimal ghee in his cooking, resulting in a fresh and refined style that champions the core ingredients, seeking a harmony with the spices rather than using them to dominate the palate.
We began proceedings with 'Kothu lamb' marinated with onion, chilli, ginger and tomatoes. This arrived looking like "a tartar of Pedigree Chum", as Her Ladyship succinctly noted, but thankfully the taste was really quite special; fragrant and multilayered with a heady depth of flavour, it was a striking start to the meal.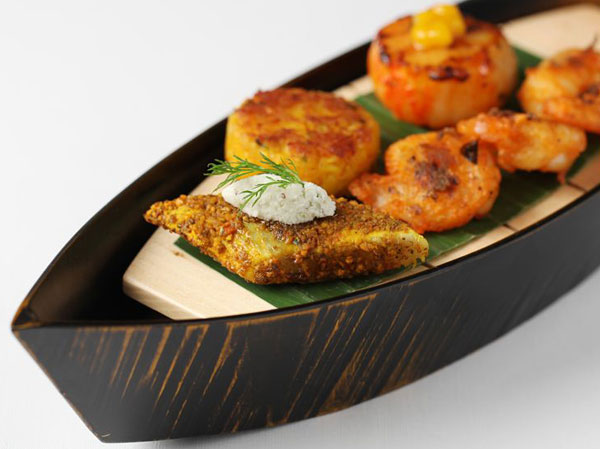 Alongside this impressive dish was the 'Fisherman's Catch'; a selection of pepper shrimp, crab cake, lentil fish and grilled scallop, all displayed in a mini wooden 'rowing boat', and again exhibiting the delicate spicing that has earned this venue a Michelin star since 2008. The seafood had been treated so tenderly, it's as if the chef had somehow convinced the prawns and scallops to cook themselves by sunbathing on a bed of banana leaves while a masseuse rubbed spices and butter into their soft flesh.
Taking a sip of gin to cleanse the palate, our mains soon arrived and we dived in like a pair of hungry crocodiles slipping into the Pambar River on the hunt for prey. Our first catch was a plump lobster cooked with raw mango, ginger, curry leaves and kokum – a fruit related to the mangosteen and used as an alternative to tamarind. This was the sort of food that one wants to suck rather than chew, such was the tenderness of the lobster meat and the elegance of the spicing.
Manglorean chicken, which I'd thought would be the generic dish, was anything but; succulent pieces of chicken cooked in finely ground coconut with a medley of aromatics, the thick sauce was so delectable that one could've supped on that alone as a fragrantly spiced soup.
The intriguing 'venison coconut fry', featuring strips of venison fillet tossed with onion, tomato, ginger and spices, was an iron-rich dish, providing a perfect metallic contrast to the sweet lobster and the aromatic chicken. It was a delight to see venison used in this way and given the South West Coastal Indian treatment.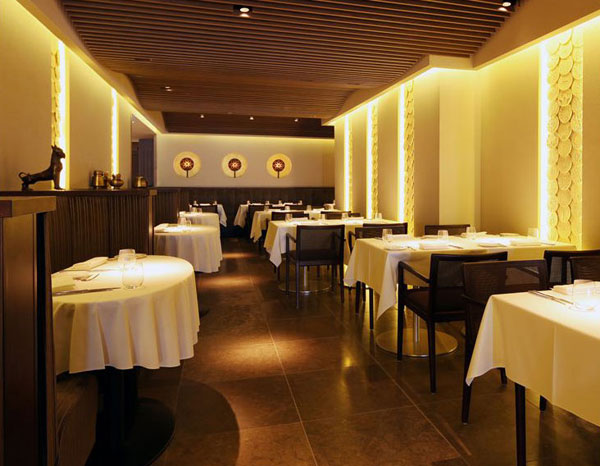 A vegetable dish (and they have many to choose from) of 'spinach poriyal', contained yet more coconut – one of the region's core ingredients – this time freshly grated, with shredded spinach (de-stalked, to ma chérie's approval) and cooked with mustard seeds and whole red chillies. This was a scrumptious spinach dish; and spinach in my books is often a boring vegetable. But not at Quilon. Here, flavours dance in harmony on the tongue while the stomach eagerly awaits their company.
To escort this feast, we had tomato basmati rice cooked with onion, chilli and mint, and a Malabar paratha, fried on a skillet and glistening teasingly with pure ghee – just enough for that all-butter hit, but not so much that one's fingertips turned yellow with grease.
Such was the lightness of the meal we were able to attempt desserts, all of which sounded most palatable. The caramelised banana pudding won the draw, as did a special request for a few scoops of the rose ice cream, which on the menu accompanied the vermicelli pudding, yet this stood very well on its own as an enchanting end to a very memorable meal. It was a pleasure to leave the venue feeling so replete, and with the knowledge that we'd be back again, G&Ts at the ready. One of London's best Indian restaurants.
[cgview id=116 num=8 size=150×150 showtitle=always lightbox=0]