As someone fascinated by the nineteenth century and in particular the movers and shakers of London society, there is a clear parallel to be drawn between the great French chef Georges Auguste Escoffier's fame when he arrived at The Savoy Hotel in 1890 and Gordon Ramsay's own status when he made the historic Savoy Grill one of his most prestigious outposts in 2003. Ramsay has just opened Restaurant 1890, located above the Savoy Grill in a space that was formerly used for private dining, where guests can now enjoy a remarkable nine-course tasting menu inspired by Escoffier's culinary inventions.
It was rather relaxing not having to look over an à la carte menu and make any difficult decisions whilst enjoying an aperitif in the small cocktail bar filled with interesting memorabilia of The Savoy's colourful history. There is a real sense of excitement at not only dining somewhere new but in a place that has had the good fortune to select chefs who have influenced international cuisine as we know it today. The restaurant overlooks the iconic Savoy entrance, with the Savoy Theatre directly opposite where tracksuit-clad audiences are currently lining up to see the Bryan Adams musical Pretty Woman. I know which side of the forecourt I'd rather spend the evening.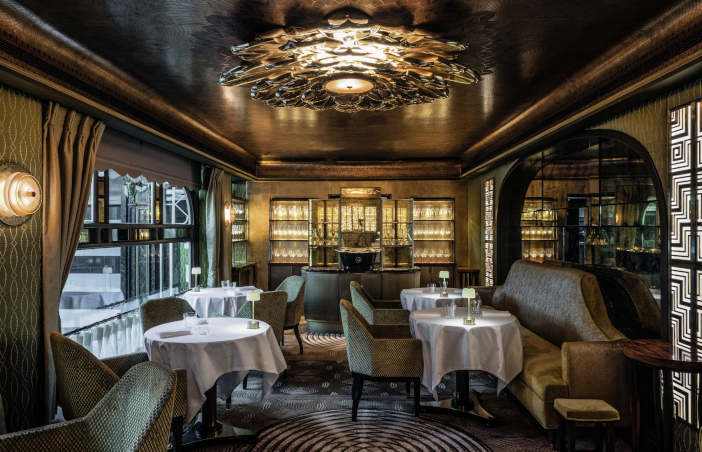 Everything about the intimate 26-seat Restaurant 1890, which only serves their tasting menu in two evening sittings from Tuesday to Saturday, feels highly exclusive, while the beige and gold Art Deco interior by Russell Sage, the low lighting, tables for two in the curtained windows and table lamps puts me in mind of journeying on a luxury train. This time, the journey is all about the food and a celebration of The Savoy's cuisine over two centuries with the help of two world-renowned chefs – one who famously said, "You know how arrogant the French are – extraordinary" yet has spent a life-time dedicating his immense talent to the art of classic French cuisine. Ramsay has wisely appointed James Sharp executive head chef, who hails from Michelin starred Restaurant Gordon Ramsay and Pétrus. You know that you're in very safe hands when you agree to the maître d's suggestion of keeping all nine courses a surprise, and from the first bite of the trio of canapes; devilled langoustine, chickpea tart – beetroot, horseradish and buckwheat – smoked cheddar gougère with pickled walnut – the precision is nothing short of breathtaking. The most accomplished roast chicken consommé with wild garlic oil followed and we are advised to drink the incredibly intense liquor (presented in a dainty teacup) before touching the cube-shaped Parker House roll with onion, black pepper and rosemary – a bread dreams are made of.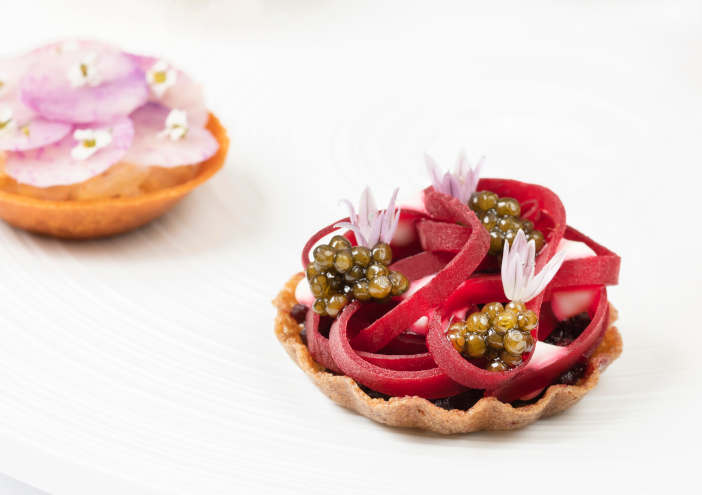 The next two spring-like courses are dedicated to Nature's seasonal bounty; an unctuous Tomato Royale topped with immaculately prepared young peas and mint, with a crumble of Iberico, subtle enough to take a supporting role of seasoning the dish and adding some further texture and interest. Asparagus with morels, new potatoes and an impossibly light wild garlic Hollandaise was inspired by Escoffier's invention of the sacred sauce, now cherished the world over, during his time at The Savoy, whilst his love of garlic is legendary. If Escoffier had served a single spear of asparagus to his most esteemed British royal patron, the Prince of Wales (later King Edward VII) he may have thought it some kind of joke, no matter how many courses still lay ahead of him. This delicate, refined dish might have been more to the taste of the future Queen consort, Princess Alexandra, who, despite her lifestyle of umpteen-course banquets at the behest of her greedy husband, still managed to maintain an 18 inch waist. Bertie's passion for rich food caused him to expand to 48 inches when he ascended the throne on the death of his mother Queen Victoria (not herself a small lady) in 1901. It's not surprising King Edward had such a short stint on the throne – just nine years – and you can't help but think that if he could have sampled Gordon Ramsay's take on Escoffier dishes he might have extended his life and reign by at least a further decade – with no sacrifice to pleasure, quite the opposite.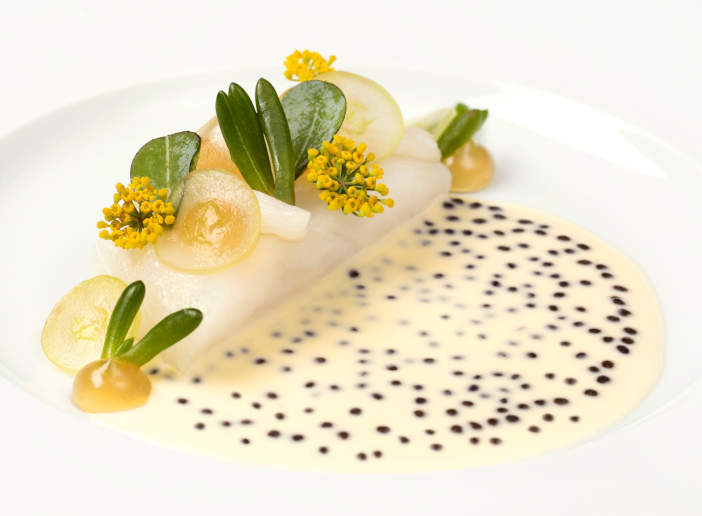 One stand-out dish of a stand-out meal was the fish course, turbot 'Veronique', another famous Escoffier dish which the Ramsay team have put their own unmistakable mark on. Replacing the classic sole for turbot, cooked sous vis for a firm yet silky texture, is an elevation of the original dish, as is the decadent champagne and caviar beurre blanc, complimented by the key ingredient of any Veronique – peeled grapes. In this case the grapes have been pickled and work wonderfully well with the verjus gel and garnish of sea herbs, all designed to balance the buttery sauce. There is no other way to describe such a dish other than to say that it is the food of angels.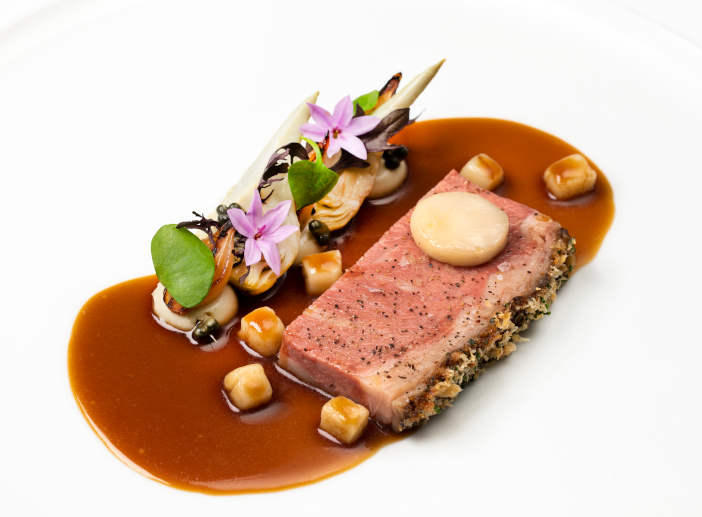 To refer back to my likening of the experience to a luxury train journey, this was the point when we realised that we had passed the halfway point of the menu and were reluctantly flying towards our destination. And it was clear that far from travelling back in time, we were most definitely being carried forward. If each course was a stop along the line, the only one rich enough to make you hop onto the platform afterwards and stretch your legs would be the sublime slow cooked Aberdeen Angus short rib topped with panko breadcrumbs and served with beef marrow, artichokes (hearts and puree), alliums (pickled, smoked baby onions) and a wonderfully glossy bordelaise sauce which would surely prompt Escoffier to doff his chef's hat. The magic, unexpected element of the dish was the — presented in a silver box for a touch of theatre and glamour – not that any extra were needed.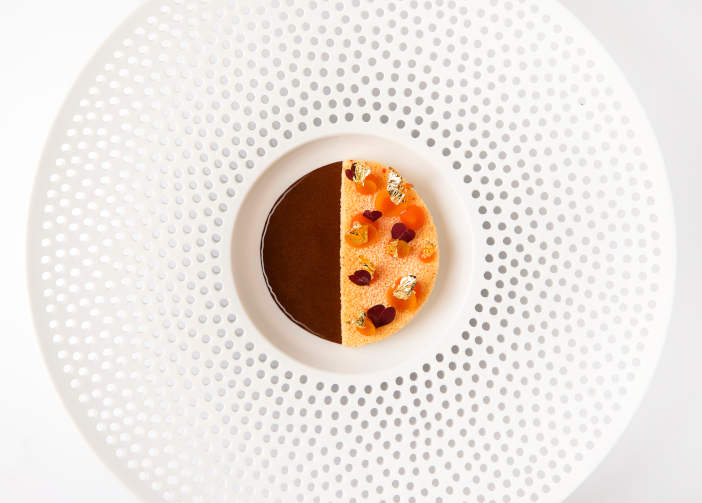 The final courses proved that simplicity is indeed a wonderful thing, both when it comes to highlighting only one or two ingredients and the skill of a chef – for example, a slice of aged comté served with a poached gold rush apple and warm caraway crackers hit the mark without the need to present you with fifty different cheeses to choose from, and the palate-cleanser of an invigorating rhubarb sorbet topped with sorrel granita gave you a pep for the finale of blood orange parfait. The dessert pays tribute to Escoffier once again, with some rather brave updates including a blood orange gel, confit orange peel and a warm chocolate sauce featuring the Arabian Nights flavours of black and green cardamom – distinctively presented in a bowl whose rim, featuring more holes than a fishnet stocking or the Maltese island of Gozo, provides the diner with an amusing after dinner party game wherein the aim is to avoid dribbling any chocolate sauce onto the tablecloth!
And that's what is so brilliant about Restaurant 1890 – it doesn't take itself so seriously as to feel like an edible history lesson that's going to stick in your throat like a bad lecture. It's an elegant tribute to the French chef who led the way to Britain's love of fine cuisine, whilst being firmly grounded in the 21st century, both in terms of techniques favoured by today's leading chefs and firmly stepping away from the overly rich dishes that caused nineteenth century diners to undergo an uptick in cholesterol in just one sitting. The Victorian elite might have been comfortable to consume the quantities of butter and cream Escoffier used to create some of his favourite dishes, but Ramsay's team have breathed new life into them by making flavours and ingredients sing without the need for a side dish of obesity. As Escoffier so rightly said, "Good food is the foundation of genuine happiness", and you'll know exactly what he meant after dining here.
The Restaurant 1890 by Gordon Ramsay tasting menu is priced at £110 per person, with bespoke wine pairing options. Located at The Savoy Hotel, Strand, London, WC2R 0EU. For more information and reservations please visit the website.