The first thing you notice as you pull up at Rüya is its size. Its footprint stretches half a block down Upper Grosvenor Street, and to arrive feels more like entering one of its grand hotel neighbours on Park Lane.
The second thing you couldn't miss, dining as we were on a Thursday evening, is its DJ-fuelled 'Nazar' cocktail night. I find Larman less than settled, perched on the edge of a sofa in the lounge by the bar, looking more like he's leaving than if he'd just arrived. "Not ordered?" I ask. "I'm dubious of restaurants that have DJs…and lounges," he replies, sagely.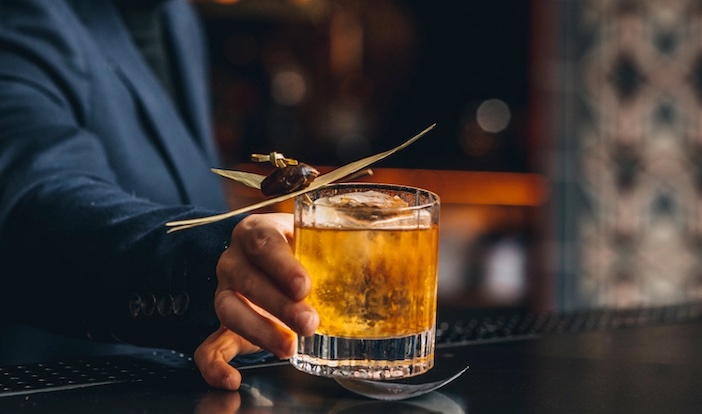 His mood shifts when he sees the cocktail menu, and he removes his jacket. We order classics, given an Anatolian twist, such is the approach at the Mekan 'bar and lounge' that is the entry point to the restaurant. His old fashioned features date syrup, my negroni is tinged with Turkish coffee. Both work, with a dash of intrigue. Larman's twisted expression settles, although I see a twitch with every beat from the ambient house music that our conversation fights over.
Fortunately, as we're led the fifty yards through the restaurant, the sound changes entirely. The DJ beats gently break the atmosphere, one of conviviality and conversation. The light is low, the mood is light; the decor is decked with glossy geometric tiles and copper samovars. "It's a good menu," Larman intones, clutching the board. "There's all manner of things unseen here…" As he immerses himself, I survey the room; several tables are occupied, and with what appears to be a Turkish crowd, young and old. This is a good sign.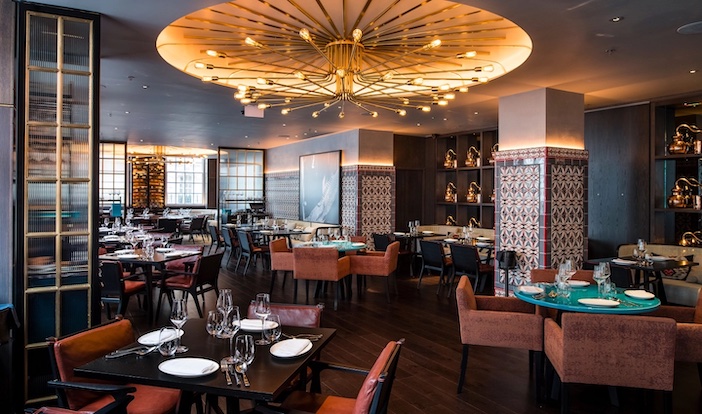 We start with a smattering of hot mezze, after some deliberation; it's easy to over-order here, the menu is as eclectic as it is alluring, with many dishes' names I find are new to me. Yoghurt-marinated chicken kebabs we opt for seem like a firm staple; calamari bites are coated in simit breadcrumbs, and there are Borek, like Turkish spring rolls, savoury filo baklava served with an unctuous walnut purée. We go local on the wines, too, and our waiter's selection of a Narince from the Urla winery is another first for us; it's uncomplicated, as soft as a pear and eminently quaffable.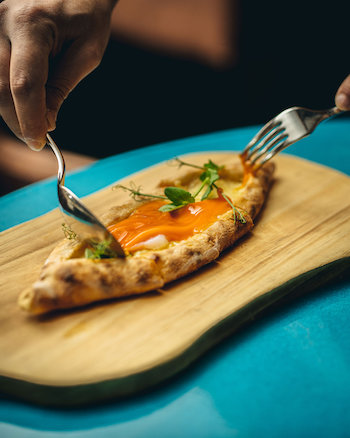 We revert to type with the mains and go for the rib-eye to share, but this being Rüya, it's not just steak, it's seasoned with Turkish coffee and isot pepper. But that isn't the most unusual thing on the table. "Is that the bread?" Larman enquires, stabbing a curious confection with his fork. It's a spatchcock potato, doused in herbs, and seems a far better choice than the now unnecessary triple-cooked chips we also ordered. But it's trumped by the truffle cheese pide, selected from the bread oven. A flattened baguette, with melted cheese, truffle butter and caviar, a confit egg yolk is broken and spread across it with some ceremony by our waiter. It's a rich and indulgent accompaniment.
But the intrigue doesn't end there. The dessert menu is another panoply of Anatolian confections. Rice pudding, kunefe pastry and plenty of unusual ice cream flavours seem tempting, but it comes down to the baklava and the chocolate selection. As ever, our waiter, worth his weight in gold, nails it. "Our baklava is unlike anything you've ever had," he tells us, with an assuredness that confirms his sincerity. "The honey is replaced with a caramelised milk sorbet, the pistachio with hazelnut, and rather than 10 layers, they stop at 8, making it lighter…" He's not wrong, it's utterly divine.
As our evening wore on, the music began to take over again, and seemed dissonant to our mood, so it was time to depart. As we got up, I enquired after the name, Rüya. "It's Turkish for 'dream'," our waiter told us. Very apposite, I thought, "that baklava certainly tasted like one."
"Well, it is known as the best in London," he replied.
Rüya, 30 Upper Grosvenor Street, London W1K 7PH. For more information, including details of its Nazar Nights on Thursdays, (with £9 cocktails), Veganuary dining options, Thursday-Saturday set lunch and its other restaurants in Dubai, Cannes, Riyadh and Doha, please visit www.ruyarestaurants.com.