The last restaurant I visited before the first lockdown was Scully St James's. It was the 14th March 2020, and my husband and I were celebrating our 6th wedding anniversary. Just a couple of days later, Boris Johnson advised against "non-essential travel" and huge swathes of the economy – pubs and restaurants included – shut down.
While no one could have predicted that one year on, we would still be in the midst of the Covid-19 pandemic, it seems fitting that for our 7th anniversary, my husband and I should try and enjoy a meal from Scully again.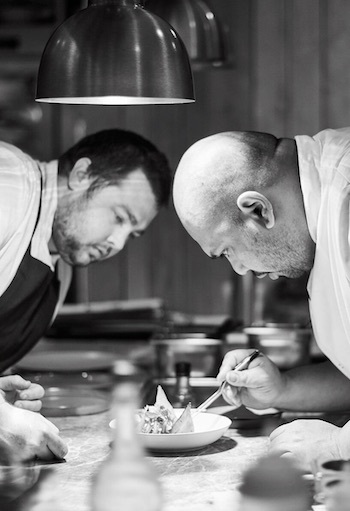 Step forward: Scully at Home.
We were lucky of course, that our final restaurant trip before coronavirus turned our lives upside down was at such a brilliant venue (think Malaysian and Middle Eastern flavours mingling happily together). It is headed up by Ramael Scully, who was born in Malaysia, grew up in Sydney and previously worked with Yotam Ottolenghi. The restaurant is known for its bold and experimental dishes. It was our first time there, and we'd roped in my mum to babysit while we enjoyed a day out in central London; we even went to the theatre.
While the multiple lockdowns have been tough on us all, one of the ways restaurants have adapted is to create "dine at home" meal boxes. Not quite a takeaway, and unfortunately not an actual restaurant experience, it's somewhere in between.
The components of a restaurant meal are delivered to you, along with instructions. So when you're ready to eat, you just reheat, mix a few things together, and plate up. 
The good news is you don't have to book a babysitter. Or actually leave your home. The not so good news is there is no theatre this time. And we have to do some "cooking".
"Don't tell there's more than one side of A4 instructions!" said my husband as I ripped open the large cardboard box.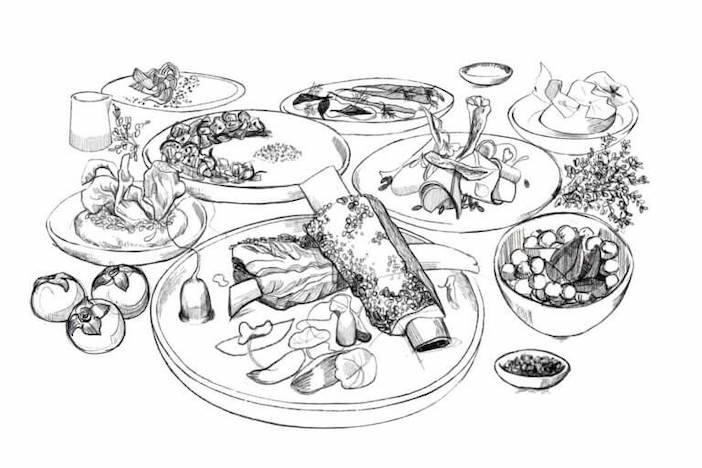 The first thing I see is a yellow envelope with "Ruth" handwritten on it. We've had a few "dine at home" meal boxes, and this is the first one to include a personal note. How sweet!
Inside, there are pages of instructions… five, to be precise (sorry, darling). Scully at Home calls its meal boxes "banquets", and I can see why. I start taking out the food, which is nestled in wool packaging and ice blocks to keep it cool. Bottles, bags, citrus fruits, small plastic tubs, large containers… I count 33 ingredients and start to feel anxious. It's 10.30am. Should I start to prepare tonight's meal now? Certainly, there is a lot of reading to do. I also need to work out which foods go in the fridge and which don't. And then comes all the chopping / mixing / cooking!
I take a deep breath and start to read the notes. Preparation will be key to a happy – and tasty – anniversary meal I think. The instructions are clear, and I quickly work out what should be chilled and what should remain at room temperature (pumpkin miso pie should go in the fridge; pumpkin syrup should not; white chocolate pumpkin ganache should go in the fridge; honeycomb should not; and so on…).
The ganache comes in a piping bag; when ready to serve the dessert, the tip of the bag should be cut off (Scully has provided a mark to show where to snip), and then an "S" shape should be piped on top of the pumpkin miso pie. So as to create the full "Scully" experience at home, I assume.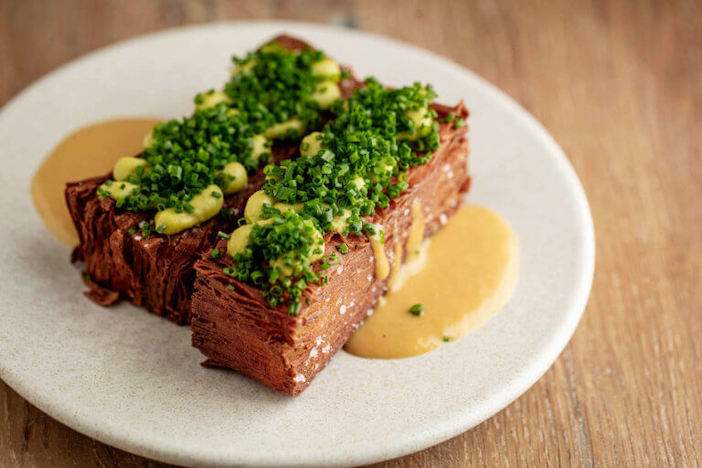 Gulp! Forget just mixing and reheating. We really do have to work for our supper. I reason with my husband that Bake Off is his favourite TV show (it actually is), so here's his chance to work on his piping skills. How often do you get the chance to use a white chocolate pumpkin ganache made by a top restaurant like Scully St James's? Again, critics of meal boxes may argue that it's nothing like dining at a restaurant. Your food is not served to your table; instead you have to create the food, to some extent, and be the waiter/waitress. You'll need to get a bit sweaty in the kitchen, whether that's frying turnip cake or fretting over your dessert decorations.
But on the other hand, these boxes enable us to continue enjoying our favourite restaurant dishes (the alternatives for eating during a lockdown are simply: make a meal from scratch VERSUS buy a ready-meal VERSUS order a takeaway). This is a neat fourth option, and in my view, much-needed . It's a break from the dull food routine that many of us have found ourselves in. There is an alternative to the "Indian v Chinese v pizza" takeaway conundrum. 
So look up your favourite restaurant – it could even be a chain like Pizza Pilgrims or Patty & Bun – and check out if they're doing meal boxes. Many do nationwide delivery. I tried Bao for my birthday last year, and it was superb. 
But now I must tell you about our anniversary dinner: seven courses, and two cocktails, prepared by Ramael Scully (and my husband the sous chef).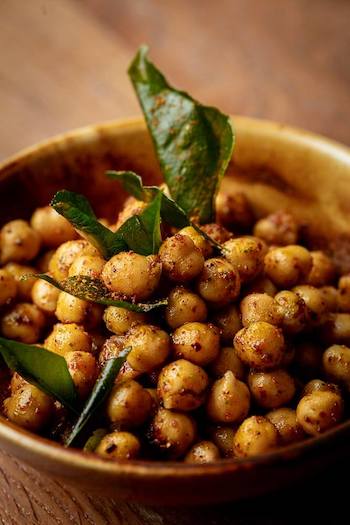 The masala chickpeas were first up. They just needed mixing with olive oil, masala spice, kaffir lime, curry leaves, lemon juice and salt. 
With such an epic banquet ahead of us, we decided to munch on the chickpeas while our kids had their dinner at 6pm. Rosa, our 2 year old, was quick on the uptake and knew this was her chance to muscle in on some fine dining. 
"Another chickpea" she wailed throughout her dinner of noodles and bread and butter pudding. "I want more…" 
Thumbs-up for the first course then. Fast-forward two hours, the kids are in bed and we can crack open the cocktails and think about the next courses. 
I did also at this point put a nice top on, make-up and earrings. I considered changing out of my sweat pants and into some "proper" trousers, but then when I saw my husband come into the kitchen wearing his usual evening attire of lounge pants and scruffy old t-shirt, I realised this wasn't necessary. Besides, did I tell you how much food we have to get through? This is the new "dining out" – smart top, casual bottoms. Very comfortable.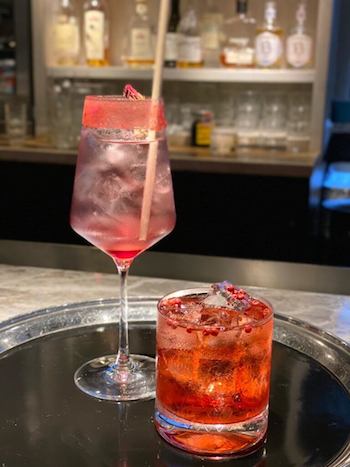 We served up our "Perfect Match" and "Put a Spell on You" cocktails. These came pre-mixed; and the instructions told us to garnish the former with pink peppercorns, and the latter with raspberry sherbert and rose buds. "Put a Spell on You" was my favourite – beautifully sweet thanks to the sherbert, but also complex with lavender, lime and elderflower notes.
Onto the potato rosemary focaccia with jalapeno balsamic oil. Easy to prepare: cut into "3 equal logs" (I love this chef terminology), and pop in the oven for 5 mins.
Next, the delica pumpkin, zhoug, feta and mix seeds. The pumpkin had already been roasted so this was a case of arranging all the ingredients on a plate nicely. This was followed by the mix grain salad, pickled zucchini and radishes, and pistachio. Again, more mixing and plating.
Both were delicious. The flavours were bold yet there were no overpowering ingredients, rather a gradual layering of complementary flavours. The bergamot tzatziki on the mix grain salad was a revelation – no garlicky tzatziki here. The pumpkin was soft and sweet and melted in the mouth.
Course number five coming up. It's worth mentioning here that while the dishes were easy to assemble, having a "banquet" does require a lot of jumping up and down between courses. If that's not for you, you're better off with a meal box that provides a single course like a burger. Assemble that one dish, and then you're good to go: sit back, eat up and chill out.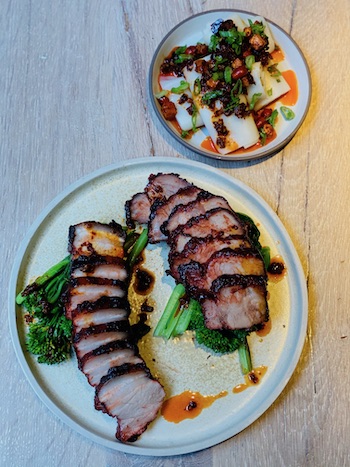 For a special occasion, and to enjoy these wonderful dishes during lockdown, I don't mind a bit of jumping up and down. And the next three courses were definitely worth it. Burrata with blood orange, coriander seeds and lavender oil was a fantastic combination. The main course of bbq char siu pork, cantonese turnip cake, spicy peanut prawn sauce? Unfortunately, my husband slightly burnt the turnip cake. But the pork? It was amazing, just perfect. And this is coming from someone who has lived in Hong Kong, and has a Malaysian mother-in-law. The portion was huge, and my four year old son, eating some of it for lunch the next day, declared "mummy, my love it!" My husband's high point was the peanut and prawn sauce: "Very Malaysian, this makes me happy," he sighed. 
To finish off the meal, we enjoyed a pumpkin miso pie with ganache and honeycomb. For this we moved from the kitchen table to the lounge, and watched the final part of The Queen's Gambit. The pie was sweet and earthy, although a little heavy to end the feast with. We soldiered on and licked our plates clean, of course. 
This was definitely a memorable anniversary dinner. It might have been our first (and hopefully last) one during a global pandemic, but our comparatively minor efforts in serving these dishes has definitely given us a new-found appreciation and respect for chefs and what goes on behind the scenes in restaurants.
And the fact we had leftovers – hooray. No need to awkwardly ask the waiter for a doggy bag and take it home with you, we could just pop it back in our fridge. As well as leftover burrata, pork and focaccia, we still had some ingredients left in those little tubs. Pink peppercorns, lavender honey, rosebuds… I'm already getting my thinking cap on in terms of pimping up some food and drink in the future!
Scully is now taking bookings in the restaurant for 17th May onwards. For more information about the restaurant and their 'at home' meal boxes, please visit www.scullyrestaurant.com.