Tucked away in a particularly salubrious corner of St James's you'll find the St James's Hotel and Club. It's a place that's suitably discreet but beneath the quiet surface there's a lot of innovation going on.
Within the St James's Hotel and Club, you'll find the restaurant, Seven Park Place and the 1857 Bar – unusual these days in that it specialises in port. If that, however, summons an image of a staid and traditional gentlemen's club, you could be in for a surprise. There is indeed a long list of all kinds of port (and madeira come to that) – they serve the widest variety of port in London, in fact. And, while limited, rare and unusual ones are available – one I spotted dating back to 1940 – this is not a stuffy approach to port. Everything is available by the glass and many are used as the basis for cocktails.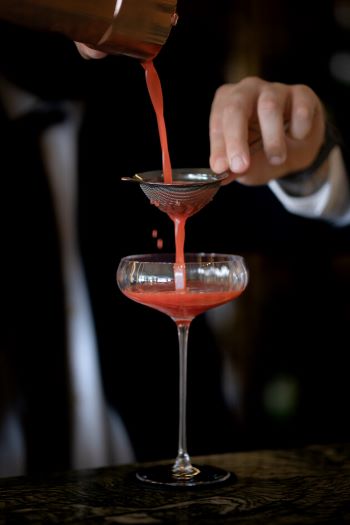 Some may regard this as sacrilege. But Duarte (who is Portuguese himself) insisted that this was the way forward for port and proceeded to make us a couple of surprise cocktails. Maybe port is going in the same direction as gin did a decade ago and will have a renaissance in the 2020s. Certainly on the basis of the Port Martini (port instead of the usual gin, no less) that might well be the case. The Major certainly thought so and the colour was quite beautiful. My surprise was Old Friend, and in fact based on gin rather than port with elderflower, grapefruit juice and Campari, served in a Champagne coupe – deliciously girly.
And then we were on to the Michelin-starred Seven Park Place. Chef William Drabble acquired his Michelin star just a year after opening the restaurant in 2011 which perhaps comes as no surprise given he had one at Aubergine in Chelsea and even before at Michael's Nook Country House Hotel in Grasmere when he won his first star at the tender age of 26. His style is modern French but with British local and seasonal ingredients and the best way to try all this seemed to be the tasting menu, or Menu Gourmand. You could choose from the extensive (and rather expensive) wine list at this point or you could deliver yourself into the skilled hands of sommelier, Naomi, who will bring you a series of wine pairings and a wealth of background knowledge about all the wines she serves. We sensibly chose the latter.
Seven courses may sound a bit daunting but these are small plates and the food is wonderfully light and I did have a cunning plan – we wouldn't both have everything, so we could split some of the dishes. Before the menu even gets started, though, there are some amuse bouches – a lamb rilette on walnut bread, a lobster and avocado roll (Drabble loves crustaceans) and a melt-in-the-mouth bacon jam tart.
It soon becomes clear that the other thing Drabble loves is clean, simple cooking. So, the first course hand-dived scallops were delicately cooked in butter and came with a light-as-air green pea foam and sweet puree of peas served with a German Riesling to perfectly match that sweetness.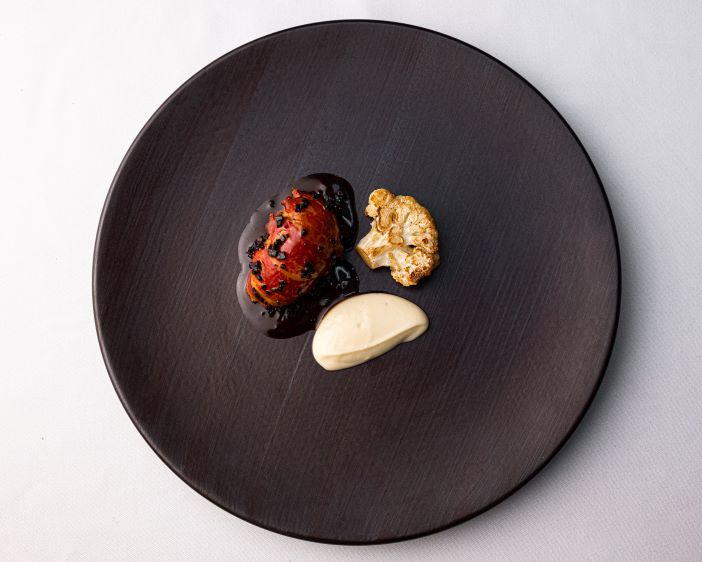 It was a perfect start and the next courses continued to delight. There was a Native Lobster Tail (most lobsters served in London restaurants come from Canada, Drabble's come from Dover – smaller, tastier and local and thereby more virtuous given the lower food miles) served with roasted cauliflower and black truffle. Then came a boudin (little sausage) of Dorset snails and a few more cooked in red wine. All quite delicious.
And at this point, we decided to gently apply the brakes. So instead of us both having the Sea Bass and the Rhug Estate Lamb – we had one each, though Lara, the maître d', thoughtfully provided side plates, so we could each try the other dish. In fact, my lamb came with a tiny side of the most wonderful shepherd's pie you've ever tasted – wolfed by the Major.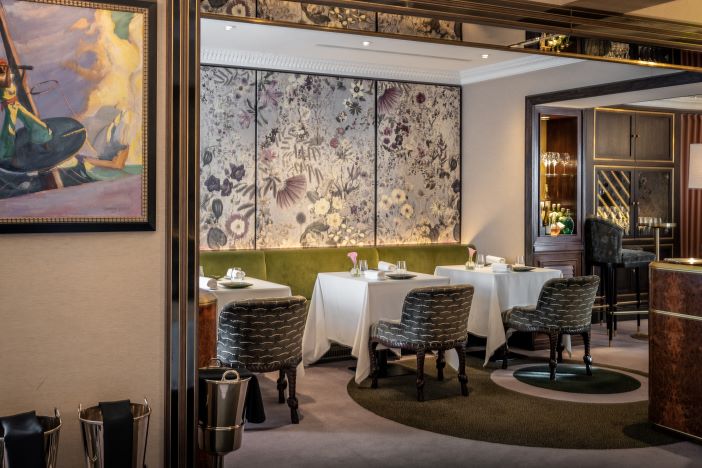 After this came the palate cleanser (Lancashire yoghurt mousse with lemon sorbet) and the pudding (just one between us, mostly eaten by the Major – where does he find the space?). This was a Strawberry Soaked Savarin served with a basil mousse and strawberry sorbet served with a sparkling rosé. A perfect ending really.
For some reason – perhaps because it's in a hotel? – Seven Park Place is not very well known. It certainly deserves to be. The cooking is superb and the atmosphere is surprisingly relaxed (they have a very charming, chatty staff). And I think I might be giving port another try too…
Seven Park Place, 7-8 Park Place, St James's, London SW1A 1LS. For more information, and for bookings, please visit www.stjameshotelandclub.com.