Afternoon tea at Sketch is served in the blancmange pink Gallery, reopened in June this year following a refurbishment and the launch of an art installation by David Shrigley (2013 Turner prize nominee). Rows upon rows of the artist's comical illustrations (245 to be precise) are exhibited around the room in the largest ever display of his work, most of which are captioned and provide hours of amusement for the lone diner – although I'm not sure who would dine here alone, perhaps a hungry art critic looking for an investment.
Shown to a corner table with long pink velvet banquette seating which proved extremely comfortable (as it should be for such a decadent meal), the upholstery of the tactile armchairs reminded me of Savoiardi sponge fingers. Staff are surprisingly friendly and welcoming despite looking like a surgical team due to the grey all-in-one boiler suit uniforms (dresses for the girls), designed by fashion designer Richard Nicoll, paired with sneakers. You really just have to go with the flow in such a surreal environment and you almost expect Austin Powers to make an appearance – grinning off-puttingly as you dive headlong into the sandwiches and cakes.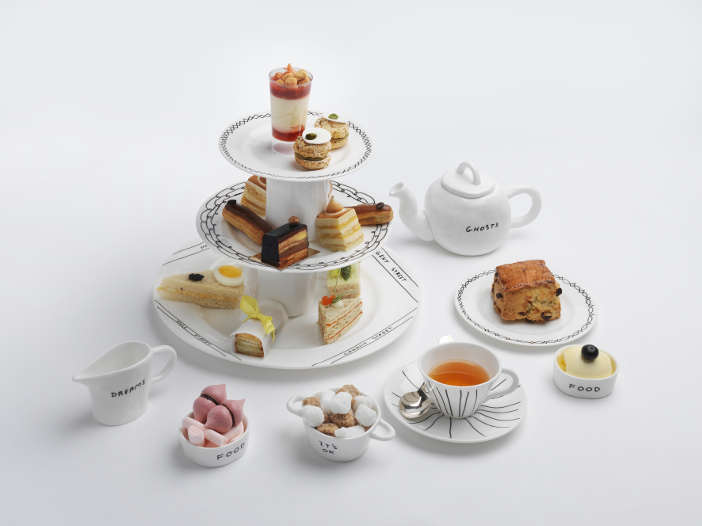 It seemed in-keeping with the pink theme to opt for the Billecart-Salmon Rosé afternoon tea. Champagne is served in crystal coupes (alas not those modelled on Kate Moss's breasts), and the accompanying Ceylon and Rose tea is gently perfumed without tasting like soap, as so many floral teas tend to. I had to accept graciously that, whilst Sketch draws tourists from nearby Regent's Street and the Mayfair set, this was as refined and delicious an example as you would find in Paris – and certainly as fashionable.
David Shrigley also designed the white crockery on which the afternoon tea is served. Produced by British heritage brand Caverswall everything is available to purchase in the 'vending machine' in the lobby, and is inscribed with messages such as; 'Forget about it' at the bottom of the tea cups, 'ghosts' on the teapots and 'dreams' on the milk jugs. I'm not sure I understand the point of it all, but it's certainly a conversation piece and also happens to be the first dishwasher safe Shrigley artwork.
The sandwich selection included the traditional varieties of cucumber, and smoked salmon and cream cheese, plus a precision-cut angular egg finger sandwich adorned with caviar and a rather messy-to-eat quail's egg, but we were instructed to commence with the miniature Comté croque monsieur (everyone's favourite), wrapped in dainty greaseproof parcels and tied with yellow ribbon; buttery and toasted golden fingers which had been mysteriously and seamlessly filled with cheese. Sheer yumminess ensued.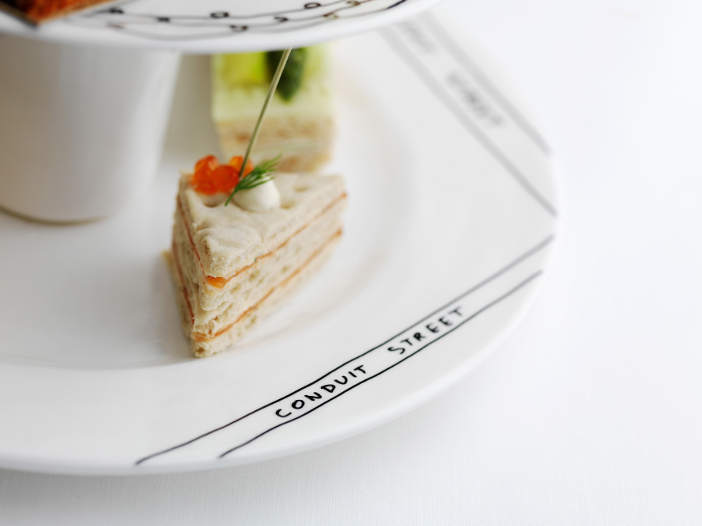 The patisserie included infinitely small lemon éclairs, pear and nougatine tarts, impeccable green tea macarons and the ultimate in chocolate – the renowned Sketch opera, perfectly glazed and featuring countless layers of moist sponge. The pot of meringues and bubblegum marshmallows are a bizarre addition which don't seem relevant to the other items, yet the scones (sultana or plain) were thankfully traditional and generous sized (if oddly square), accompanied by home-made fig jam and clotted cream.
Too good to be restrained, I sensed each mouthful making its way to my hips. Maybe the surgical-looking waitress could perform some liposuction? Or perhaps I was about to be carried away like Augustus in Charlie and the Chocolate Factory. Sketch, since opening in 2002 – the brainchild of restaurateur Mazouz and French master chef Pierre Gagnaire – has remained as bonkers as ever, whilst serving up delicious food and making you feel younger and trendier the longer you spend here – albeit rather unhealthy.
Sketch: The Gallery, 9 Conduit Street, London. For more information and afternoon tea bookings visit the website.