It's an odd location for a restaurant; the wrong side of the Southbank, sitting on what is the A3200, the main artery between Waterloo and London Bridge, in a section that hasn't yet seen the development that Bankside or Flat Iron have at the other end. If you're on foot, you'd skip by to the river, thinking you'd grab a bite before your show at the National or Festival Hall from the riverside chains. Indeed, you might spot the Nando's opposite before you saw it.
But to miss it is to be remiss. For here sits Sticky Mango, on the corner of Coin Street, breaking up a row of house fronts. As inauspicious a location it might be, it's inside that matters. Indeed, if the crowd downstairs was anything to go by its reputation has preceded it, bathing in the halo of Fay Maschler's glowing review last year. The Evening Standard critic listed it in her Top 10 restaurants of 2019. I was intrigued.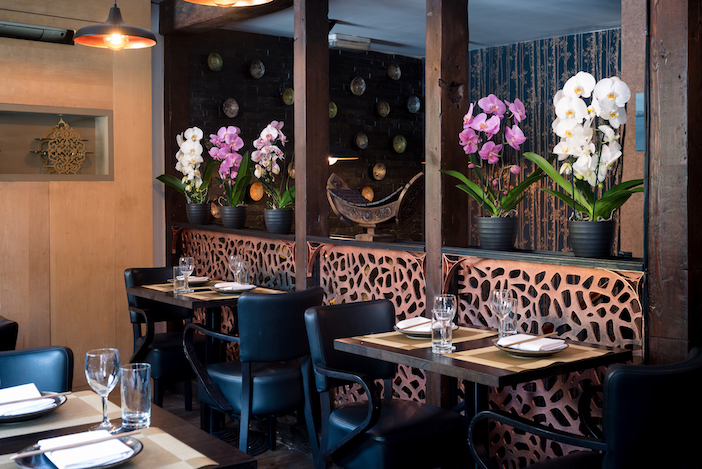 In the dining area upstairs, it's all dark wood and low-lighting, dotted with orchids and Asian motifs and a feature wall with colourful ceramic rice bowls. That's the extent of the distraction, though. There are few frills, nothing to suggest this is style over substance. The table setting is plain, the menus typed sheets tucked into plastic sleeves. This, as we know from experience, does nothing to detract from what's to come.
We start with cocktails, none on paper attempting any form of pretension. A viscous mango martini, with a sweetness disguising some serious heat, provides succour until the maitre d', Giovanni, a garrulous Italian with electric shock hair and flamboyant orange wool suit comes over to field questions on the menu. Refreshingly, he shrugs off the standard "it's all good" as he asks what we like. And here it's important to understand a bit about the chef.
Peter Lloyd cut his teeth at The Dorchester and the Houses of Parliament (cooking, that is), before taking up residence as Head Chef at just 23 at this location in its former guise, RSJ. Lloyd earned two AA Rosettes, honing his skills further with stints with the likes of Pierre Koffmann, Gordon Ramsay and Marco Pierre White, but it was at The Sanderson, Suka, and Spice Market at The W, that Lloyd began to find his calling. And that calling is South East Asian cuisine. Now, returning to the location where his career effectively began, he's taking that culinary leaning and – this is no understatement – reinventing it.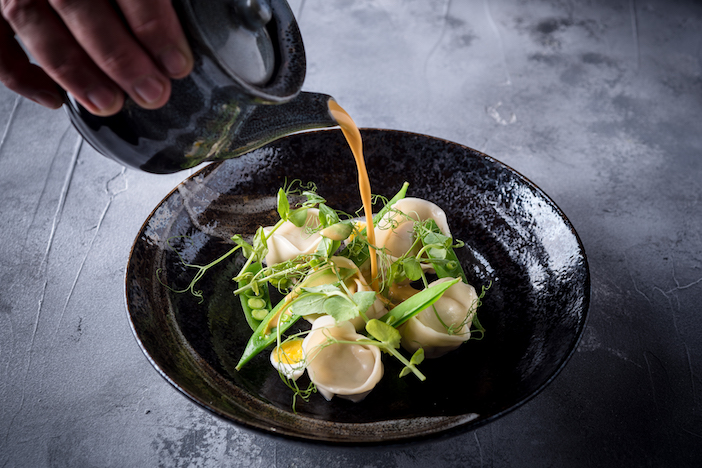 Take the crab bun. A steamed bao, with tempura soft shell crab, dressed with Asian 'slaw and sriracha. Tempura that disintegrates to the touch and a bun that's built like a cloud, it's at once hot, crunchy, tangy, spongy. It's a generous starter but one was definitely not enough. There are staples on the menu, too; crispy rolls with lettuce and nuoc nam, fiery crab dumplings in a creamy coconut broth, among other twists like spicy chicken curry puffs, you might almost call 'Asian empanadas'. These were but four sharers on a menu I could have tried all from and called it a night.
But then the mains, and more innovation. The Massaman curry, usually straightforward, a staple in any Thai restaurant, but this, served on the shank, falling off the bone into a thick, rich sauce, suffused with earthy spices and turmeric potatoes. It's a dish you think you can do at home and might ordinarily dismiss, but when it's this good, it's worth ordering out, particularly when accompanied by a new take on the humble egg fried rice; with truffle and leeks and topped with a fried dug egg that's broken and stirred into the dish at the table.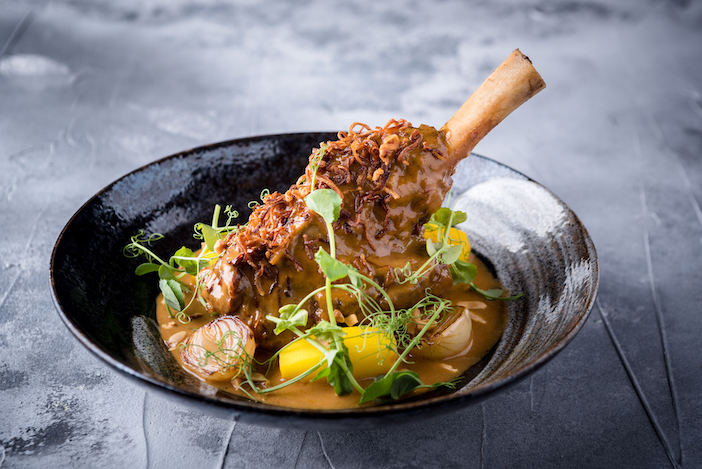 I could conclude my rhapsodizing here but I'm afraid the best was yet to come. If Lloyd's oeuvre is enhancing Asian dishes beyond the norm, then when it comes to desserts, he's turned them on their heads. Quite literally.
And, again, we're spoiled for choice. There are eight of them. A humble sorbet is given a twist with thai basil and lemongrass. And, ordinarily, I'd be intrigued by the Vietnamese Affogato. Others, like the Chocolate in Stone, simply, will require another visit. We're even having to eschew the eponymous sticky mango, and the theatre that goes with it. So, for us, it's the pandan macaron and the peanut nougat satay.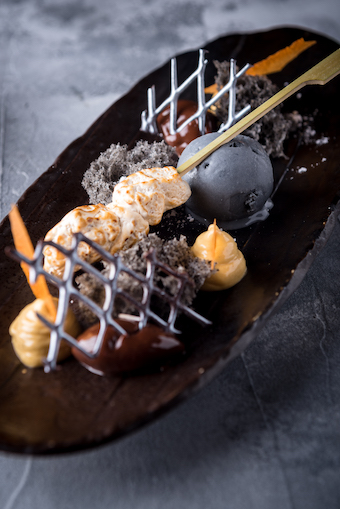 The latter is a twist on the traditional satay in sweet form; chewy nougat on a stick, 'charcoal' ice cream adds the grilled flavour, there's depth from a rich ganache and a chilli tuile provides hints of warmth. I was tasting component parts, mixing and matching.  We nearly didn't order it, but it's quite extraordinary; if you can imagine chicken satay without the chicken. Similarly, the macaron is a take on the Singapore breakfast of Kaya jam on toast. That distinctive pandan flavour in the macaron sandwiches a soy sauce ice cream. A terrific twist on salted caramel, but soy ice cream? Doesn't that sound mad?
On Giovanni's recommendation, we try the 'sweet' sakes; Time Machine and Red Maple. A misnomer, certainly, in that they're not sweet in the slightest, but the Time Machine in particular, with its briny taste perfectly brings out the sweetness and subtleties of the desserts. It's a meal that seemed to build as we went on; layer by layer, surprise by surprise. As ever, Fay is spot on. It might, indeed, be a benchmark by which subsequent South East Asian meals might be measured. Even in South East Asia.
And, as locations go, it's ideal. After all, aren't all the best places the ones you have to seek out?
Sticky Mango, 33 Coin Street, London SE1 9NR. For more information, menus and bookings, visit www.stickymango.co.uk.