If location is really everything, then the Strand Dining Rooms should pull in a fortune for its iconic address alone; straddling Strand and Trafalgar Square with Nelson's column a stone's throw away, it's managed to capture the ultimate tourist postcard spot in London. I for one am delighted this restaurant has opened, for this prime location spot isn't exactly crowded with good eateries.
This fact was not lost on my brother, who kindly joined me from Bristol to partake in the evening's culinary adventure. "Who the hell comes to the Strand to eat out?" he mused as we entered the grandiosely named Grand Buildings. His cynicism however was quickly forgotten as the wow factor of the restaurant's plush interior kicked in; operator Mark Harris was certainly no tight-wad when it came to lavishing funds on the décor. The setting nicely invokes the old-stalwart that is the Wolseley with its soaring, chic bar area and Pullman carriage style booths.
And then there is the generous selection of malt whiskys and cocktails on offer at the bar. We settle for a glass of Champagne and the man behind the project makes an appearance. A whizz-kid of restaurant consultancy, Harris was utterly charming and obviously very proud of his latest endeavour. He only appears slightly uncomfortable when I point out how empty the place was, even for a new restaurant I expected to see more faces. The clientele appeared to be exclusively visiting tourists, including a foursome from Switzerland and an amorous couple from Russia. Which raises the question, who exactly does Harris want the Strand Dining Rooms to appeal to? "To be all things to all men," he replies.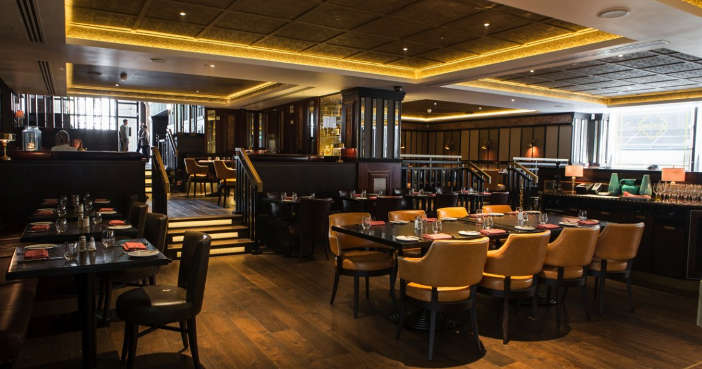 Which is a fair summation of what this new kid on the block can offer: all-day dining from morning till night, or just a few cocktails for the already nourished. Not to mention afternoon-tea if you fancy. The menu, which clearly borrows its layout from the Wolseley covers all the bases and offends no one. Its raison d'etre is to stay loyal to British produce; Dorset crab salad, Cornish mackerel, pollock and chips and sweet English onion tart all present and correct. It's comfort food of a type we all crave after experiencing the conceptualised, dissected ethos than sometimes rules the fine dining and Michelin-starred scene. Oh and there's daily specials too, today was Welsh rarebit and market fish of the day.
Sat in the front section of the restaurant – all button-backed leather and shiny furniture – with just another table opposite taken, we are attentively but not intrusively looked after by a charming duet of Italians. Our waitress offers the wine list, which is attractively varied and fairly priced, showcasing a wide range of wines from all corners of the globe. How different to my experiences in Paris last month, where you are hard-pressed to find a wine list without a massive local basis. Maybe one or two bottles of Italian red, for charitable purposes.
Two glasses of Chablis perfectly complimented my mackerel and tomato salsa, while brother plumps for the trawn Terrine with pig head croquette. My brother was particularly impressed with his brawn, "an almost completely forgotten dish," he notes. Perfectly seasoned and served with a crunchy croquette, the sharp as razor blades piccalilli offset it all nicely, he reports. My mackerel was similarly pleasing and the piquant salsa complimented rather than competed with the saltiness of the fish.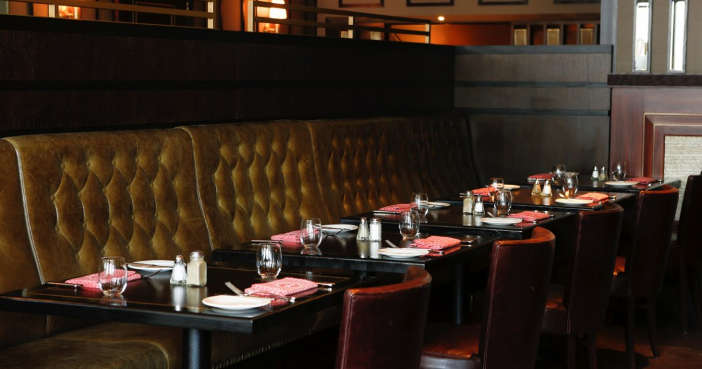 Our hosts recommended the 8oz sirloin of Dedham Vale beef, which we both duly ordered. Harris perhaps set us up for some disappointment, hyping up the dish as one of chef's best. By no means poor, the steak was nonetheless under-seasoned and somewhat bland for our liking. Still, the triple cooked chips were moreishly addictive and the béarnaise sauce was clearly not of the Nora Batty variety. Two glasses of Cotes Du Rhone were also great folly for the beef, another example of flawless wine pairing from our charming Italian sommelier cum maître d'.
The meal ended on a high note, the strongest part of the whole experience in fact. Our unnamed pastry chef served up a superlative treacle tart with vanilla ice cream while brother thoroughly enjoyed, at least I presume so from his facial expression, the hot chocolate pudding. We were also graciously invited back to the bar for more cocktails, where one could imagine spending more than a few minutes after work nursing a well deserved libation. For those who don't want to sit down, Harris has also thoughtfully included some bar snacks and canapés for the esurient.
It's precisely this level of thought from Harris that urges one to forgive the shortcomings of the restaurant. For the Strand gets more right than wrong: the food, apart from our slightly bland main course, hit the right notes and the staff have clearly been trained with teutonic levels of precision, merged with a charming affability. Moreover, the wine list was crafted with the advice of London's top bods and it shows. The worst aspect of the evening was a complete lack of atmosphere, something that time will hopefully remedy.
The Strand Dining Rooms isn't going to set the word on fire and doesn't set out to. But, mindful of its successfully executed mission statement to be all things to all men and the pedigrees of head-chef Michael Beugnet (a graduate of stalwart Green's) and Harris, it probably deserves to remain a fixture of the Strand in years to come.
The Strand Dining Rooms, Grand Building, 1-3 The Strand, London WC2. Tel: 0207 930 8855. Website.