In the new era of click and collect restaurant food, Sophie McLean takes new Notting Hill Japanese eaterie, Sumi, for a spin…
Of all the things to look forward to of a week – food and drink, and how best to pair one with the other, both sit extremely high up on my list of 'needs wanting-to-be-met'. Fridays are by far the best night for pushing 'go' on this specific desire. The week is done; you can mark the bridge into personal time by focusing on something that isn't simply a screen, and allow a modicum of proper thought to be directed into enlivening the other senses, through one's likely lockdown-weary mouths.
For me, thinking about what I can eat is a boring piece of life rigmarole that I have to go through EVERY time I do it, given that, for medical reasons, I cannot eat gluten. What joy then it brings, when someone else can take the responsibility of having to think about this fully away from me. The result is absolute food heaven/escapism in its very purest form – no prior death checks (I exaggerate) have to be taken by me, the narrator, and instead the dish's author plunges into total control of feeding me. Tonight that restaurant-chef-auteur would be Sumi in Notting Hill.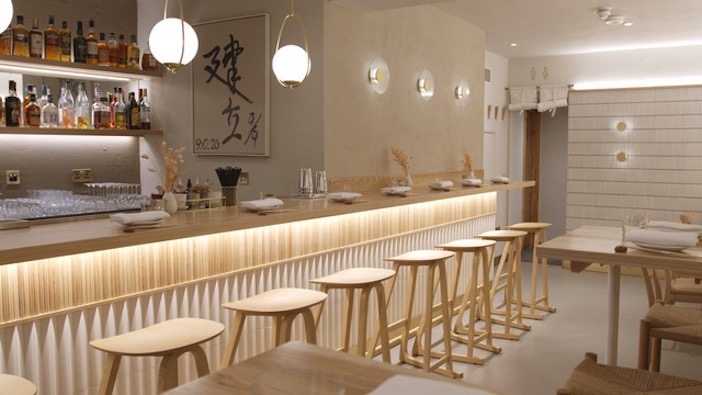 Sumi is the sister restaurant of Endo at Rotunda, the much-talked about Michelin-starred Japanese restaurant that encases one fine angle of London's recently transformed White City. Founded by the eponymous Endo Kazutoshi, and named after his mother, the new more casual sister site SUMI opened on Westbourne Grove in December last year. Keeping heritage to the fore, Endo, dubbed 'the Sushi Master', attributes his skills and enthusiasm to his grandfather – continuing this legacy in his own way, from the ground (or sea) upwards. Endo's reported longstanding relationships with his fish suppliers ensure traceable provenance and personal connection to his ingredients.
As a previous punk rocker I would have liked to have seen a little more of Endo's showmanship in the presentation of our fish – one thing that is, of course, much more difficult to create at home, especially when pretty Japanese crockery is in lesser abundance. But, in the absence of in-restaurant theatre, the colour and the flavour that still decorate one's plate via delivery equally don't go unnoticed. Top tip: unwrap in full daylight to appreciate the full majesty of this multi-sensory paint palette.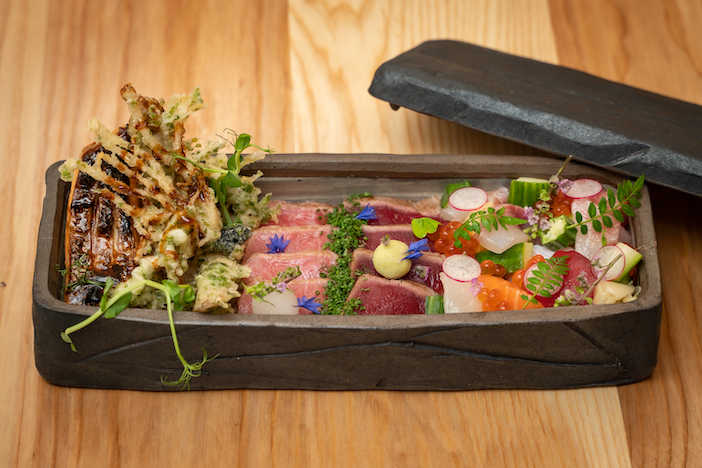 Endo's Notting Hill signature is the SUMI box (priced at £45) within which you will find sashimi and sushi alongside other such delights as robata grilled salmon, tuna two ways 'bara chirashi' (a style of sashimi presentation) plus a selection of premium fresh and cured fish – including lean Akami tuna, fatty Toro tuna from Spain, Japanese Hamachi yellowtail, Scottish scallops, sea bream and Unagi (eel). All of these come on a bed of perfectly cooked, Japanese sushi rice.
Other items on the click and collect list include the more luxurious Omakase Box (£48), Chef Endo's daily-changing selection of fresh and cured fish including the signature unagi and ikura or, the premium Sashimi Box (£35). We road tested this one – where the quality of the fish was mouth melting and conversation halting. This box features three types of tuna, scallops (the veritable highlight!), yellowtail, sea bass and salmon, served with caviar, rice, seaweed and wasabi. Vegan Boxes (£25) are also available.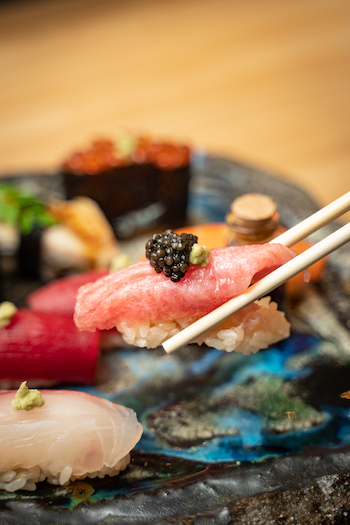 I credit my love for Japanese food, mostly to a dear friend with whom I have enjoyed many a maki bite and sips of hot and cold sake – in London, New York and Japan. Indeed, in 2014, we strolled beneath the bursting blossom atop Tokyo's Ueno Park hill at the very end of that year's Sakura festival. The ultimate highlight of this trip was dining at Kitcho just outside of Kyoto, an experience on which each subsequent Japanese meal continues to hinge.
As the trees in the U.K begin to blink their blossom at us once again this year, and the promise of spring slowly arrives, alongside our new 'roadmap' (back) to reality, there's a glowing suggestion of healthy anticipation for our beloved hospitality engines to start re-firing (which table will we make it to first?). Sumi will re-open properly in accordance with government guidance.
If the mouth-gasm that was the fatty tuna on a bed of seaweed is a morsel to be served up again either in situ or via delivery, I'll be signing up to it. My dining companion was a little worried that these boxes would not be sufficient to sate two esurient palates and so ordered a suggestion of other sushi to arrive soon after we had consumed this one. The difference in quality, dear reader, was frankly beyond expectation – the latter not comparable in the slightest – more clumsily put together, and where the (additional) rice in particular sang out as a much heavier and stickier counterpart (nor was much of it eaten until the next day). Sumi's clean, high-grade fish and mouth popping joy of the bright red roe matched colours of our contented faces by the end of the evening. Worth a real-time visit I'm sure if you are not within the delivery catchment area. Reasons more to culinary explore.
What to pair with it? Sophie suggests a trio of Rieslings as the perfect accompaniment to your Sumi box…
There would be few Rieslings that didn't match this kind of cuisine – their often-racy acidity and bright aromatics cutting through the fattiness of the tuna and rounded flesh of the raw fish.

2018 Domaine Zind Humbrecht Riesling Brand, Alsace, Grand Cru – smokey citrusy with a lick of flinty minerality. Class in a glass from Northern France, and the perfect match for Sashimi. £40. Available from Ig Wines.
2019 Riesling, Trocken, Eva Fricke, Rheingau, Germany – lean, zesty lime laced light and bright. From one of the most progressive producers in Germany – Eva's attention is focused on practising organics in the vineyard and winery, avoiding animal based products. A halo of heavenly fruit. £120 a case of six bottles, from Berry Bros. & Rudd.
2015 Dr Loosen Urziger Wurazgarten Utrest Pichter Reserve, Mosel, Germany – from the arguably 'original' home of Riesling, and one of the most famous names in the business – 'Uncle Ernie' rarely disappoints. This has a peachy richness to the nose for a grape known for its linearity, nicely mouthfilling in the same context. White lychee fruit fills the rest of the palate with a similarly fleshy citrus finish. The name means spice garden. £24, available from various outlets.
And, of course, if you're thinking more than wine, what better than some fine sake…
Heavensake Junmai Ginjo – launched in 2017 as a franco-japanese project, this sake is blended by Régis Camus – perhaps more widely known for his role as Champagne Maison Piper-Heidsieck's Cellar Master. Here he brings his celebrated Champagne blending technique to the sake method in conjunction with sake house Urakasumi to produce a light and refreshing sake that pairs beautifully with raw fish and lighter Japanese style food. Delicious and delicate. £44.99 Available from London Sake.
Sumi is open Thursday to Saturday 12:00 to 14:00 and 17:00 to 20:00 with limited availability. 157 WESTBOURNE GROVE, LONDON, W11 2RS. To order, please call 020 4524 0880 or visit https://bbot.menu/sumicollection/. For more information about the restaurant, including menus and takeaway boxes, please visit www.sushisumi.com.