Ever since opening at the five-star Mandarin Oriental Hyde Park in January this year, the immersive Japanese restaurant, The Aubrey London, has established itself as one of the hottest dinner reservations in the capital. Replacing Bar Boulud, this all-new dining concept combines an exquisitely designed izakaya-inspired bar and restaurant showcasing creative cocktails with traditional Japanese cuisine using the finest sustainable produce. While the izakaya of Japan are usually informal drinks venues or dens akin to a public house, this is a distinctly five-star version aimed at indulging diners in an unashamedly extravagant and theatrical fashion.
The first UK venture of Maximal Concepts, the award-winning luxury restaurant group founded by Malcolm Wood, Xuan Mu and Matt Reid in Hong Kong, the attention to detail which Design studio Brady Williams has imparted – from the opulent, relaxed and intimately lit interiors to the earthenware crockery, fragile-looking glassware and sleek chopsticks – is breathtakingly seductive. The Aubrey takes its name from Oscar Wilde's favourite British artist and illustrator, Aubrey Beardsley, and the plush, candlelit Japonisme-inspired interiors with pinkish red velvet upholstery, fringed lampshades and Ukiyo-e prints lining the walls have a 19th century gentlemen's-club-come-opium-den vibe that shouts decadence and dare I say debauchery. From the moment you enter through the simplistic Japanese cloth curtains into the wood-panelled bar, you have the sense that you're being let in on a well-guarded secret and should probably be wearing a smoking jacket, cravat and monogrammed velvet slippers. I suspect this is where Ian Fleming would have set a James Bond scene if it had existed in his day.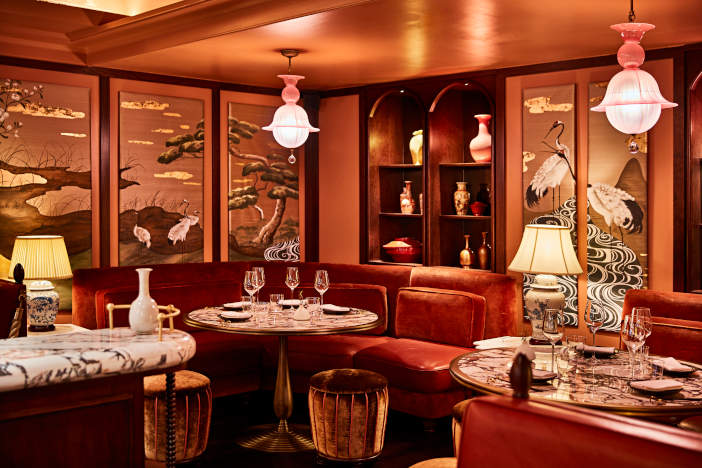 There are five uniquely designed 'eccentric' areas to add to the sense of intimacy and exclusivity – from the cosy bar which guests first enter, to the Curio lounge with its sumptuous custom fabric wrapped panels and reclaimed fireplace to create a sense of heritage and gravitas. So too the Library. Open all day for lunch, afternoon tea, drinks and a diverse la carte with everything from the finest sushi and tempura to robata dishes, The Aubrey offers an enticingly sophisticated environment that is just as suitable for couples seeking a romantic date night venue as it is for a group of friends or colleagues looking for somewhere to have some after work fun. We dined in the main restaurant where the ambience, thanks to low lighting and a clubby playlist, had the feel of a weekend even on a Monday, not least due to the fact that many of the 'it-crowd' diners looked as though they'd just raided Harvey Nichols across the street to find the perfect outfit for a paparazzied cocktail party.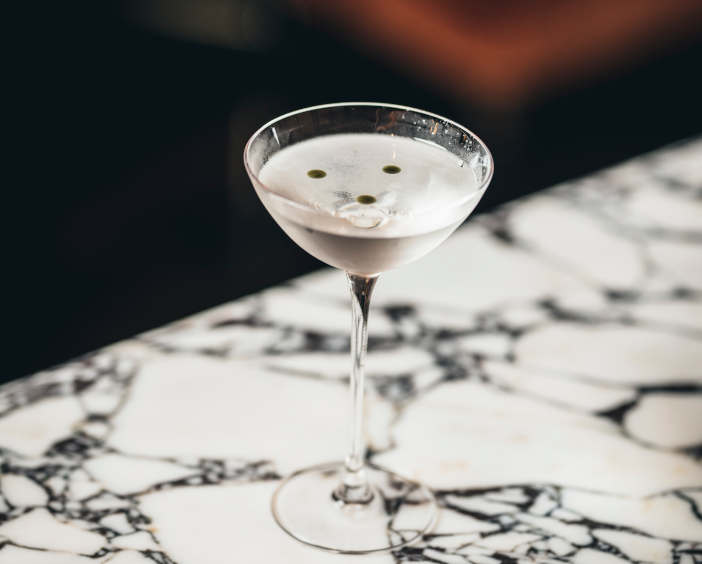 And they'd be in the right place, with signature cocktails including 'The Black Cat', made with Ki No Bi gin, yuzu liqueur and tonic reduction, and 'Torii' – a combination of rice shochu and homemade grapefruit soda, created by bar director Pietro Rizzo and overseen by Maximal Concepts in Hong Kong where the Aubrey Hong Kong opened last year in Mandarin Oriental's flagship hotel in the city. Proud to be London's first Omakase cocktail bar, with an extensive collection of aged, seasonal, and limited-edition sakes and rare spirits, the city slickers and socialites have welcomed this vibrant dining and drinking concept with open arms, and you get the sense that The Aubrey hasn't had a quiet night since they opened – it's an intoxicating space and we were only drinking their alcohol free Bellini.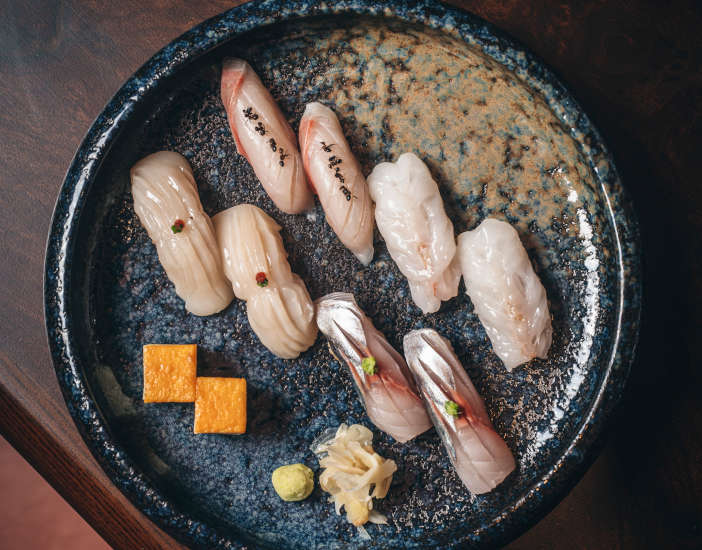 The dining tempo is relaxed with plates arriving when ready, while the fact that diners are encouraged to share contributes to the party atmosphere. Edamame with yuzu salt are an essential, while our four oysters were an enlivening opener, with a punchy dressing of chilli daikon and ponzu that perfectly complemented this luxury ingredient, a personal favourite of mine. This was followed by the Waygu gyoza, the best you'll ever taste, and a selection of premium quality Edomae sushi. The restaurant's fabulous gomae; a cold wilted baby spinach salad with a sweet miso and sesame dressing is something I've been waiting for all my life and makes me finally see why Popeye had such a craving for this vegetable. If they canned their silky, sweet version I'd buy it by the case load and eat it for breakfast. But let's not spend all night talking about spinach – the robata dishes are a highlight of The Aubrey London's extensive menu, with meltingly tender Ibérico Secreto pork with a blackened exterior and blush pink centre, while if you always go for black cod, The Aubrey's supremely delicate and flavoursome Saikyo Miso Sablefish cooked over hot coals will have you levitating. Our main dishes were accompanied by leeks in red miso, and shiso vinegar and an inspired Wagyu oxtail and bone marrow fried rice (the bone adorning the dish for you to suck or take home for the dog) – too rich for some, but just right for me.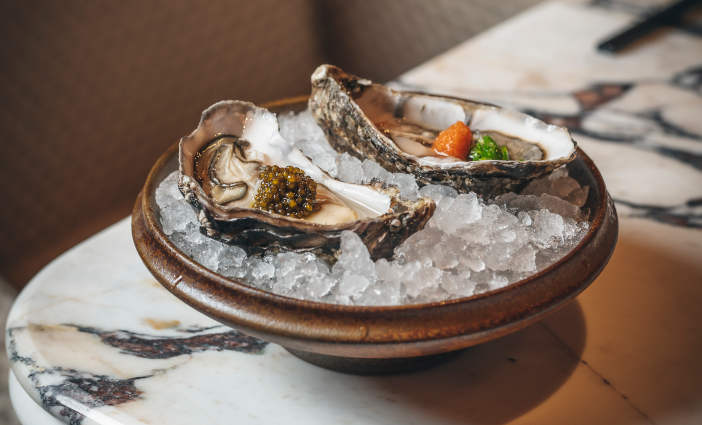 For dessert we shared the pillow-light and intensely flavoured, white miso soufflé with its creamy, custard-like centre and addictive salted-caramel flavour making it unlike any soufflé I have ever tasted. A signature dessert of The Aubrey in the Mandarin Oriental Hong Kong for very good reason, I groaned with pleasure, but more because I found myself having to share the most memorable dessert I'd experienced in along time. There couldn't possibly be a better finale to a sensuous meal celebrating the intoxicating flavours of Japanese cuisine in such an elaborate setting. Above all, I love that The Aubrey isn't trying to be 'authentic' – they don't want you to forget for one moment that you're actually dining an extremely affluent area of London and one of the city's best hotels – nor how lucky you are to have a table. Dining at The Aubrey is more like joining a secret, underground society where what happens here remains strictly hush-hush.
The Aubrey London, Mandarin Oriental Hyde Park, London, 66 Knightsbridge SW1X 7LA. Images by Lateef Photography. For more information and reservations please visit the website.