We've had the feast of Christmas, so is it now time for the famine? It could be that we've arrived at that time of year when the Puritan ethic, buried somewhere deep in our genes, reasserts itself. There have been mince pies and Christmas pudding, the big bird (I go for goose myself), roast potatoes and did anyone mention cakes or chocolates?
Oh, the guilt. But before you get out the sackcloth and ashes, pause a moment. Even if you're going the full Veganuary, it doesn't have to be a month of misery ahead. Far from it.
At The Gate in St John's Wood (there are partner restaurants in Hammersmith, Islington and Marylebone) the food is inventive and delicious (and 90% of it is vegan, the rest featuring a bit of cheese or cream now and again if you're feeling particularly decadent).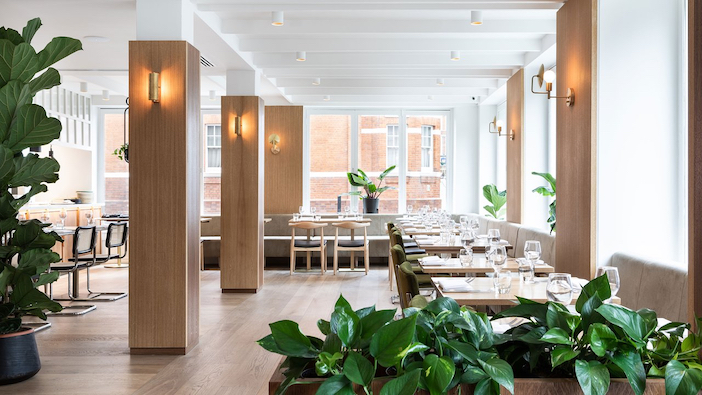 It's just the kind of uplifting atmosphere you need on a dark January day, too. All pale wood and marble, it's an airy space, buzzing with conversation. The staff are young, friendly and relaxed – this is definitely a stress-free zone.
Having said that, neither the Major nor I are vegetarians. We are indeed omnivores. So, some of the dishes on the menu were slightly mysterious to us. We knew, for instance, what to expect from a Schnitzel. But an Aubergine Schnitzel? In fact, it comes with dauphinoise potatoes, sautéed kale and a horseradish cream sauce.
We began, though, with a Gate cocktail – if you're going the whole hog (no hogs involved here, obviously) and giving up alcohol for January, too, there is a good mocktail menu available. We were neither of us feeling abstemious so we both went for the Bloody Mary – vodka, tomato juice, vegan Worcestershire sauce, Tabasco, celery and quite a kick. We sipped and deliberated over the menu.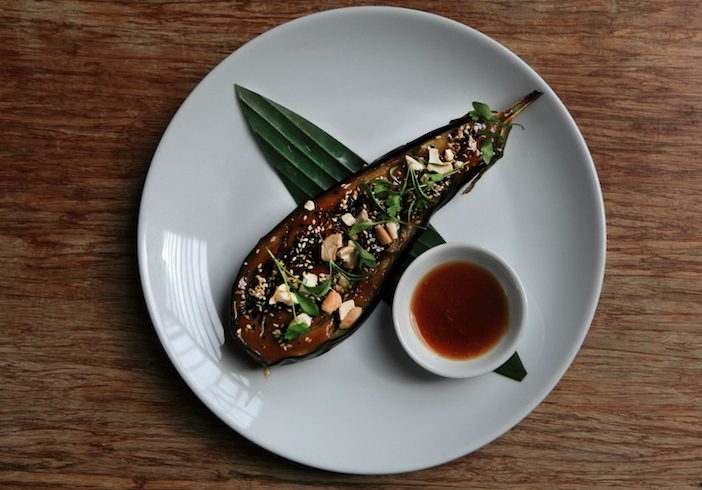 This was tricky. I was very tempted by the Jackfruit Tostada and the Miso Glazed Aubergine but in the end I couldn't resist Artichoke & Truffle. Now, if I had to choose one – and this would be no easy task – vegetable to live on for the rest of my life, it may well be the artichoke. Apart from anything else, there may be a clause in there that means you get two vegetables  for the price of one – both artichokes, but one is Jerusalem and the other is Globe. Now this is really one big cheat as they aren't remotely related. The globe artichoke is a kind of thistle while the Jerusalem artichoke is a species of sunflower. Who knew?
Put them together, though, and the result is sublime. There was a puree of Jerusalem artichoke and truffle oil, pickled globe artichokes, smoked baby artichokes and their crispy skins. Strangely, these reminded me of bacon but were clearly far more virtuous.
The Major had Pulled King Oyster Mushroom (think pulled pork – or, there again, maybe not). These sat in a crispy lettuce leaf having been marinated in a spicy ginger and soy sauce, with a scattering of toasted sesame seeds on top. Very tasty, reported the Major.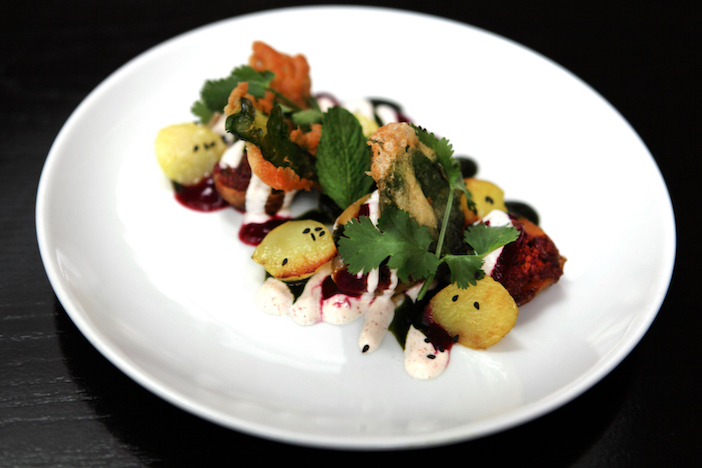 For our mains, the Major went for a pizza. I thought this sounded a bit unadventurous. But wait! This was a Caprino pizza and a very far cry from a Margherita (though they do have this too). The topping was goat's cheese, beetroot carpaccio and fresh fig with balsamic cream and micro basil. Having a bit of a sweet tooth, the Major thought this was all pretty good and the base was, he declared, just the right level of crispiness.
I had gone for the Wild Mushroom Risotto Cake. And they follow through on that Cake idea. So instead of the mushrooms being mixed with the rice in the usual way, there is a base of baked Arborio, deliciously firm and crisp. On top of this are the wild mushrooms (the variety depends on what is in season) and, on top of them, rocket with a lemon truffle dressing. (I was clearly having a bit of truffle day.) The whole thing sits in a creamy cep sauce. This was excellent.
On Saturdays and Sundays, The Gate has a really tempting brunch menu too. It features much of the evening menu but with extras like Coconut yoghurt with seasonal berries, Avocado Toast, Huevos Rancheros and Egg Florentine. They have plenty of sweet treats, too – Chocolate Brownie with vanilla ice cream and more chocolate sauce, Cinnamon Apple Mille Feuille, Baileys Cheesecake and – the most tempting for me – Honey & Thyme Pudding with honeycomb ice cream.
So, even if it's your first Veganuary, there are plenty of delicious treats. No hair shirts this January, then….
The Gate, 87b Allitsen Road, London NW8 7AS. For more information, including details of other restaurants, and bookings, please visit www.thegaterestaurants.com. To celebrate the month of plant-based dining, The Gate are offering 50% off food on all pre-booked meals using code VEGANUARY until 14th January 2022.