As one of the most exciting and diverse food capitals of the world, London has a lot to offer its foodie connoisseurs. But sometimes the choice can be overwhelming, the food trends fleeting, and the quality rather unpredictable. Sometimes, all one really wants is just a good, simple, traditional meal, cooked with care and attention. The sort of meal that cossets one in a blanket of deliciousness, employing luxury ingredients and classical cooking techniques that have been used to great effect in every fine dining restaurant since the days of Escoffier.
The Goring Dining Room is one such place. The room itself is an Edwardian-inspired marvel, designed by David Linley and lovingly bedecked in fine linens, silver cutlery and dashes of the modern world, such as the dazzling Swarovski chandeliers. The Goring is the sort of hotel that one feels should be a private members club, and similarly the restaurant has that air of quiet and elegant exclusivity that one only tends to find in the grand dining rooms on Pall Mall.
The ideal spot for a seasonal winter dinner with loved ones, the Goring Dining Room is one of those rare venues that does everything right in the most traditional of manners. If PG Wodehouse's Jeeves decided to manage a restaurant, this would be it.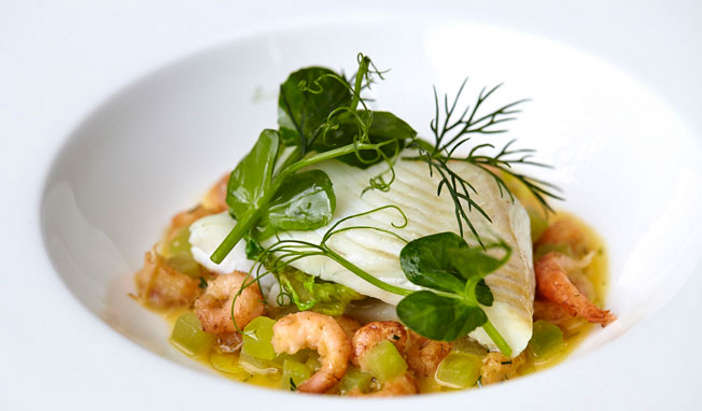 I started with a meaty rabbit and foie gras terrine with delicately pickled pear and a light mustard cream, while Her Ladyship plumped for the day boat plaice fillet with cucumber, dill, and potted shrimp butter. What a splendid start. This is the sort of food that makes one happy to be British. Classic, yet knowingly modern in its presentation, the menu has been put together with the same ethos that has shaped this hotel over the past 100 years. Tradition, quality, and character.
Mains were iconic. I couldn't resist the richly indulgent glazed lobster omelette with duck fat chips and lobster Caesar salad. What a stonkingly fabulous concoction. Despite its luxury status, lobster can be a tad bland and flavourless compared to some of its cousins, but pop it into a dish like this and it reaches new heights. It's the sort of dish I'd happily eat once a week, if only my waistline and vanity would allow it. Her Ladyship meanwhile went all-guns-blazing for that most pleasing of mains, the fillet of beef Wellington. The theatre begins when the waiter wheels over the carvery trolley, lifting a silver dome to reveal the huge Wellington beneath, cooked to tender perfection, carved with care into mouthwatering slabs, and drizzled with a shiny, sticky gravy. Lip-smackingly wonderful in every way.
Continuing the traditional British theme, Her Ladyship indulged in the Eton Mess with Gariguette strawberries and crème fraiche, while I tucked into a velvety vanilla cheesecake with crunchy candied pecans, sliced grapes and a zingy apple sorbet. I ate slowly, carefully, savouring every mouthful and not wanting this meal to end. Ever.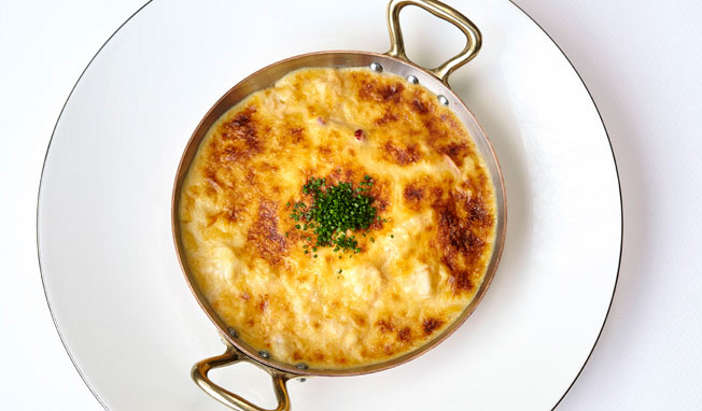 During the evening, the knowledgeable sommelier, Damien, had chosen a fine selection of wines by the glass to match each course; as you would expect from such an establishment, they have a wine cellar to rival the very best in London.
Our fellow guests in the dining room were a mixture of well-to-do couples, grown up families and the odd business gathering, all quietly indulging in the marvellous treats on offer. One thing that struck me is that everyone looked happy. Not just contented, but genuinely, beamingly happy. And indeed whenever I recall our meal at The Goring, I am filled with a sense of elated comfort. That's what The Goring does to you. It welcomes you in and makes you feel special; it reminds you that beyond the Rat Race, beyond the turbulent big bad world out there, we have a sanctuary where everything works like clockwork, and it's okay to smile. No wonder they are the only hotel to hold a Royal Warrant from HM The Queen for Hospitality Services. After one meal there, you will know why.
The Dining Room at The Goring Hotel, 15 Beeston Place, London SW1W 0JW. Website.